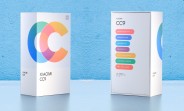 Renders of the retail box for the Xiaomi Mi CC9 have leaked. It's more colorful than Xiaomi's usual box design and you can see the "Chic" and "Cool" keywords that are behind the name. The text on the box is quite cheeky, saying that the Mi CC9 is a fun phone and should be in the hands of a fun person.
Xiaomi Mi CC9 retail box (leaked renders)
The box doesn't give away specs that we haven't seen already. The phone will have a triple camera on the back with a 48MP main module. On the front, there will be a 32MP selfie camera.
Speaking of selfies, here are some more…
Original source: https://www.gsmarena.com/xiaomi_mi_cc9_retail_box_leaks_more_selfie_samples_published-news-37776.php