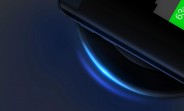 Two wireless chargers have been sent to the FCC for certification – one for the Galaxy Note10 and one for the Galaxy Watch 2.
The Note charger, the EP-N5200, will likely be a cradle similar to the EP-P5200, which was released alongside the Galaxy S10. That was a dual charger with a total output of 15W – 10W for the phone and 5W for the watch.
The new EP-N5200 is rumored to go up to 20W, likely split between two charging coils. Note that the EP-N5100 is a single charging cradle, which is the other possible form factor. Both have fans to keep the phone cool during charging.
The Galaxy…
Original source: https://www.gsmarena.com/wireless_chargers_for_the_samsung_galaxy_note10_and_galaxy_watch_2_head_to_the_fcc-news-37687.php