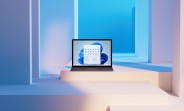 Microsoft today announced that it will be releasing Windows 11 on October 5. The update will be provided for free to eligible PCs.
The update will roll-out gradually from October 5. Microsoft says new eligible devices will get the update first. After that, the update will then roll-out over time to in-market devices based on intelligence models that consider hardware eligibility, reliability metrics, age of device, and other factors that impact the upgrade experience.
Microsoft says it expects all eligible devices will be offered the update by mid-2022.
Those running Windows 10…
Original source: https://www.gsmarena.com/windows_11_to_release_on_october_5_as_a_free_update-news-50747.php