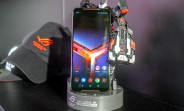 For the past week we've been gathering your thoughts on the Asus ROG Phone II and they turned out overwhelmingly positive. Its yes-to-no ratio was over 7:1, suggesting that there are plenty of takers if Asus gets the pricing and availability right.
The second gen gaming phone is a substantial upgrade over its predecessor and it has resonated really well with the public.
And no wonder. The phone sold out in no time and Asus even had to apologize for not having enough units to ship.
Having spent some time with the phone, we can confirm it's truly impressive although we haven't…
Original source: https://www.gsmarena.com/weekly_poll_results_asus_rog_phone_ii_is_a_homerun-news-38471.php