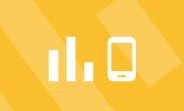 Week 46 brought us quite a few changes among the most popular smartphones in the database. Xiaomi no longer controls all of the top 6, but it still has the most phones in the chart.
This time it's the Redmi Note 8 Pro reclaiming the top, after the Mi Note 10 series lost some of the hype that came with their announcement.
In second we have a Samsung phone that still just a rumor – the Galaxy A51. Not quite shocking though, given that the Galaxy A50 is by far the longest serving member of our top 10 and it's still ranking as high as sixth.
The Mi Note 10 Pro is down from the top to…
Original source: https://www.gsmarena.com/top_10_trending_phones_of_week_46-news-40120.php