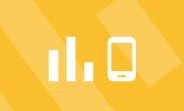 For the first time in a few weeks there wasn't a major event to shake up our popularity ranking, but it was still a very close run for the first place with the Xiaomi Mi Mix Alpha just managing to retain it in the end.
It fought off the rapidly rising Samsung Galaxy M30s and the shocking new entry Galaxy A70s, which completed the podium.
OnePlus 7T made the top 10 in the second week following its announcement with a respectable fourth. The Redmi Note 8 Pro follows it in sixth.
The Apple iPhone 11 Pro Max got its podium streak broken and is now down to sixth, ahead of the upcoming…
Original source: https://www.gsmarena.com/top_10_trending_phones_of_week_40-news-39488.php