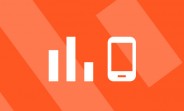 After a few weeks of calm in our trending chart the Android One-powered Xiaomi Mi A3 debuted and shook things around.
It shot straight to the top, pushing the Galaxy A50 and Galaxy A70 down a spot and the Redmi Note 7 off the podium.
The Redmi K20 Pro and Samsung Galaxy A30 in fifth and sixth have also slid down to make way for the A3 ascend.
Then we have the Samsung Galaxy A80, which makes a return to the chart and captures the seventh position, ahead of another returnging phone – the Galaxy S10+.
The Galaxy A20 is down in ninth, while the Xiaomi Mi 9T captures the last…
Original source: https://www.gsmarena.com/top_10_trending_phones_of_week_29-news-38240.php