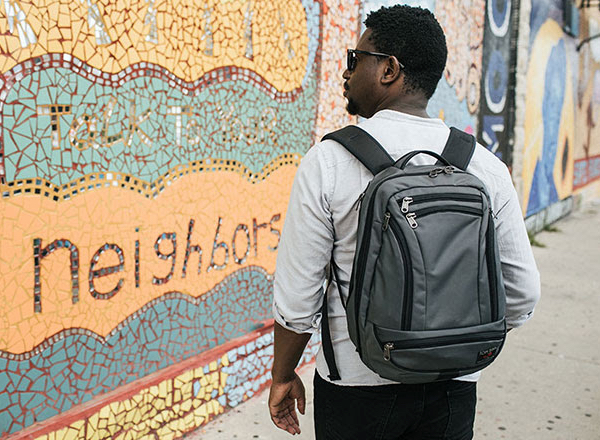 NEWS – Look, you all know that I love Tom Bihn products. They're among the best in the carry business when it comes to build quality, durability and usability. But one of their strongest qualities is how they actively solicit customer feedback to continuously evolve their designs. And they're not afraid to make changes or to try new things.
Which leads us to the Synik, the latest backpack from Tom Bihn. The Synik is based on the much-loved Synapse, incorporating a number of new features. It's an intriguing set of upgrades that, to me, give the Synik more flexibility as a traveling companion in addition to day-to-day use.
Slightly bigger sizes (22 Liters and 30 Liters).
A clamshell/panel style full-length opening to the main compartment, which now includes internal tie-down straps (great for overnight packing!).
Internal and external laptop compartment access.
Redesigned shoulder straps.
An upgraded grab handle, and new rolling luggage handle pass-through.
Additional padding and o-rings.
Internal frame & aluminum half-stay.
I've never met anyone who owned a Synapse and did not completely love it. I'm intrigued to get my hands on one of these, and see how they compare!
The Tom Bihn Synik is available for pre-order now, with delivery in late October. You can check out the in-depth FAQ here about the design (including the name choice). You can visit the Synik 22 page or the Synik 30 page for more info and to get on the list!
Filed in categories: News
Tagged: Backpack
Tom Bihn's brand new backpack looks strangely familiar… originally appeared on The Gadgeteer on August 7, 2019 at 8:00 am.
Note: If you are subscribed to this feed through FeedBurner, please switch to our native feed URL http://the-gadgeteer.com/feed/ in order to ensure continuous delivery.
Original source: https://the-gadgeteer.com/2019/08/07/tom-bihns-brand-new-backpack-looks-strangely-familiar/