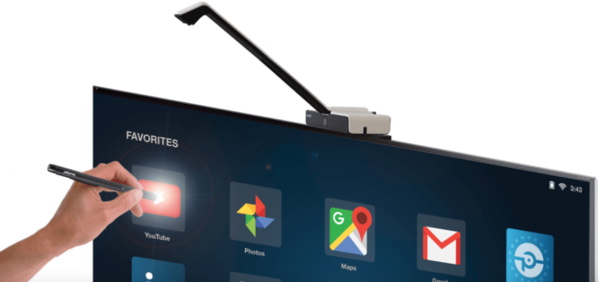 NEWS – I can remember my first iPad which if I remember correctly was the 2nd version that was released (iPad 2). Back then, it was way less capable than the iPad of today and was more of a luxury than a necessity. These days, for instance, I use my iPad Pro 12.9" for almost every function that I can use my laptop for albeit that some of the functionality requires multiple apps to mirror the functionality of my Windows laptop. I have become so used to using a tablet, that the concept of using it for meeting on a large screen and having a mirrored interface with the same touch capability is quite appealing.
Enter the Touchjet Wave + Lily (Pen Touch). This device can turn a monitor up to 65" into a giant tablet and adds the capability of Pen Touch. The device comes with 2 rechargeable Lily Digital Pens that support multi-touch and works using your desired Android apps that can be downloaded directly onto the WAVE using the Lily Digital Pen. This is accomplished via built-in Wi-Fi.
In addition, you can download the Touch Jet Mobile app that turns your smartphone or tablet into an interactive remote control, with functionality as a microphone, touchpad, and keyboard. Both IOS and Android are apps are available for the Touch Jet Mobile app.
If you would like to learn more about the Touchjet Wave + Lily (Pen Touch), you can check it out on the Touchjet website. You can purchase one on Amazon for $355.50.
Filed in categories: News
Tagged:
The Touchjet Wave + Lily (Pen Touch) turns your large screen TV into a giant tablet originally appeared on The Gadgeteer on August 1, 2019 at 10:09 am.
Note: If you are subscribed to this feed through FeedBurner, please switch to our native feed URL http://the-gadgeteer.com/feed/ in order to ensure continuous delivery.
Original source: https://the-gadgeteer.com/2019/08/01/the-touchjet-wave-lily-pen-touch-turns-your-large-screen-tv-into-a-giant-tablet/