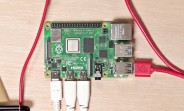 A bug has recently been identified with the USB Type-C implementation on the new Raspberry Pi 4 single board computer. It was already confirmed officially by the board's co-creator Eben Upton.
Apparently, the Raspberry Pi 4 refuses to take power from certain USB Type-C cables. Most notably ones that users have re-purposed from Macbooks and other new Type-C powered laptops.
Without getting overly technical, what is happening here is that certain cables identify the Raspberry Pi 4 incorrectly as an audio adapter accessory and then refuse to provide sufficient power.
The…
Original source: https://www.gsmarena.com/the_raspberry_pi_4_has_a_notable_usb_typec_power_issue-news-38057.php