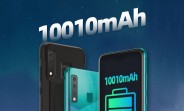 You may think "TVs" when you hear HiSenes, but the company also makes phones – its King Kong series focuses on affordable handsets with long battery life. The latest model was teased today, it uses the same trick as its predecessor to hit over 10,000mAh total capacity.
The HiSense King Kong 6 has a 5,510mAh battery built in and comes with a bespoke battery case that adds another 4,500mAh, which brings us to the advertised capacity of 10,010mAh. The case uses pogo pins on the back of the phone to supply power.
HiSense King Kong 6
The phone has a 6.52″ screen with 720p+ resolution….
Original source: https://www.gsmarena.com/the_hisense_king_kong_6_splits_a_10010mah_battery_between_the_phone_and_its_case-news-40061.php