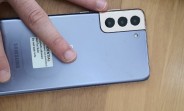 Take a gander at the Samsung Galaxy S21+ in the wild, courtesy of @MauriQHD on Twitter.
The three images appear to show a legitimate working device with a confidential sticker on the rear. The unit looks to be the Phantom Violet model. It looks like the middle child Galaxy S21+.
Samsung Galaxy S21+ hands-on
At this point we pretty much know all there is to know about the Galaxy S21 family. The trio will become official globally on January 14.
They'll be powered by an Exynos 2100 in most countries and the Snapdragon 888 in the US and Korea. The Galaxy S21 and S21+ will have…
Original source: https://www.gsmarena.com/samsung_galaxy_s21_handled_in_the_wild-news-46945.php