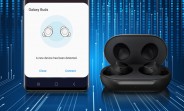 There's a new update out for the Samsung Galaxy Buds. It's just 1.36MB in size, but it brings three important fixes. First, it has another go at fixing the temporary glitch with Ambient Sound that the previous update attempted to fix.
Samsung Galaxy Buds update (R170XXU0ASF3) improves audio quality, fixes Ambient Sound issue
The firmware, version R170XXU0ASF3, also improves the audio quality when streaming music and during voice calls. Finally, the battery indicator now shows the charge lowest battery level of the two buds.
You can install the update from your phone (using the…
Original source: https://www.gsmarena.com/samsung_galaxy_buds_update_improves_audio_quality_fixes_ambient_sound_issue-news-37795.php