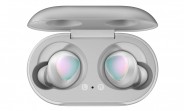 If you've been around these past few weeks then you have definitely already seen the stunning new "Aura Glow" color of the upcoming Galaxy Note 10+. And what better way to compliment a shiny new phone than a shiny new pair of truly wireless headphones. The Galaxy Buds are already listed on a few of Samsung's regional websites in the new "silver" finish. The color effect appears to be identical to that on the upcoming Note10 and renders probably don't do it justice.
Samsung Galaxy Buds in silver
Besides the color, though, there seems to be no change in the new Galaxy Buds….
Original source: https://www.gsmarena.com/samsung_galaxy_buds_are_getting_a_new_silver_color_to_go_with_the_note10_family-news-38373.php