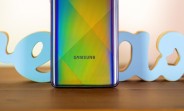 Samsung board chairman Lee Sang-hoon has resigned almost two months after he was found guilty on charges of union sabotage.
Lee Sang-hoon was appointed as board chairman of Samsung Electronics two years ago in a move aimed to increase transparency at the company by splitting the CEO and chairman roles.
Lee Sang-hoon was sentenced to a year and a half in prison last December on charges that he violated labor laws.
Samsung's high-level execs have found themselves in hot water with the authorities lately. Jay Y. Lee, Samsung's de-facto head, was found guilty of perjury, embezzlement…
Original source: https://www.gsmarena.com/samsung_board_chairman_steps_down_amid_jail_sentence_-news-41546.php