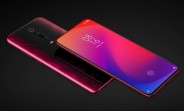 Xiaomi sub-brand Redmi has unveiled the K20 for the Indian market today, and Oppo sub-brand Realme couldn't wait to take a jab at the device.
Realme used its official Twitter account to highlight how its Realme X is cheaper than the Redmi K20 while also offering a "Real Full Screen" display. We'll just have to pretend like that chin isn't there, right?
#WhyPayMore, when you can enjoy a crystal clear and colourful Real Full Screen display for a lesser price? Enjoy a 6.53″ FHD+ Super AMOLED Full Screen Display on #realmeX starting at ₹16,999.Kill the hype, let's be real….
Original source: https://www.gsmarena.com/realme_takes_another_jab_at_redmi_over_k20_launch-news-38189.php