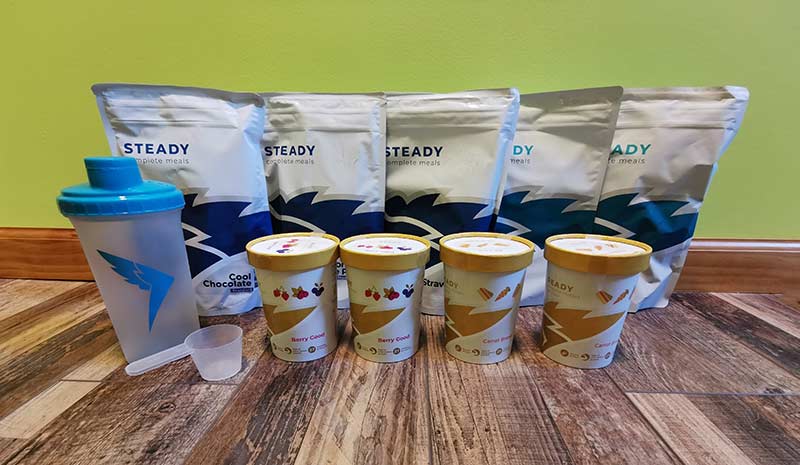 REVIEW – I'm on a new quest to find a healthy meal alternative in the form of a shake or a bar. There has to be a no-hassle way to mix it and consume it and of course, it has to be healthy. My usual go-to breakfast or lunch alternative is Nature Valley protein bars and they are just glorified candy bars with some extra protein thrown in to give them a slight edge over regular candy bars. Today's meal replacement option that I want to tell you about is Queal meal replacement shakes and oatmeal. Let's check them out.
What is it?
The Netherlands based Queal powered shake mixes and oatmeal mixes (they offer bars too but didn't send me any samples of the bars to try #sad) are meal replacements options that are designed to be nutritionally complete with 27 vitamins and minerals. That means that they provide the calories and nutrients that a typical person needs for a meal.
Queal Ready Oats instant oatmeal mixes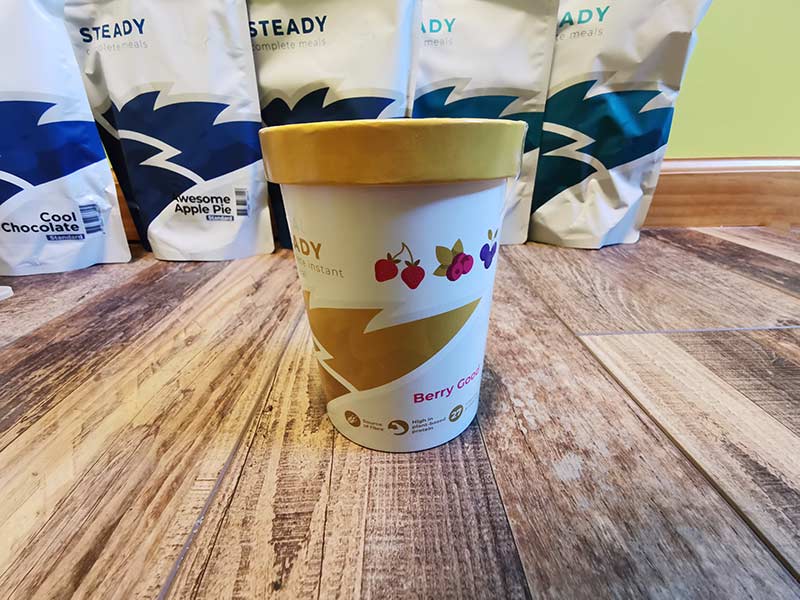 Queal offers its Ready Oats oatmeal mixes in single-serve cups and in bulk bags that each make 10 meals. They sent me both flavors of the Ready Oats in the single-serve cup option. They offer a Berry Good flavor and a Carrot Cake flavor.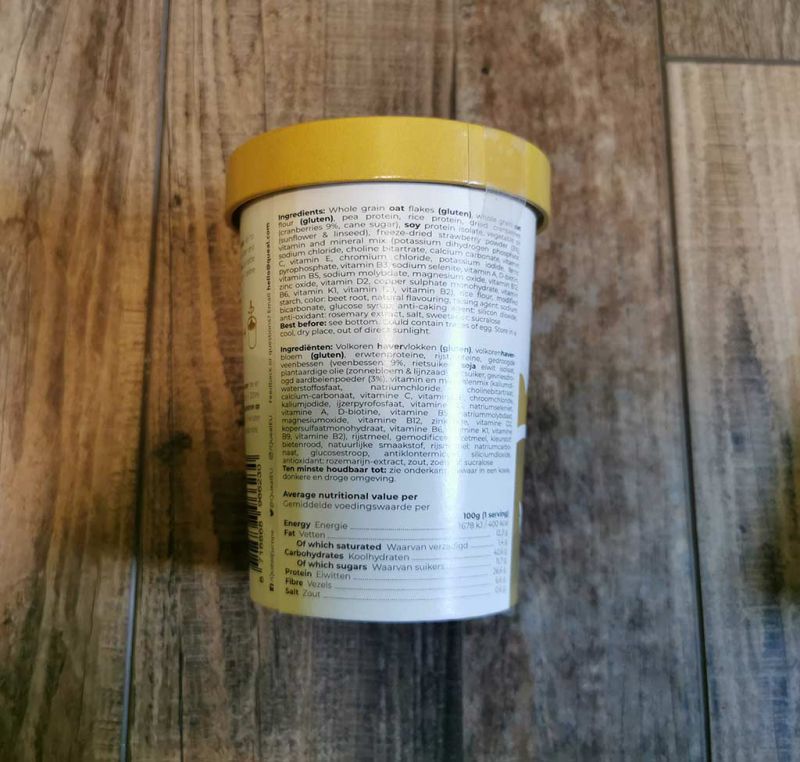 Each Queal Ready Oats vegan meal provides:
Berry Good / Carrot Break
400 kcal
26.6 g / 27.1 g protein
6.6 g / 7.9 g fiber
You can click the image above to read the ingredients.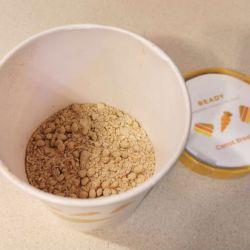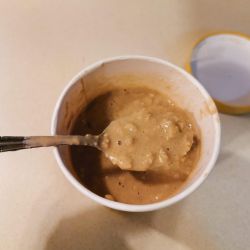 To prepare the Ready Oats, you're supposed to add 200 milliliters of water (~6.8oz) to the cup. You can either add cold water and microwave the mixture for about 2 minutes or use boiling water. Then you stir, wait a minute or two, and eat. Note that the cup doesn't have a water fill line, so you have to have a measuring cup if you want to get the right consistency.
I had high hopes for the Ready Oats because I love oatmeal and eat it several times a week. While the flavor of the Queal oats was ok, I didn't like their consistency/texture which felt like I was eating paste. I couldn't even finish one serving because it was just offputting to me. Of course, others might love it. But coming from someone like me who enjoys steel-cut oats, or old fashioned oats, the texture of the Ready Oats really didn't do it for me.
Queal Steady powdered shake mixes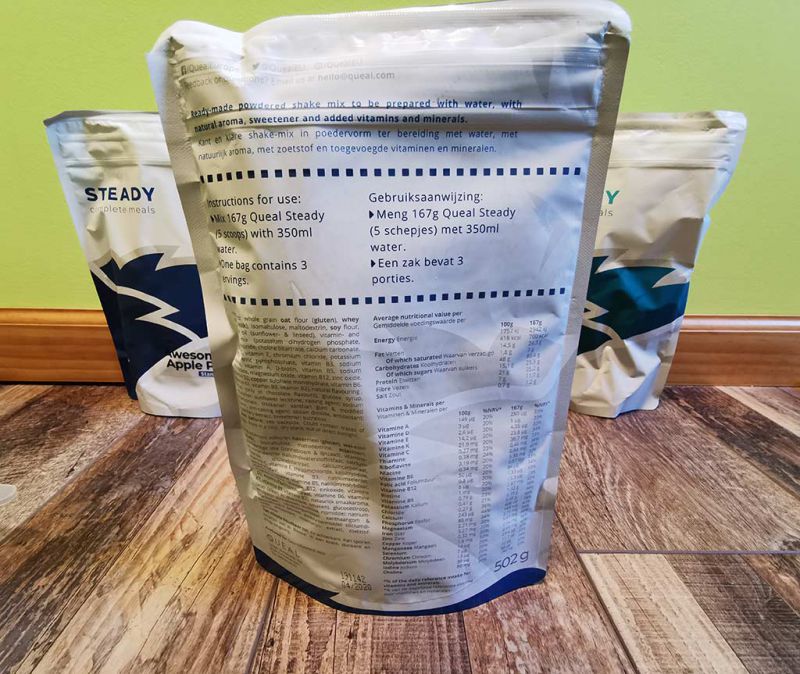 Queal offers 4 different types of Steady powdered shake mixes: Standard, Agile, Athletic, and Vegan. Each type has different calories, protein, and fiber totals, but each resealable bags contains 3 complete meals.  Of course, you can customize the calories and make each bag last longer by using less powder per shake.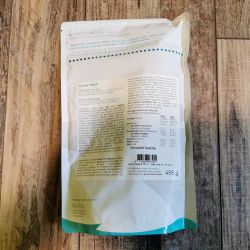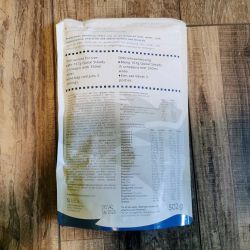 The Standard mixes provide 700 calories, 35.2g of protein, and 11.7g of fiber. The Agile mixes provide 600 calories per meal, 30.1g of protein, and 13.4g of fiber. The Athletic mixes provide 767 calories, 49.5g of protein, and 13.3g of fiber. And finally, the Vegan mixes provide 700 calories, 30.9g of protein, and 11.9g of fiber.
Queal offers several flavors of each type of shake mix. Some of these flavors include Apple Pie, Cool Chocolate, Chocolate Hazel Nut, Vanilla, Strawberry, and many more.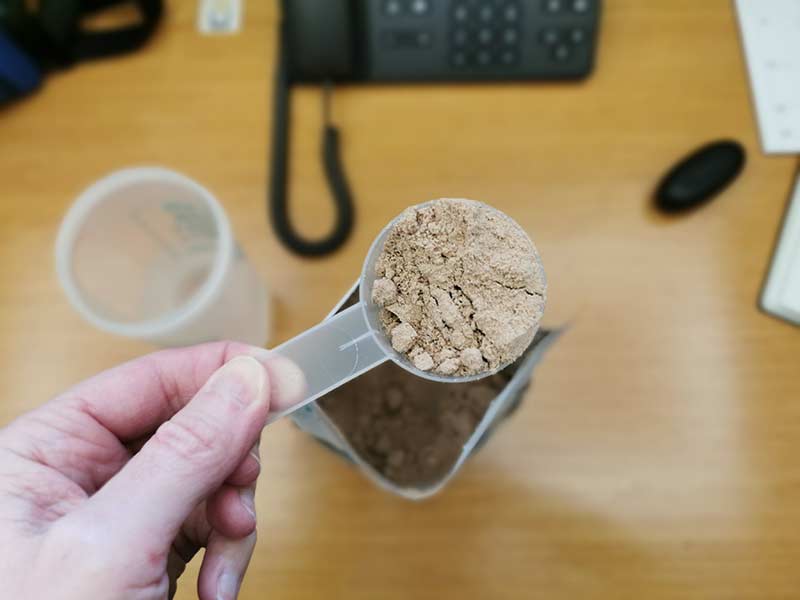 Preparing a shake is easy. Just add the number of scoops you want (5 scoops is the full serving) and 350ml of cold water (about 12 ounces) in a shaker bottle, shake for 30 seconds, and then drink.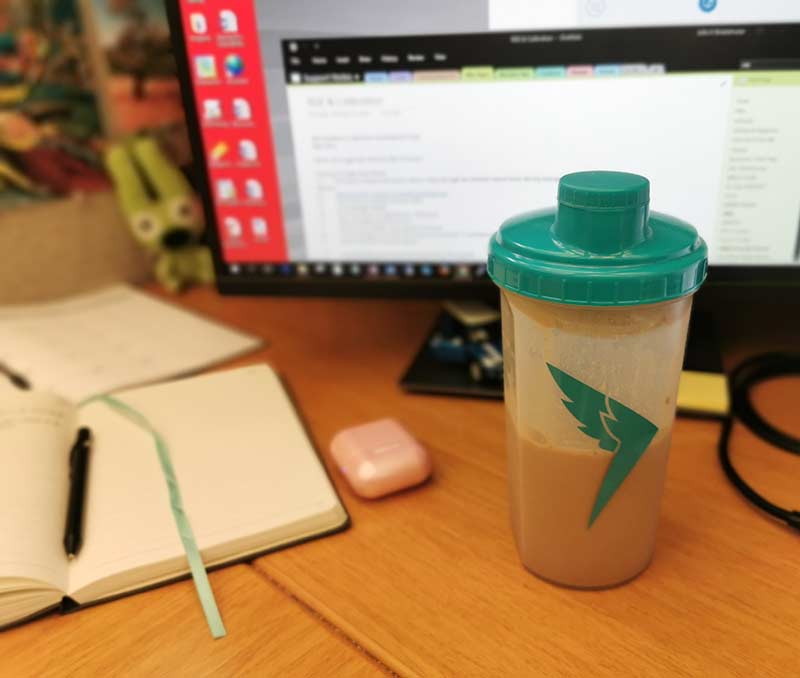 My favorite flavor of the shake mixes that they sent me to try is their chocolate hazelnut. I didn't make the full 700 calorie shakes since I don't eat that big of meals each day. I customized my shakes to cut the calories down to about 350-400 per meal. I used the full amount of water though and although the shakes were a bit thin if I drank them right away, the flavor was good. If I mixed a shake and put it in the fridge for several hours, the consistency was thicker and smoother. Either way, they have a very slightly gritty texture which reminds me of pea protein shakes although Queal doesn't use pea protein.
Queal uses oats, whey and soy protein in their mixes along with a small amount of Sucralose for sweetener. I don't like that Sucralose is used and wish they would offer unsweetened versions or use stevia.
I will say that the Queal shakes are better in some ways compared to the Huel meal replacement shakes that I have also reviewed. With Huel, it would give me gas and cause constipation problems if I drank too many of them because I don't think they have enough fiber per meal. Yeah I know, TMI. But with Queal, I didn't notice these issues.
What I like
Shakes have good flavor
Affordable per meal price of about $1.61 for a 400cal meal
Doesn't cause gas (for me)
What I'd change
Use a natural sweetener instead of Sucralose
Need lower shipping prices
Final thoughts
I didn't like the Queal Ready-Oats, but I liked the Steady shakes quite a bit. They are easy to mix and taste good. As long as you don't mind whey, soy, and Sucralose, they are pretty healthy compared to eating most protein bars or fast food. The biggest issue with Queal isn't what's in them or the price of each meal which is pretty affordable. The biggest problem is the shipping fees to the US. Shipping is $22.59 for orders above $50.82 and for orders below $50.82 shipping is $56.47. Ouch! At one time I think they had a US distributor but it doesn't appear to be the case now. Based solely on taste, nutrition, and price, I have no problem recommending Queal. But when you put their shipping prices in the mix, it makes it harder to do that.
Price: Ready Oats single serve cup $2.82/10-meal Bag $22.59, Steady shake mixes $7.91 – $8.47 per 3-meal bag
Where to buy: Queal.com
Source: The sample for this review was provided by Queal.
Filed in categories: Reviews
Tagged: Food
Queal meal replacement shakes review originally appeared on The Gadgeteer on July 7, 2019 at 11:30 am.
Note: If you are subscribed to this feed through FeedBurner, please switch to our native feed URL http://the-gadgeteer.com/feed/ in order to ensure continuous delivery.
Original source: https://the-gadgeteer.com/2019/07/07/queal-meal-replacement-shakes-review/