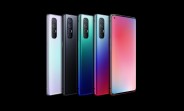 Earlier today we heard that the Oppo Reno3 Youth will be launched outside China under the name Oppo Find X2 Lite.
Now, the same source says the Reno3 Pro 5G will also go global, but this time the name will be Oppo Find X2 Neo.
The render of the Oppo Find X2 Neo looks like the Reno3 Pro 5G, including the wallpaper, so it could be a case of both being fake, or Oppo could really be bringing its Chinese Reno3 lineup as part of the Find X2 family outside its domestic market.
Specs-wise, the Reno3 Pro 5G is truly an intriguing phone – 48MP main camera, coupled with a 13MP telephoto…
Original source: https://www.gsmarena.com/oppo_find_x2_neo_leaks_it_is_the_reno3_pro_5g-news-42266.php