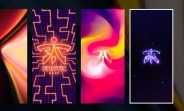 OnePlus had built an Easter egg into the OnePlus 7 Pro and the OnePlus 7 that largely went unnoticed until now.
Fnatic mode is found under Gaming mode
Found within the Fnatic mode settings (Settings > Utilities > Gaming mode), the Easter egg is activated by tapping on the Fnatic logo five times. Once you do that, a text box will appear wherein you have to enter the text "alwaysfnatic" without the quotes.
Wallpapers can be added optionally to your default wallpaper set
Once you do that, the Easter egg is unlocked with a Fnatic logo animation. Therein you will…
Original source: https://www.gsmarena.com/oneplus_fnatic_easter_egg_unlocks_three_new_stock_wallpapers-news-38659.php