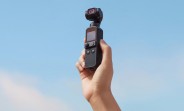 DJI has launched the new Pocket 2, the second generation version of the original Osmo Pocket.
The new Pocket 2 features the same compact design of the previous model with the gimbal-mounted camera for stabilized images and video. However, it now features a larger 1/1.7″ 64MP sensor that can shoot images in 16MP or full 64MP. You get 8x zoom in 64MP mode or 4x lossless zoom in 16MP mode. Autofocus has also been improved.
The Pocket 2 can also record video in 4K at 60fps. The video is saved at 100Mbps for a cleaner, less compressed image. The camera also supports shooting in HDR….
Original source: https://www.gsmarena.com/new_dji_pocket_2_brings_updated_sensor_optics_and_audio-news-45892.php