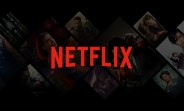 Netflix's user growth has been slowing down recently, and the company is now looking for ways to make more people interested in subscribing.
As part of a test, it is said to be offering free access to users in India for a weekend. This should somehow help expand its reach in the country, according to a top company executive.
Netflix recently stopped offering a free one month trial to those interested in subscribing to its online streaming service, so this free weekend in India test would at least in part aim to make up for that.
Greg Peters, COO and Chief Product Officer at…
Original source: https://www.gsmarena.com/netflix_will_give_users_in_india_free_access_for_a_weekend-news-45912.php