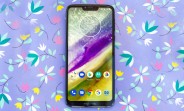 The Moto G7 Power 3GB/32GB variant which is sold at $249.99 in the US is currently available for as low as $49.99 at Best Buy.
You can get the Moto G7 Power at this price by activating it on a new Verizon line. But, if you don't want to get a new Verizon line and activate it on an existing one, the G7 Power will cost you $149.99.
That said, activating the G7 Power on other carriers like Sprint and AT&T will cost you $99.99 and $149.99, respectively. And, if you activate the service later, you will have to shell out $199.99 for the phone.
The Moto G7 Power was announced in…
Original source: https://www.gsmarena.com/motorola_moto_g7_power_usd_50_best_buy-news-38250.php