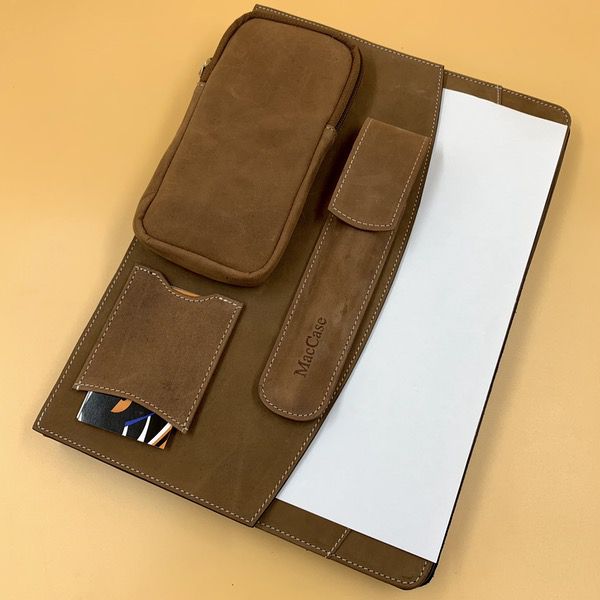 REVIEW – Modular design makes me happy. MacCase makes my Apple products happy. Put them together, and you're looking the MacCase iPad Premium Folio Case collection! We're checking out the iPad 12.9″ keyboard-compatible case along with a bunch of accessories that make for some supreme office stylin'. To the review!
What is it?
It's a folio case for your iPad. The model I am testing is designed to work with the Apple Keyboard and the first generation 12.9″ iPad Pro. I've also got a set of accessories that include the paper holder, cable pouch, card holder, and pencil case that build out a whole traveling office solution.
What's in the box?
The case comes as a stand-alone item, and you can add whatever accessories you wish.
Hardware specs
Made from premium vegetable-dyed unfinished leather
Suede interior
Polymer iPad tray
Magnetic pads for attachments
Size and weight vary by size (depending on which iPad you have)
Design and features
MacCase has been a long-standing provider of accessories for Apple products, continually designing new cases for hauling your iPads and MacBooks. The iPad folio lineup embodies a lot of the trademarks that make MacCase special: premium leathers, superb construction, and innovative design details that work seamlessly with your hardware. The iPad Folio lineup is made up of vegetable-dyed premium leather with a soft finish, backed by a padded suede liner to protect from scratching. Stitching and assembly throughout are impeccable, with some nice little design accents that go along with the premium quality of the design. Check out the goods: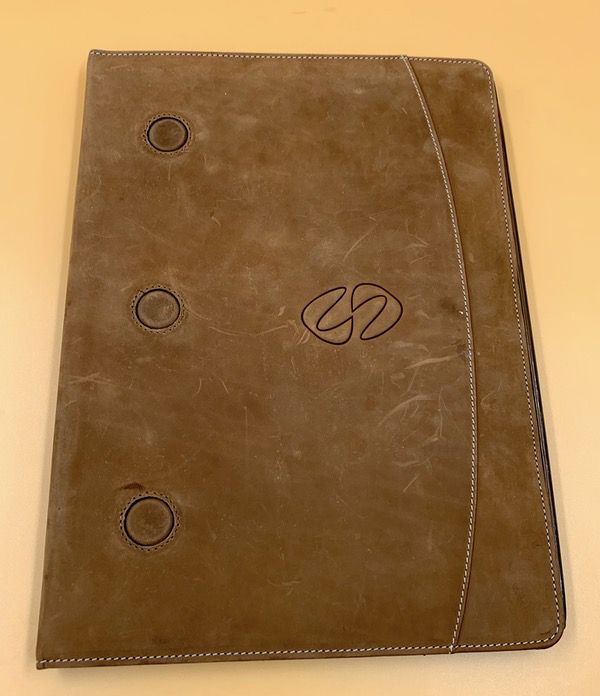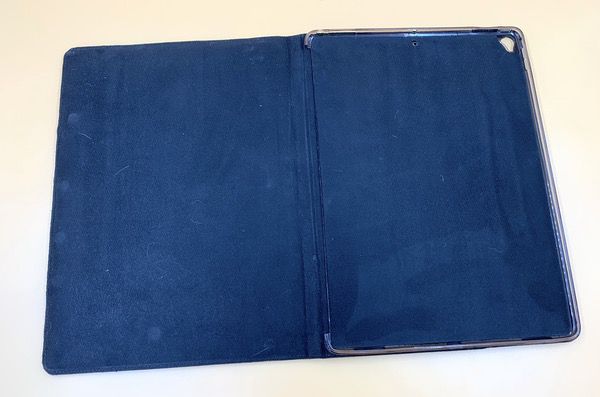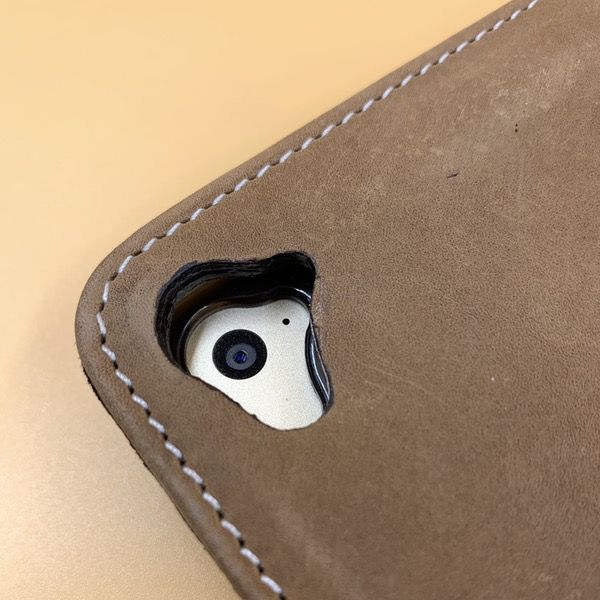 Your iPad tucks into a collar made from a clear gray polymer that almost gives it a frameless mounting look. All of the ports and buttons are precisely machined to give access to all of the iPad's functions. It also pops out easily if you need to remove it, but stays locked in place when used with the case: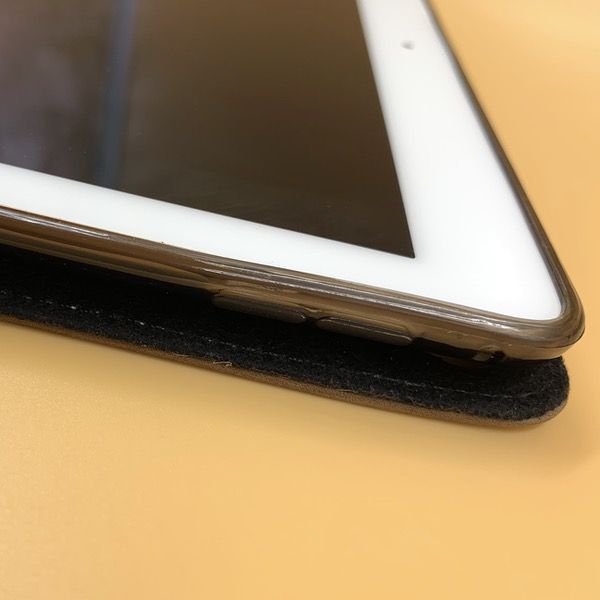 If you want to go without any accessories, the case works perfectly on it's own. You can open it like a book, or take advantage of the hinged backplate to use the case as a stand: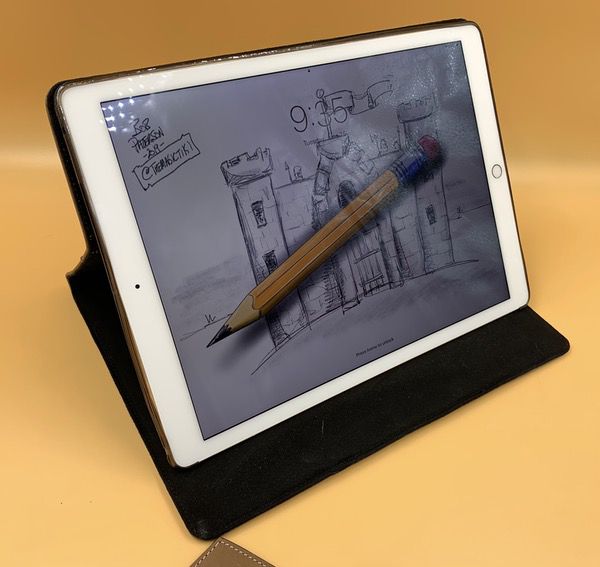 The version I am testing is designed to also work seamlessly with the Apple keyboard. The keyboard slot is exposed in the collar, so you can snap it into place: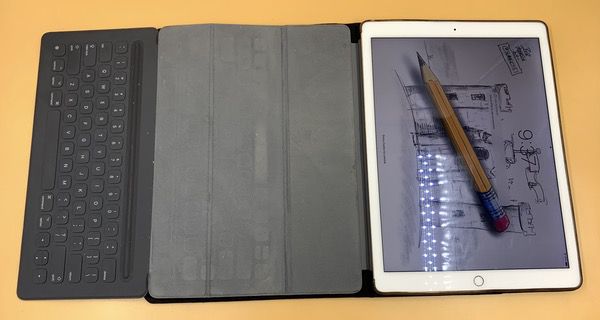 It then follows the folds of the case when you use the stand, with the keyboard stand neatly folding into place.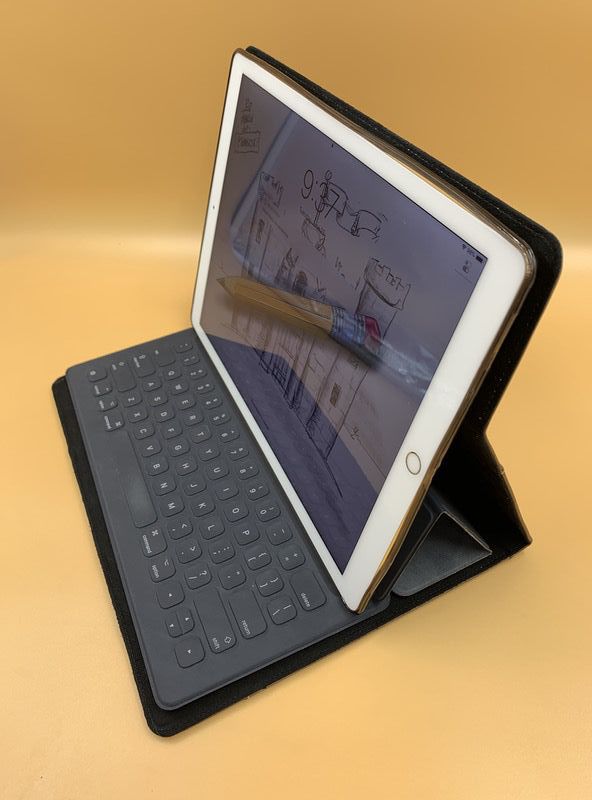 Here's a comparison shot of the stand setup with and without the keyboard. I really like this aspect of the design, because I can work with the stand either way: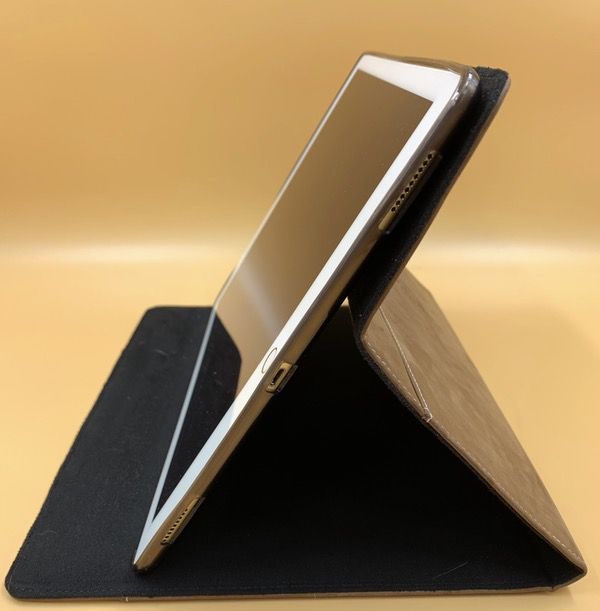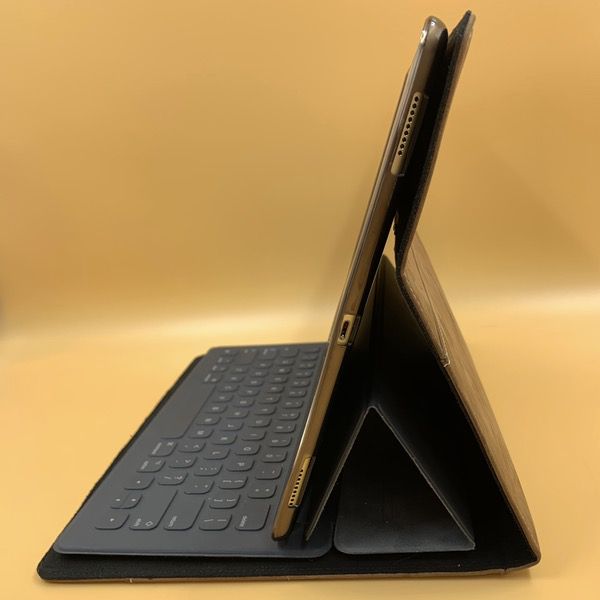 Now here's where the customization comes into play. There are a set of magnetic pads on the front cover of case, designed to work with a range of accessories. These accessories are all made to match the case with respect to leather quality and finishing, and each has matching magnetic pads to connect to the case.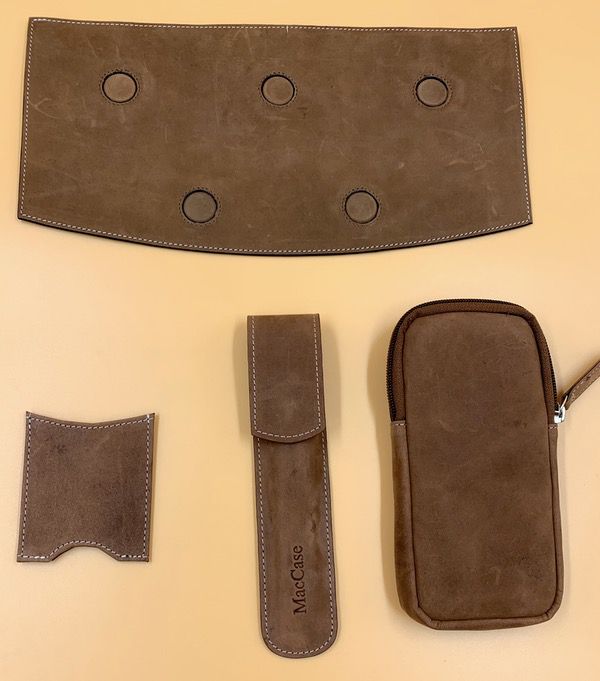 Three magnetic pads run up the side of the basic case, which allows for attaching accessories. They snap into place with enough grip that they won't get knocked loose without some significant force (they can be removed easily by prying them loose):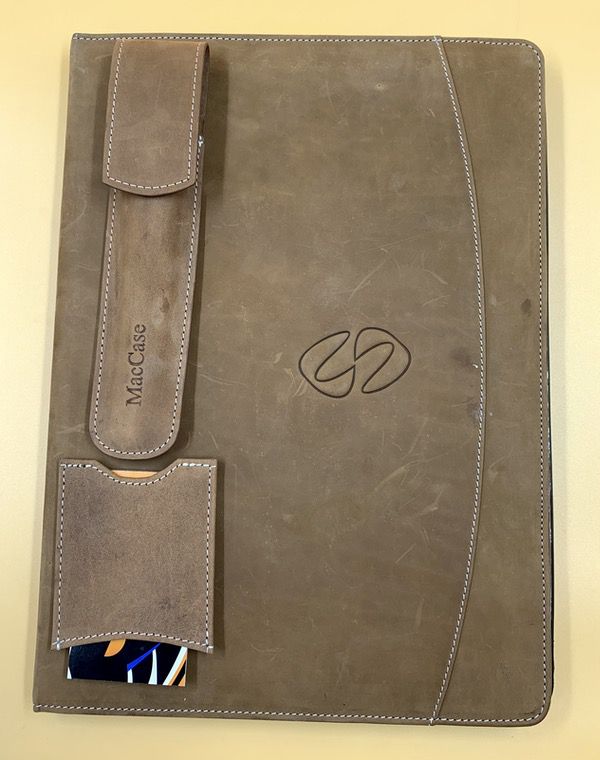 If you add the paper holder you get to additional magnetic pads on its front faces which allow you to load up all the accessories at once: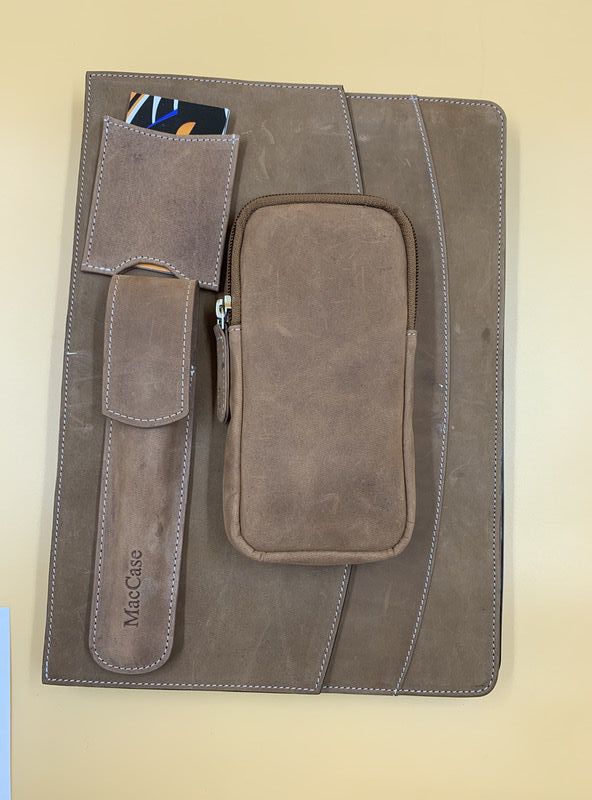 Speaking of accessories, let's run through the collection. The paper holder not only provides additional accessory attachment points, but it allows you to sandwich up to 8 sheets of paper between the paper holder and the case. It uses all three magnetic pads on the base case to secure it. Peel the holder off and your papers are ready to go.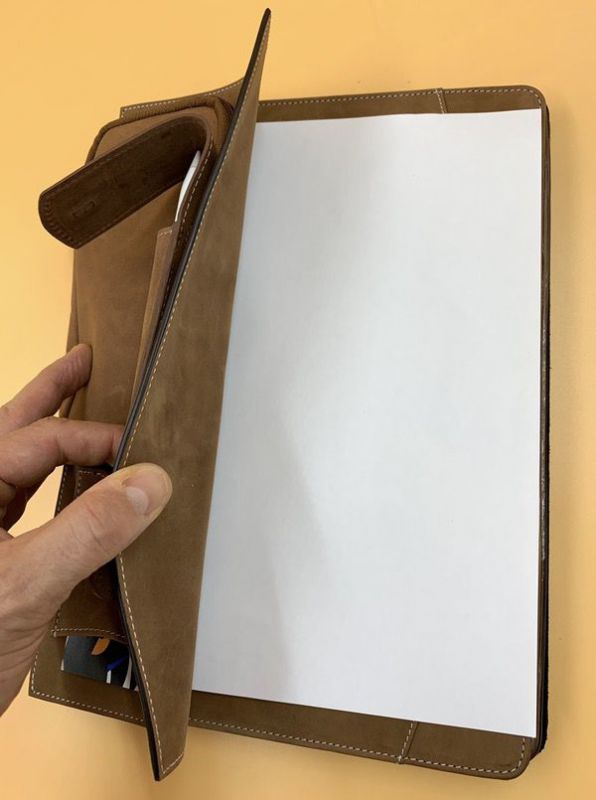 The card holder attaches with one magnetic pad, and will hold up to a dozen standard business cards.
The pencil holder has a magnetic closure, and is sized for the Apple Pencil or a similar sized stylus. It requires two magnetic pad attachment points to secure.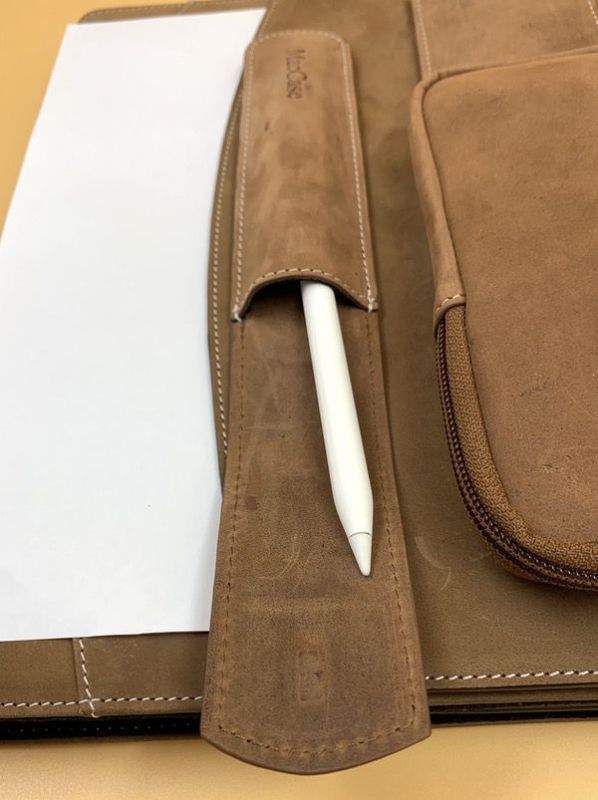 The cable pouch has a zipper closure and measures 7″ by 3.5″ by 0.5″ deep. This will wrangle all of your cables, headphones and charger brick. I can also get my iPhone XS Max in there if I want to. This pouch also requires two magnetic pad attachment points to secure.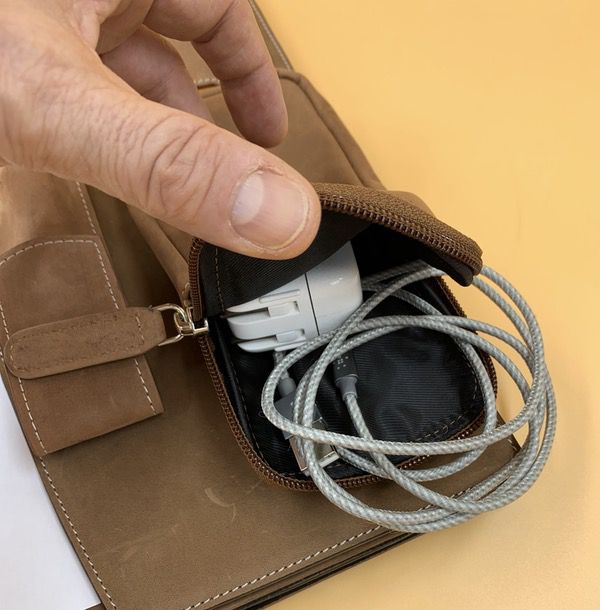 The case on its own weighs 1.25 pounds, while the whole package with accessories weighs in at about 7 ounces more. Note that this is before you add the iPad Pro 12.9″ and keyboard (mine is a first generation). The case with the keyboard measures in at just under an inch in total depth, with the whole kit measuring in at just under 2 inches deep with all accessories.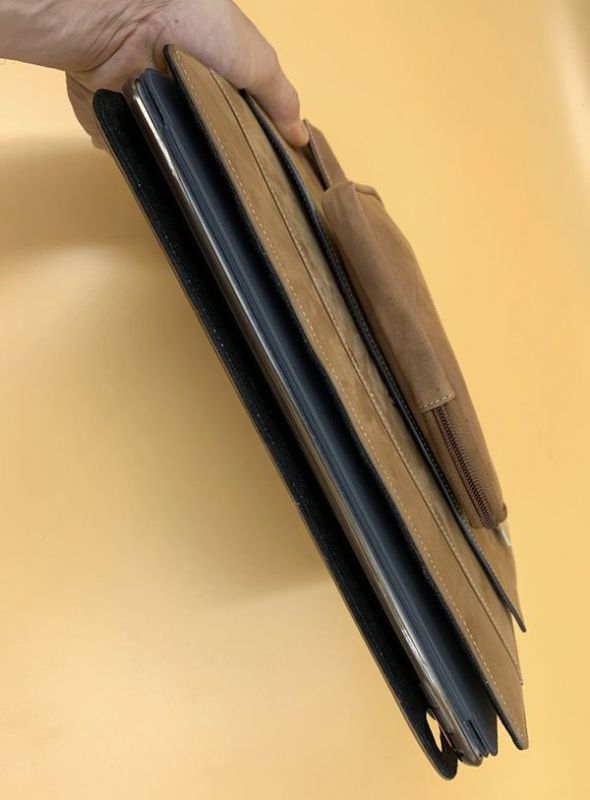 Performance
The MacCase iPad Premium Leather Folio Case is a beautifully crafted, durable piece of gear that functions really well if you're an iPad nomad. It looks great in business environments and provides excellent protection for your gear. Add the accessories and you have everything you need for meetings (or sales calls, or interviews) in one complete, streamlined package. And if you run with your keyboard all the time using the iPad as a laptop replacement, you'll find the keyboard-compatible model fits that use case perfectly.
There are some drawbacks to the bulky design, however, that may not be ideal depending on your intended use. If I am just using my iPad to surf the web, for example, I find the case to be a bit bulky and awkward to use in the "open book" format. The front cover does flip all the way around the back, but it is still clunky if you're resting it on your lap or sitting on the couch. It really works best as a stand in my opinion, but the stand doesn't support rotation for vertical/horizontal iPad positioning. This is a pretty common issue with heftier iPad cases, so you may or may not find this to be an issue.
I quite like the assortment of accessories, especially the Pencil case and cable pouch. Unfortunately, the base case configuration won't support both of those accessories at once (you need 4 attachment points). You'll need to add the paper holder for that. This does not add much bulk to the case, but it does restrict your options unless you go all in on the accessories. I'd like to see four attachment points on the base case more maximum flexibility.
One final note on the accessories: if you're using the case as a stand, you'll find those accessories are now under the base. You'll need to pull them off if you're using the case in stand mode. If you've got the paper holder, you can just pull the whole thing off with the accessories attached and set it aside while you work.
What I like
Premium quality craftsmanship
Professional look and feel for business applications
Excellent protection for your iPad
Accessories allow you to run bag-free
What I'd change
Accessories get in the way when used as a stand for your iPad and/or keyboard
Base configuration doesn't support all accessory pouches
Bulky case may not appeal to all users
Final thoughts
The MacCase iPad Premium Leather Folio is a great piece of business gear, especially if you use your iPad and keyboard as a laptop replacement. There are some little design issues that you may or may not like, depending on your intended use. Overall, however, it's a high-quality set of gear that provides the customization and durability that will last through years of use.
The Folio is available in the vintage brown (tested here) or black, in multiple configurations to fit different iPad sizes and versions. Keyboard-compatible models are available, as are bundle packs that include a briefcase or messenger bag designed to work with the case. Check out the MacCase site at the link below for more info.
Price: iPad cases start at $149, depending on size. Accessories are priced from $20 to $40 each.
Where to buy: Go to the product page for the iPad folios on the MacCase web site.
Source: The sample of this product was provided by MacCase.
Filed in categories: Reviews
Tagged: iPad case, Leather
MacCase Premium Leather iPad Folio Case & Accessories review originally appeared on The Gadgeteer on July 4, 2019 at 11:00 am.
Note: If you are subscribed to this feed through FeedBurner, please switch to our native feed URL http://the-gadgeteer.com/feed/ in order to ensure continuous delivery.
Original source: https://the-gadgeteer.com/2019/07/04/maccase-premium-leather-ipad-folio-case-accessories-review/