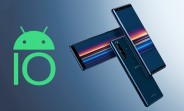 Japanese carrier DoCoMo has posted a list of phones that will get updated to Android 10. Note that Sony's plans for the global models may be different, but it seems that flagships from early 2018 and later are safe.
Sony Xperia XZ2 • Sony Xperia XZ2 Compact • Sony Xperia XZ2 Premium
Sony Xperia XZ3 • Sony Xperia 1 • Sony Xperia 5
Also on the list is the Sony Xperia Ace, a DoCoMo-exclusive phone that is an Xperia XZ4 Compact in all but name. This phone never got a wide release, however.
Anyway, the Xperia XZ1 and XZ1 Compact from late 2017 are not on the list. They…
Original source: https://www.gsmarena.com/list_of_sony_xperia_phones_waiting_for_the_android_10_update_published_by_docomo-news-39705.php