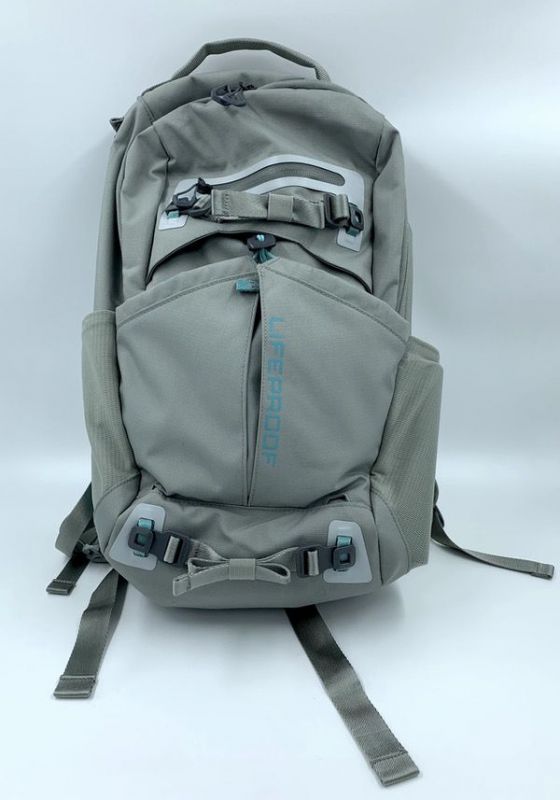 REVIEW – Friends, let me introduce you to a LifeProof Squamish 20 Liter backpack. If you're looking for a bag that has a place to store every little thing, this is absolutely going to be your jam. We've got a ton of features to talk about on this one, so be prepared for lots of pictures. To the review!
What is it?
It's a multipurpose 20 liter daypack designed to bounce between the workplace and the weekend.
Hardware specs
10.6" wide by 17.7" tall by 6.7" deep

20 liter capacity

1.9 pounds

Cordura body fabric
Design and features
The LifeProof Squamish is designed as a multitasker. It leans more towards the adventurous side with all of those external pockets and attachment points, but clean geometric shapes and modern texture patterns give it a look that isn't out of place in the modern office. Pops of color & contrast in the trim elements add a bit of subtle fun to the profile. Here's a shot of your Humble Reviewer geared up to get on the daily grind.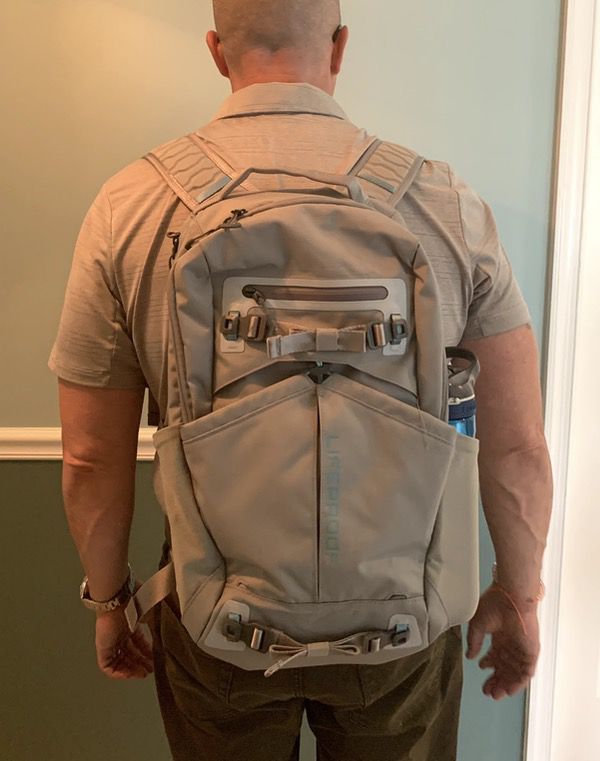 There's a whole lot to cover in this bag. A whole lot. Let's start with construction, then we'll get into all of the features.
Construction and Materials
The construction on the Squamish is very good. You won't find the heavyweight fabrics or burly hardware that you'll see in some competitors, but it's a solid build overall with lots of attention to detail. 
The finishing bits are outstanding. Check out the weave on the Cordura, and the subtle LifeProof logo on the back seam.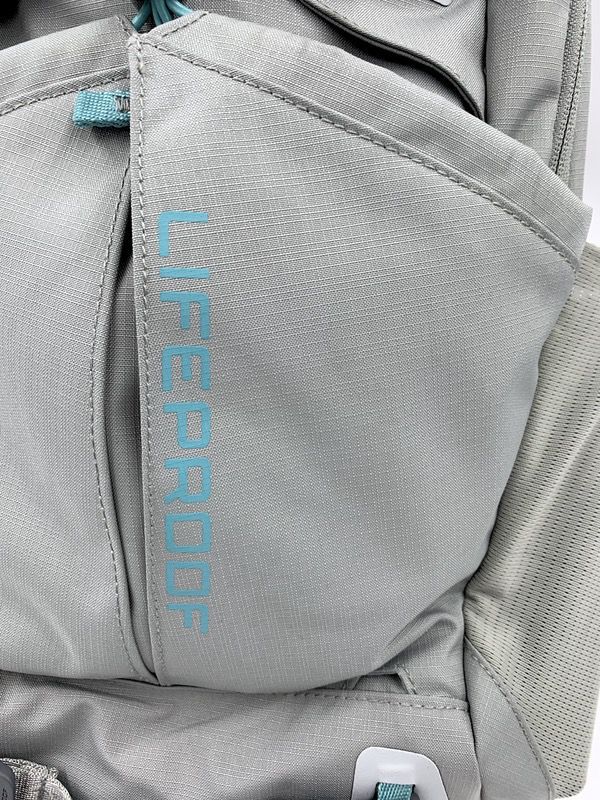 As you wander around the bag, you'll find more evidence of the finishing elements in just about every corner. Check out the reinforced edges and seams. They didn't skip an edge anywhere.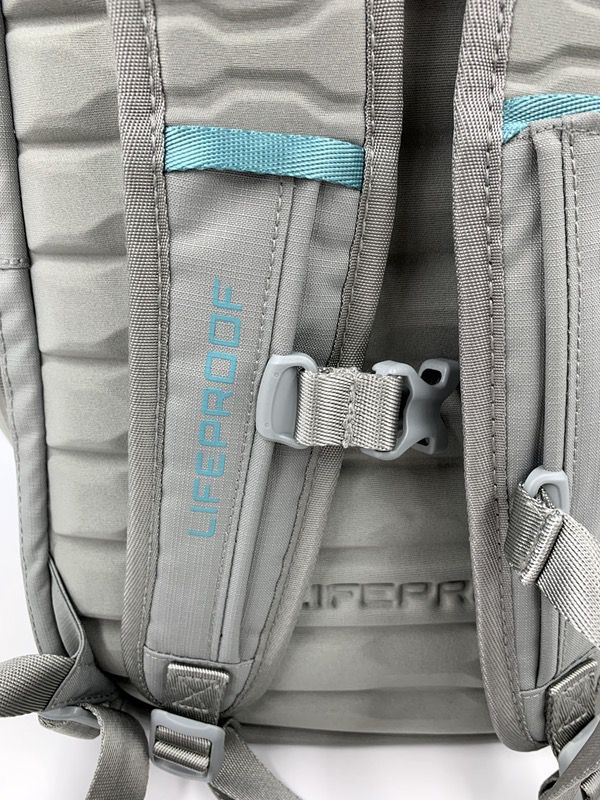 Zips aren't YKK, but they are sealed for water protection. That's a good thing. They also include some nice zipper pulls as a finishing touch.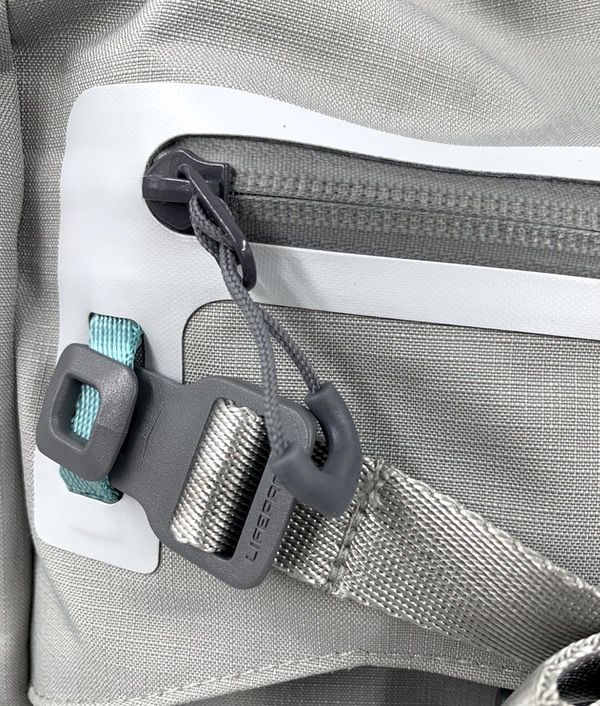 You'll find extra reinforcements at all the stress points. We'll see how these heat-bonded pads hold up over time, but I'm not seeing any issues so far.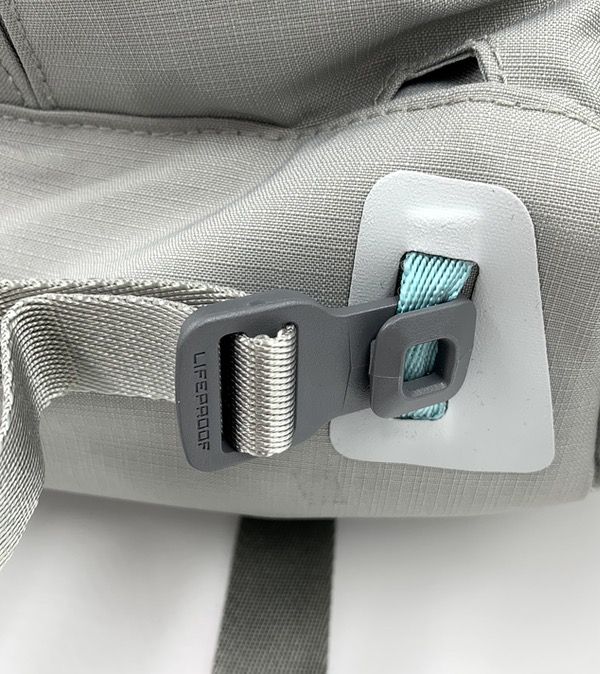 A thick padded grab handle shows extra attention to detail. Check out the cool little LifeProof logo imprinted on the grip.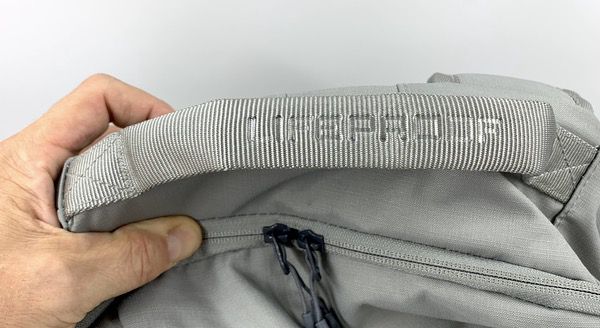 You'll also find a zipper garage on top of the sealed zip for your laptop access, to help keep your precious from getting soggy.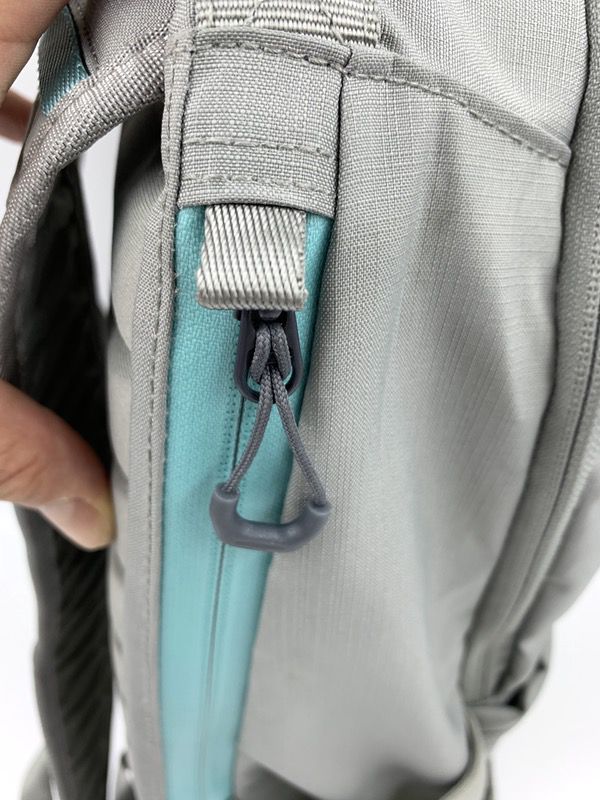 The padding throughout the bag is rather light to help keep the weight at a travel-friendly 1.9 pounds. But the padding is well-positioned in the right places. You've got a padded base to protect the goods when you plunk your bag down.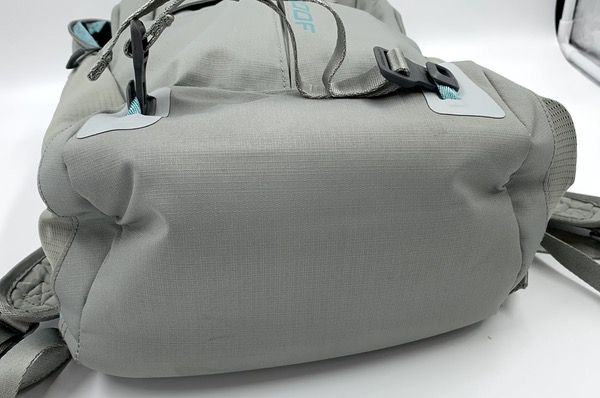 The back panel & shoulder straps use a really interesting material choice. It's a pressed grid made from a firm foam that minimizes bulk and weight. The shoulder pads are thin but provide firm grip and comfortable wear.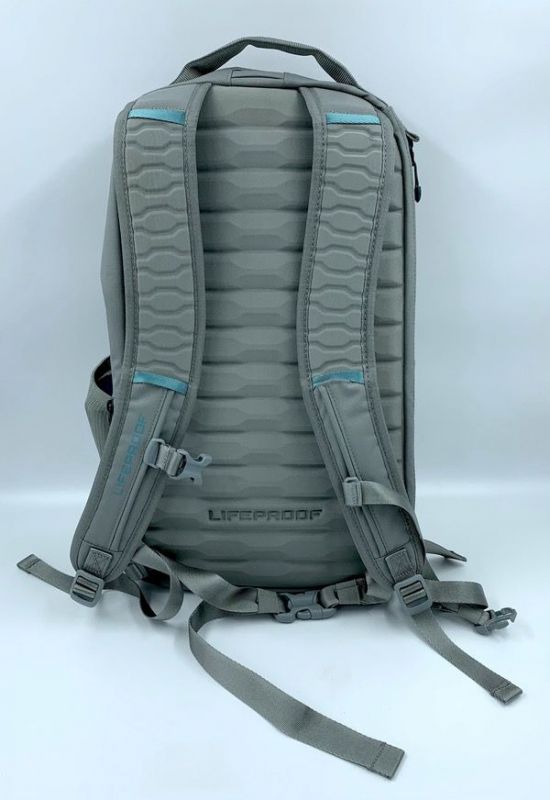 Here's a closeup of that back pad. It's thick and uses a different pattern to promote breathability. And while it flexes and rolls to match your back shape, it provides surprisingly effective protection for your laptop. It's a winner.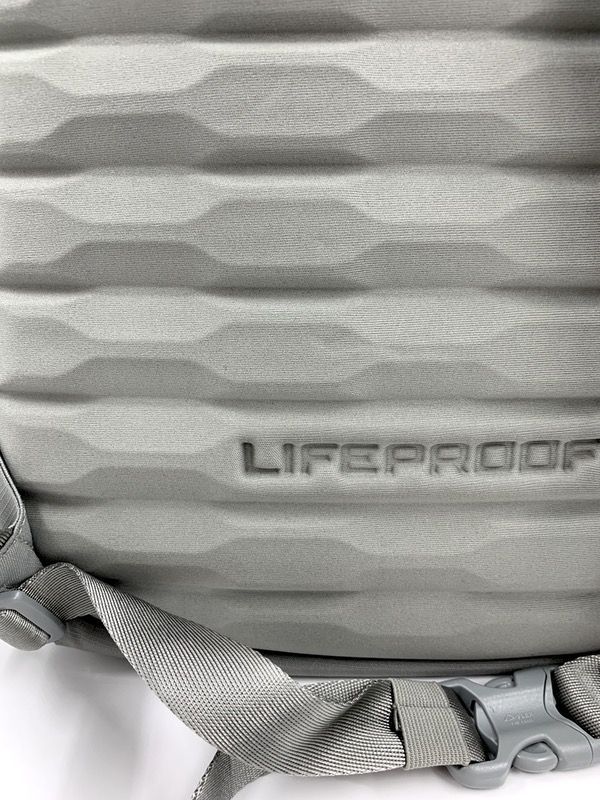 Overall I am really pleased with the construction. It's not a rolling tank like a Tom Bihn or Mission Workshop bag, but I'm not concerned about long-term durability. I'd put the build quality on par with the likes of Timbuk2 stuff. That's not a bad thing.
Exterior Layout and Features
The Squamish is a classic box shaped top loader with access to the main compartment from a pair of zips that travel about 1/3 of the way down the front face. We'll get there eventually, but we have to start with the external organization. This bag is made to keep all of your essential ready for quick access. 
You'll find a pocket on either side that will flex to take hydration bottles, a small umbrella, and similar tall stuff. The whole pocket is elastic to take large items, and has a reinforced top edge to keep from fraying. I really like having two pockets like this, as I usually run with a 24 ounce Yeti on one side and my sunglass case on the other.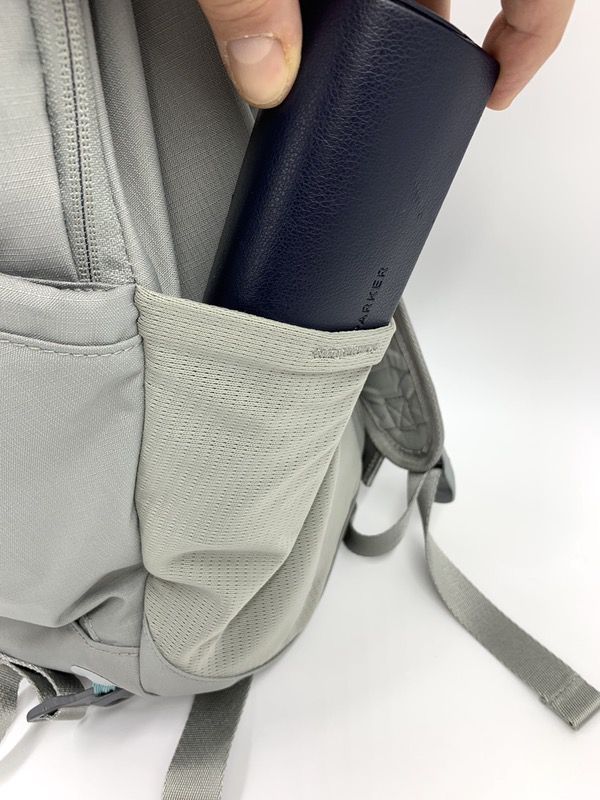 Your workhorse storage space is a huge open pocket on the front face of the bag. It's super-convenient for tossing in stuff on the run, and the generous 8″ by 8″ size gives you all kinds of flexibility for using this space.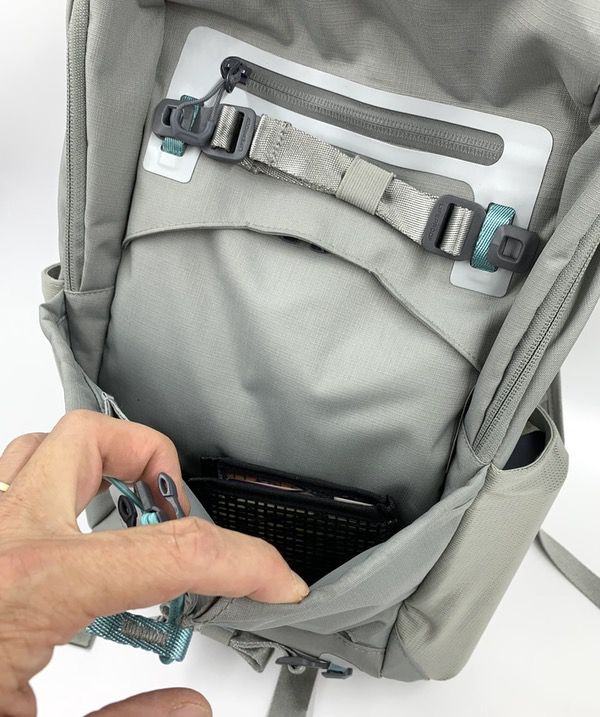 Here's a shot of me rolling to work with that pocket loaded up with healthy snacks. I think I could get a small football in there. Or maybe a pair of sneakers… definitely a pair of flip-flops for the beach.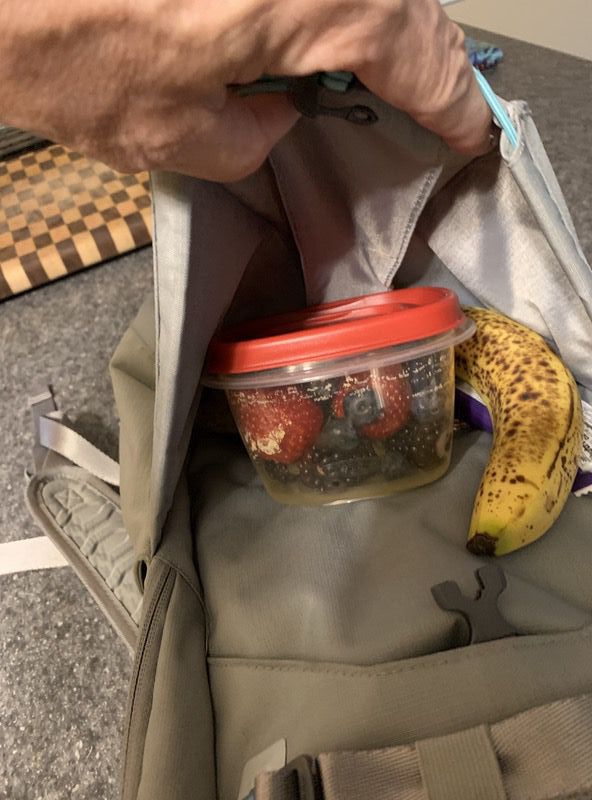 Many bags like this present a water problem, but this design cinches with a clip that hides under a hood on the front face to help keep the water out. It also helps to bisect the space if you have a tall item (like a water bottle) to keep it from flopping around. Should the wet get in, the pocket also has a tiny drain hole at the bottom on each side. You can pull that chord to snug things up.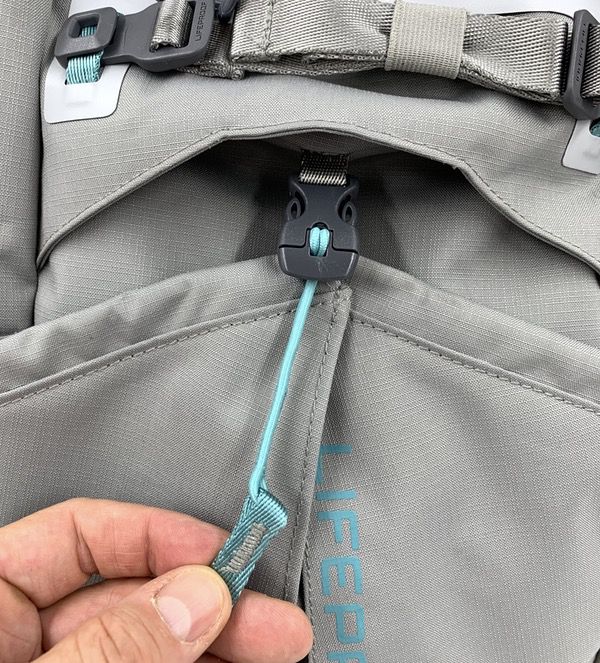 The LifeProof Squamish also provides a pair of anchored tie-down straps mounted on the front face to secure additional gear. These can be removed, or you can use the elastic bands to lock down all that extra strapping so that they stay out of the way when not in use. There's one at the top and bottom of the front face (bottom shown here) to secure extra-long items like a big umbrella, a rolled blanket, or a tripod.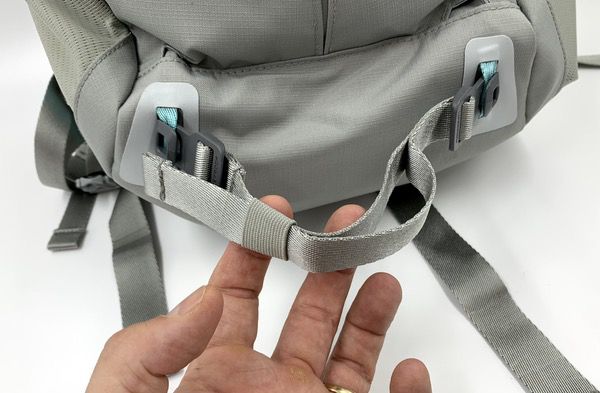 Now that your big stuff is secured, we'll move on to the stash pockets. At the top of the front face is a soft-lined pocket accessed by a zipper where you can stash your phone or little doodads. It's generously sized at roughly 8″ by 6″. It's also got a pass-through port to the inner pocket if you want to rig up a charger for your phone. The zipper is built with a rubberized seal to keep the elements out.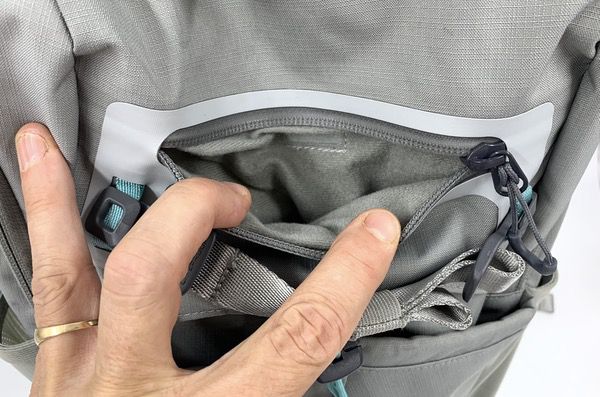 Your laptop rides in a padded space on the back face of the bag, accessed by another sealed zip that runs the height of the bag. You'll see it here in the side profile shot… that blue strip. That's the thing.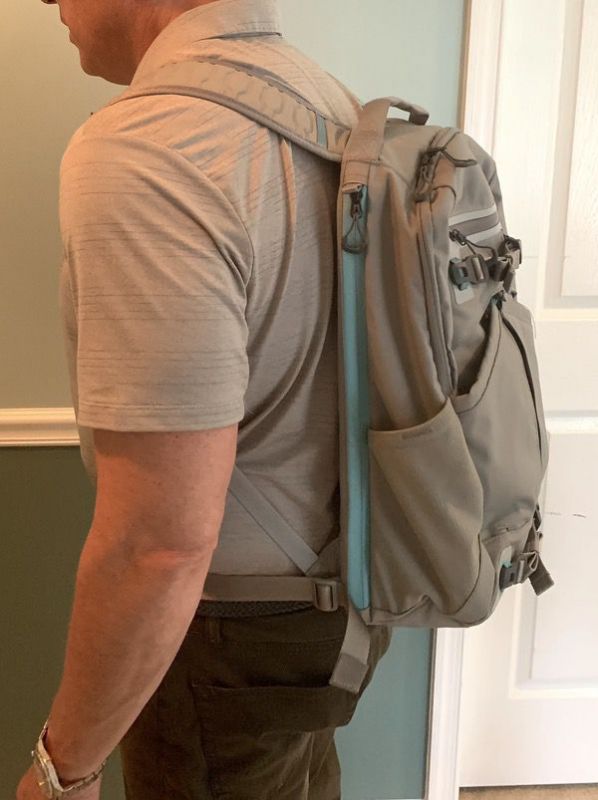 This is basically an open space, with a separate sleeve for your tablet. The specs recommend a 13" laptop, but it is a huge space (10″ by 17″) that could probably handle a thinner 15″ computer like a MacBook. My 13″ MacBook Pro swims in this space with room to spare for a notebook and more. There is some light padding in the pocket in addition to the back panel and base.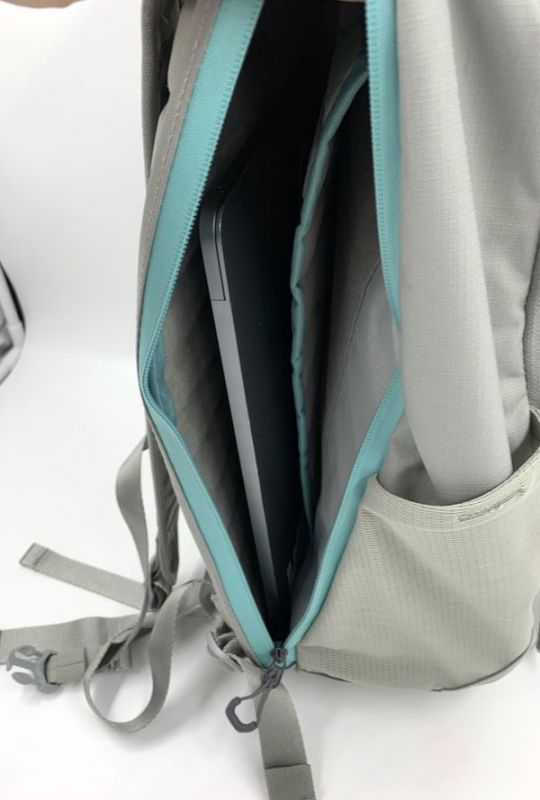 And just when you thought you were done on the exterior, you'll find a secret stash pocket on the opposite side! This space is sized to fit a wallet or smartphone, which snuggles in behind the water bottle pocket on that side. While the zippers sport stylized pulls throughout the exterior, this one doesn't to keep it sneaky and unobtrusive for your valuable bits.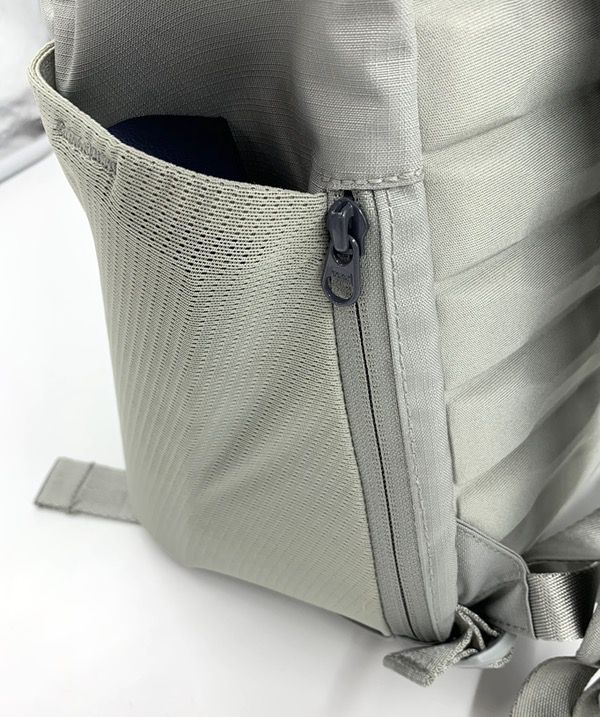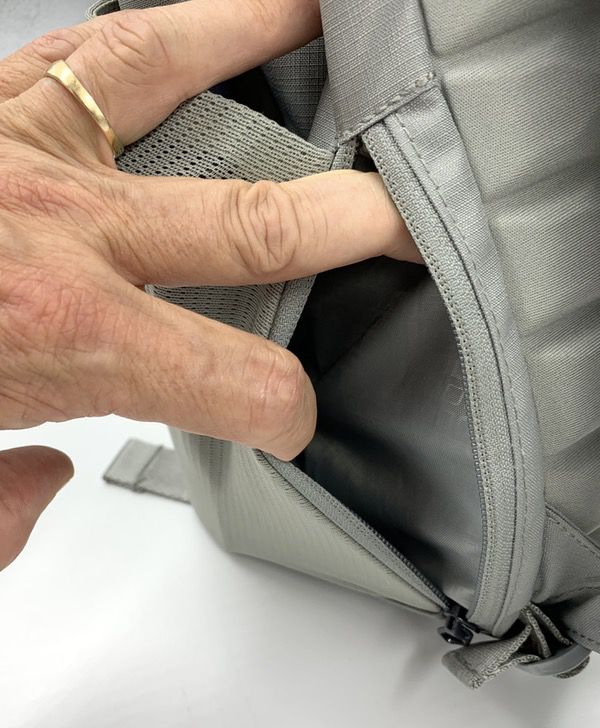 Interior Layout and Features
Opening the main compartment, you'll find an open space that runs the height and width of the bag with about 5″ of depth. There's plenty of room in there for all the things you don't need to get to in a hurry.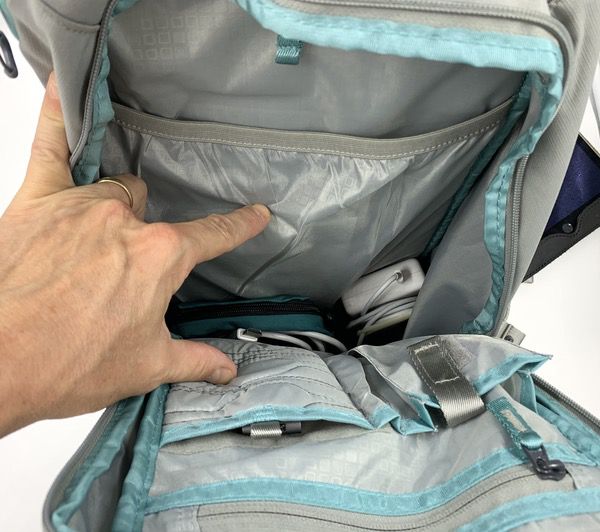 The rear of the front panel sports a three-pocket organizer. There's a deep (7″ by 7″) zipped pocket with a key leash, a bellowed pocket (3″ by 5.5″) that closes with a velcro strap, and a quilted soft-lined pocket sized for delicate bits (4″ by 5.5″). These pockets do a nice job of staying out of the way when you're rummaging around for bigger stuff in the main compartment.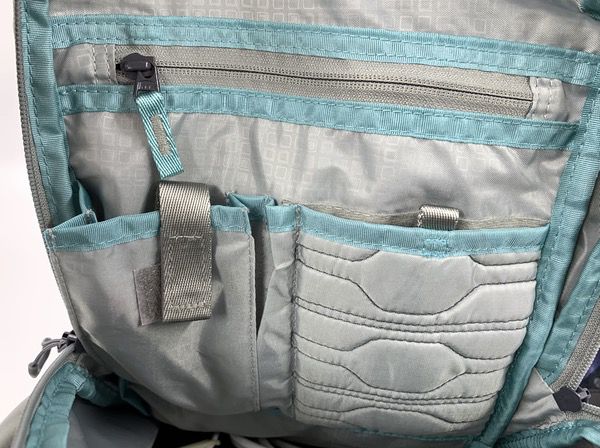 There's a drop pocket on the back face of the bag with an elastic trim, perfect for documents or a tablet. You can also stash a 3L hydration reservoir in there, and feed the tube up through a port at the top of the bag that tucks into a loop on the shoulder strap (neat!) You'll also find another clipped leash that you could use to hang accessories inside the bag, or your hydration reservoir.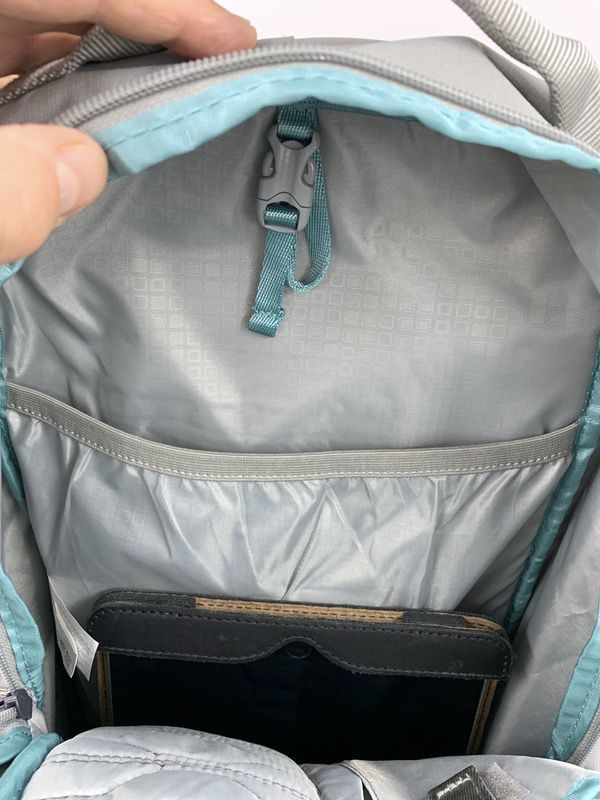 By my count, that all adds up to 13 different pockets (including the main chamber) and four additional attachment points to organize all of your gear. Even the obsessive organizer will be hard pressed to run out of pockets in this bag.
The Carry Harness
We talked a bit about the back panel and shoulder strap materials. It's a really good rig that is lightweight, comfortable, and doesn't fight you with super-bulky strapping. This bag is supremely comfortable for all day carry.
You'll find a waist strap that's not removable, but does include those elastic bands to wrangle the extra strappage so that it's out of your way. You'll see it at the bottom of the pic below.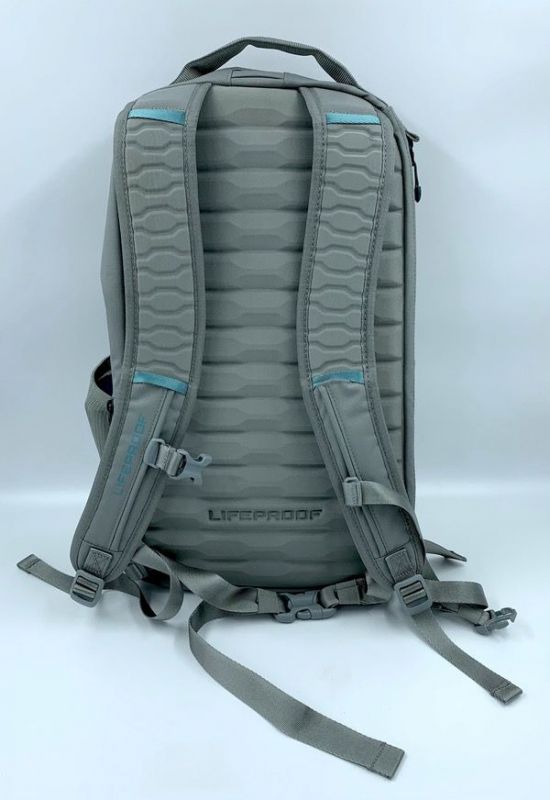 A stabilizer strap helps to keep things tight when you are on the run. And see those ribs that it is clipped to? You can adjust to the position of the strap to match your body type by sliding the clips up and down.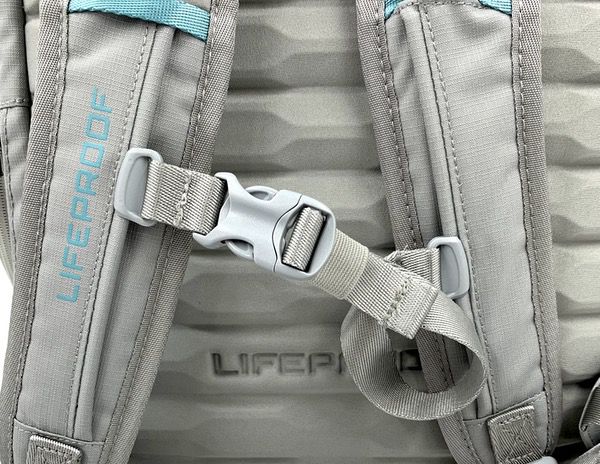 Finally, you get a padded carry handle which is always appreciated. Sometimes you just have to grab your bag and run.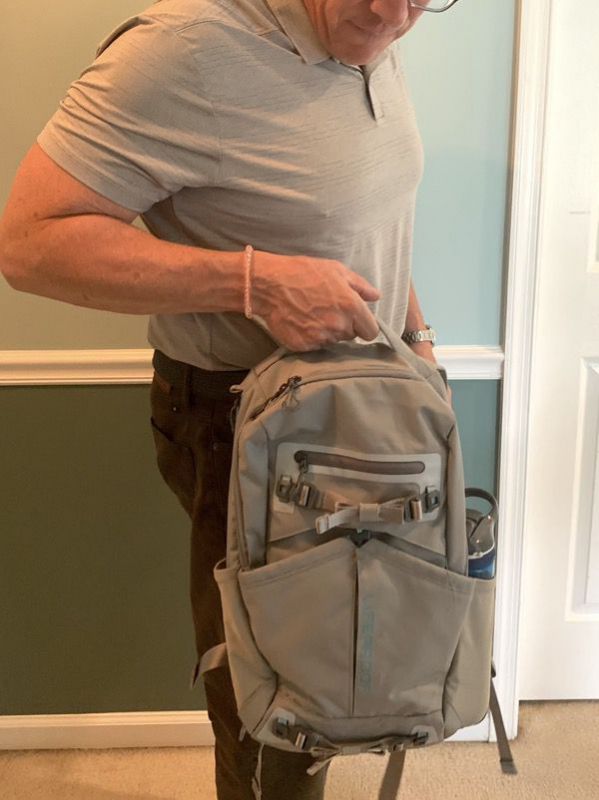 Performance
If you've made it this far, you now have a pretty good sense for the breadth and depth of features in the LifeProof Squamish backpack. The good news is that, while we have a ton of stuff going on here, thoughtful design & execution makes all of those features work well together in an extremely usable package.
From a usability perspective, the layout is a treat to work with. Sometimes all those spaces get crowded in feature-rich bags like this, and you find yourself fumbling to retrieve things from one pocket or another. Not here. All the pockets are generously sized and their access points easy to get to. You can find a comfortable place for all of your goods, making the Squamish an easy bag to live with on a daily basis. Commuters will like this bag a lot for all of those quick-access areas.
This bag is great for sightseeing, hiking, and weekend adventures. The back panel design is excellent for breathability and flexibility, and the shoulder straps have just the right amount of grip & padding for comfort without being too bulky. Coupled with the thinner Cordura used throughout the build, you can lug this bag all day long without any noticeable back/shoulder strain. Those extra pockets will come in handy while you're out and about, and you can strap in a hydration bladder for hiking. The 20 Liter capacity is perfect for a daybag, but there's also a 30 Liter version that I think would work very well as an overnighter.
There are pros and cons to the laptop space. On one hand, it doesn't get in your way if you're packing for a sightseeing trip or a day at the beach. On the flip side, however, I would like to see a little more structured laptop protection. That big ol' pocket is very lightly padded, and my 13″ MacBook does bounce around in there. The back panel is very good, but I'd like to see some more impact protection on the perimeters to prevent damage in a hard drop. Another note about the laptop area that I found out the hard way: your laptop slides very easily out of that space. I picked up the bag one day last week and forgot to zip the compartment, and my MacBook slid right out on to the floor. Given the size of the compartment, they could shorten that zipper by about 4″ to prevent accidental spills.
What I like
Excellent pocketing and organization for all the things.
Extremely comfortable for all-day carry.
A serious multitasker.
Outstanding attention to detail.
What needs to be improved
Laptop compartment could be improved for better protection.
Final thoughts
The LifeProof Squamish is a great bag for active pursuits that smoothes out the edges *just* enough to take to the office. It's an easy bag to like and live with on a daily basis, no matter where you're going. You can purchase it in a black or red colorway if that better suits your style, and there's a 30 Liter version if you want to take it as an overnight one-bag solution. If you're looking for a solid multitasker, this bag is a champ.
Price: $139.99
Where to buy: Buy at the LifeProof Squamish product page.
Source: The sample of this product was provided by LifeProof.
Filed in categories: Reviews
Tagged: Backpack
LifeProof Squamish 20L Backpack review originally appeared on The Gadgeteer on August 23, 2019 at 11:00 am.
Note: If you are subscribed to this feed through FeedBurner, please switch to our native feed URL http://the-gadgeteer.com/feed/ in order to ensure continuous delivery.
Original source: https://the-gadgeteer.com/2019/08/23/lifeproof-squamish-20l-backpack-review/