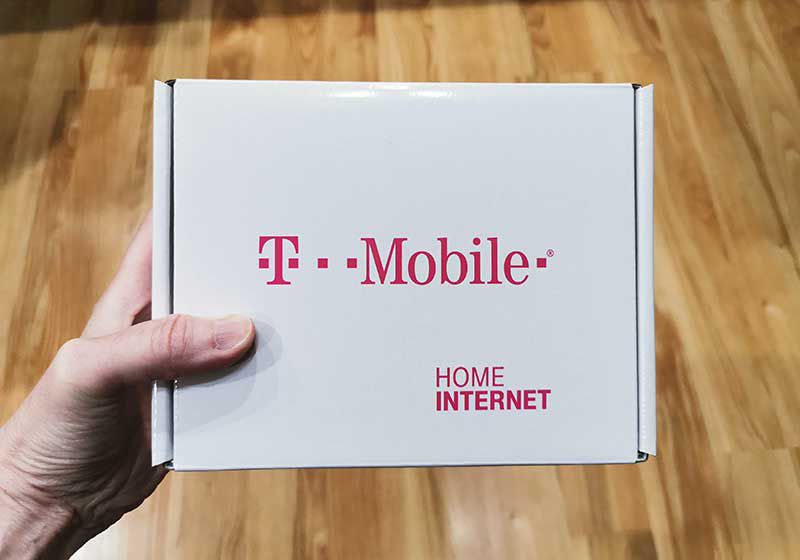 ARTICLE – I came home yesterday afternoon to find a postcard in my mailbox inviting me to join T-Mobile's new Home Internet pilot test which started rolling out back in March. I remembered reading about their invite-only service for existing T-Mobile customers but forgot all about it until yesterday.
For a little background, I live in a rural area of southern Indiana where my only option for broadband for years was satellite internet like HughesNet. I had HughesNet and hated it for a few years until I bit the bullet and had a T1 line run to my house. If you don't know what a T1 line is, it might sound more exciting than what it really was. It was a guaranteed 1.5Mbps download / 1.5Mbps download internet connection which cost me a whopping $389 a month. No, I'm not kidding. All I can say is yay for business expense writeoffs.
I had the T1 line for 10 years until 2yrs ago when I switched to a wireless service from a company called 4G Antenna Shop that uses a wireless cellular router with a SIM from T-Mobile. My speed went from 1.5Mbps to 14-19Mbps which felt like light speed in comparison. At only $83/mo. I've been really happy with the 4GAS service but I have always been afraid that I would use too much data and they would kick me off their service because they really only offer 50GB per month and I tend to use well over 300GB each month with my weekend Netflix binge-a-thons, my Wyze cams, and my gadget research surf sessions.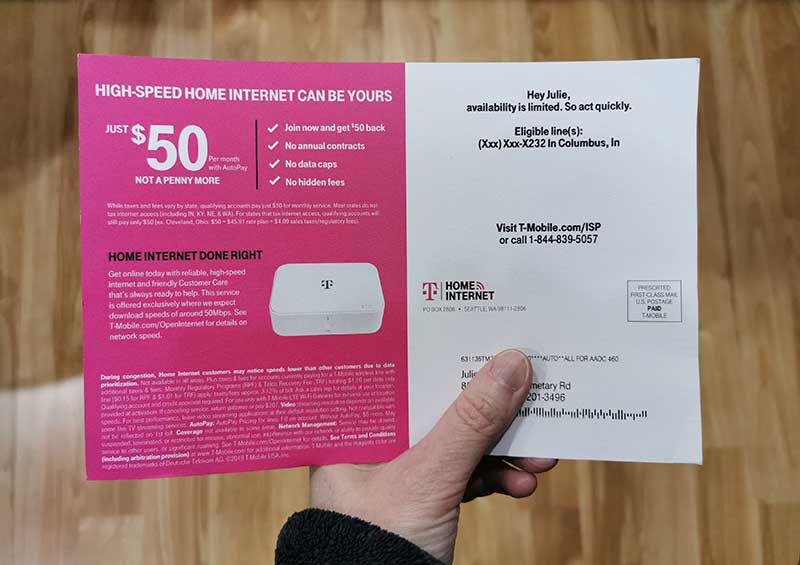 So when the postcard from T-Mobile arrived yesterday, I didn't hesitate before I called them and signed up for their $50/mo. totally unlimited home broadband service. I even opted for next day shipping and received the package with the wireless router and T-Mobile SIM today!
The postcard talked about 50Mbps speeds which is about 3 times faster than the speeds I get with the 4GAS service which also uses T-Mobile so I am excited to check that out.
I'm also a little worried about the fact that they told me that I can connect up to 10 devices to the router. The problem is that I have more than 10 devices (4 Wyze cams, 2 smartphones, 2 laptops, Nest thermostat, 2 Amazon Echo devices, LiftMaster WLED garage door opener, Jetstream Android TV, Vizio Smart TV, and I'm sure there are others I can't think of right now.
I'll post an update in a few days after I set up the new router, move all my devices to it, and get a chance to do a lot of surfing, streaming, speed tests, etc.
Filed in categories: Articles
Tagged: gadget diary, T-mobile
Julie's gadget diary – I am now a T-Mobile Home Internet pilot tester originally appeared on The Gadgeteer on August 27, 2019 at 7:49 pm.
Note: If you are subscribed to this feed through FeedBurner, please switch to our native feed URL http://the-gadgeteer.com/feed/ in order to ensure continuous delivery.
Original source: https://the-gadgeteer.com/2019/08/27/julies-gadget-diary-i-am-now-a-t-mobile-home-internet-pilot-tester/