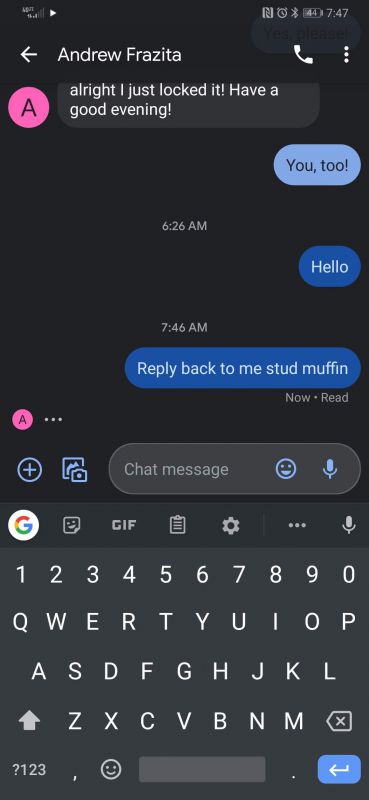 ARTICLE – See anything different in the screenshot above of the Google Messages app? It's those 3 little dots at the bottom that bounce up and down when the person who you're texting is replying to you. That's right, iPhone snobs will no longer be able to gloat about how great their blue bubbles are vs. our green bubbles.
I always thought the whole iMessages blue bubble thing was weird, but having just come off a week-long Android vacation while I was on a break with Google due to GSuite issues, I came to understand it better. While I was using an iPhone X, I found it really is nice to be able to see when my friends were writing back or just ignoring me

Anyway, back to Google Messages. They have been rolling out an update to the stock Messages app that adds RCS (Rich Communication Services) to the app. RCS is an SMS protocol that adds features like payments, high-res photo and file sharing, location sharing, video calls, and more. But the feature you'll notice right away is seeing when someone else is typing. Well, as long as the person you're typing to is also using the updated Messages app on their Android phone. That's right, iPhone's don't support RCS, so you won't be able to see if your iPhone buddies are typing and they won't see if you're typing, so nothing has changed in that respect.
How do you update your Messages app? I just got the update today on my Huawei P30 Pro and was asked to opt-in when I launched the app this morning. If you haven't received the update yet on your Android phone, you can do it with these instructions from Android Central.
Now if only Google would completely open up the new Google Assistant features to GSuite users, I'd be super happy. Not holding my breath though.
Filed in categories: Articles
Tagged: gadget diary
Julie's gadget diary – Android user now have a coveted iPhone feature originally appeared on The Gadgeteer on November 22, 2019 at 1:40 pm.
Note: If you are subscribed to this feed through FeedBurner, please switch to our native feed URL http://the-gadgeteer.com/feed/ in order to ensure continuous delivery.
Original source: https://the-gadgeteer.com/2019/11/22/julies-gadget-diary-android-users-now-have-an-coveted-iphone-feature/