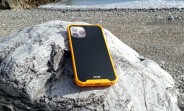 The Genuine Case Company has brought the JCB brand back in the smartphone world with the announcement of a new line of JCB Toughcase products for recent iPhones and a couple of Galaxy phones. The cases are made from recyclable and sustainable materials and have been drop tested from heights of 1.2m (4 ft).
JCB Toughcases will be available in December in three color combinations
There are JCB Toughcases for Apple's iPhone 12 series, iPhone 11 series and the new iPhone SE. For Samsung, the selection is more limited, with cases for only the Galaxy A41 and Galaxy A21s.
The…
Original source: https://www.gsmarena.com/jcb_toughcases_announced_for_iphone_11_and_12_series_plus_se_a_couple_of_galaxy_phones_too-news-46334.php