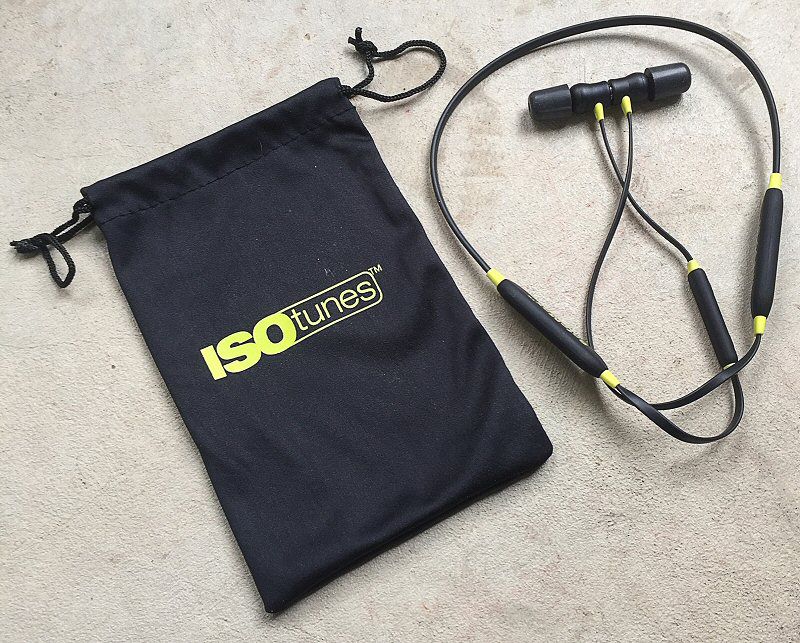 REVIEW – It may be an understatement in 2019 to say that there are many Bluetooth wireless earbuds products on the market.  Lots of them have very similar styling and features, but few are suitable for use in a work (or play) environment with levels of background noise high enough to cause potential hearing damage.  ISOtune saw a need for a product that could do just that, and have been producing both wired and wireless earbuds with integrated professional-grade hearing protection for some time now. Their latest product is ISOtunes Xtra Bluetooth Hearing Protection Earbuds.  Let's check them out.  Gadget onward.
What is it?
ISOtunes Xtra Bluetooth Hearing Protection Earbuds are Bluetooth earbuds that have special features that help not only block out noisy background sounds but do so at a professional-grade level while allowing you to listen to music or make and receive phone calls, and with a very long battery life.
What's in the box?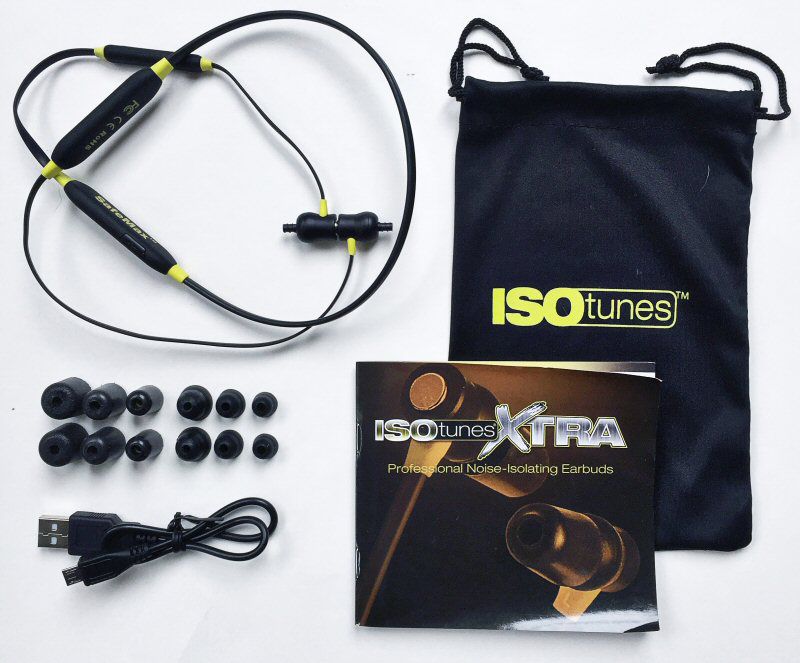 ISOtunes Xtra Bluetooth Earbuds
Three pairs of "heat activated' ISOtunes TRILOGY noise-blocking foam ear tips
3 sizes/pairs of silicone double-flange ear tips
USB to micro USB charging cable
Microfiber drawstring storage pouch
Instruction manual
Hardware specs
Options

Black and Yellow (reviewed here) color scheme
All Black color scheme

ANSI-certified 27 dB Noise Reduction Rating (NRR)
Up to 8 hour music playback and talk time, 180 hour standby time
Micro USB-rechargeable lithium-ion battery
OSHA-compliant, including ISOtunes signature SafeMax Technology with 85 dB volume limit
Bluetooth 4.1 + EDR, compatible with all Bluetooth-enabled devices
ISOtunes signature mic with background noise cancellation for phone calls eliminates steady-state noise like engines, mowers, fans, vacuums, and saws for clear calls in loud environments
IP45 dust, sweat and water resistant
Lightweight memory wire neckband for comfortable long-term wear
Magnetic earbuds: play/pause music, answer/end calls, and keep the earbuds safely around your neck
Includes 4 pairs (XS,S,M,L) of heat-activated ISOtunes TRILOGY foam earplugs for optimal sound quality, comfort, and noise isolation. Also includes 3 sizes/pairs of rubber double-flange eartips.
1 year warranty
Design and features


My initial impression of the ISOtune Xtra earbuds was that although they appear to be fairly similar to many other Bluetooth earbuds, they included two largish pods-shaped items in line with the cable connecting the left and right earbuds—the instruction manual refers to these pods as "Battery Boxes."  I thought this was an interesting design feature and initially suspected that they were perhaps part of a noise-cancellation system, or might help provide longer battery life.  More on this below.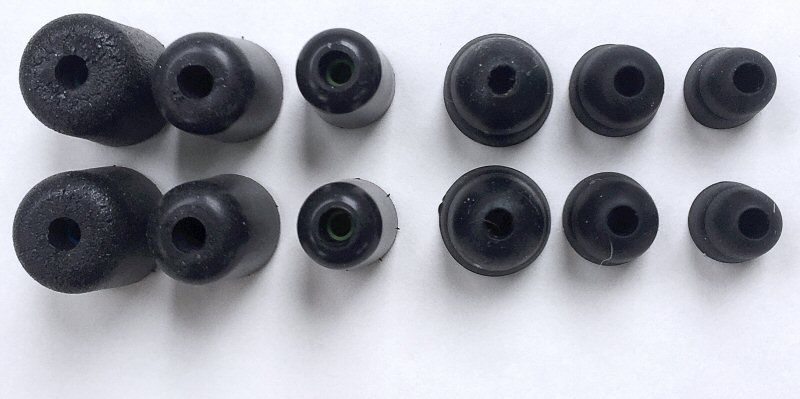 ISOtunes Xtra includes two types of earbud tips, each in multiple sizes.  Shown in the photo above and starting from the left, the first three are ISOtunes TRILOGY foam ear tips in three sizes, and the next three are silicone double-flange ear tips.  ISOtunes intends the TRILOGY foam ear tips to be used in noisy environments, while the silicone double-flange ear tips are to be used in non-noisy environments.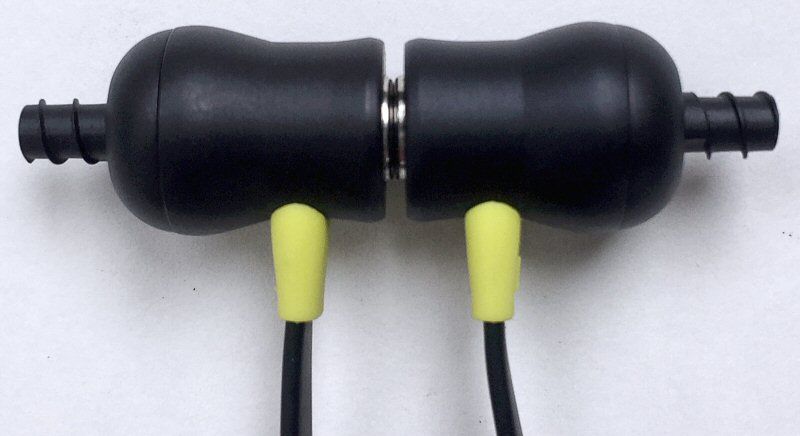 Each earbud has a threaded post onto which the TRILOGY Foam ear tips can be twisted, which helps keep them secured to the earbuds.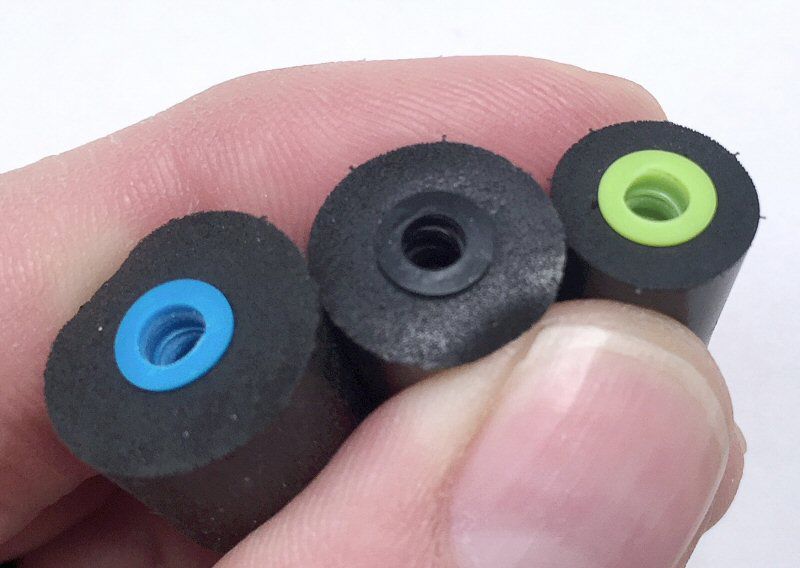 The photo above shows a closeup of the three size sizes of TRILOGY foam ear tips.  Their threaded plastic cores that twist down onto the threaded earbud posts are color-coded and are, starting from the left: Large (blue), Medium (black), and Small (green).  It should be noted that the IOStunes site states that this product includes not three, but four pairs of the TRILOGY foam earplugs in sizes XL, L, M, and S; however, as can be seen above, the product sample that I received to review only included three sizes.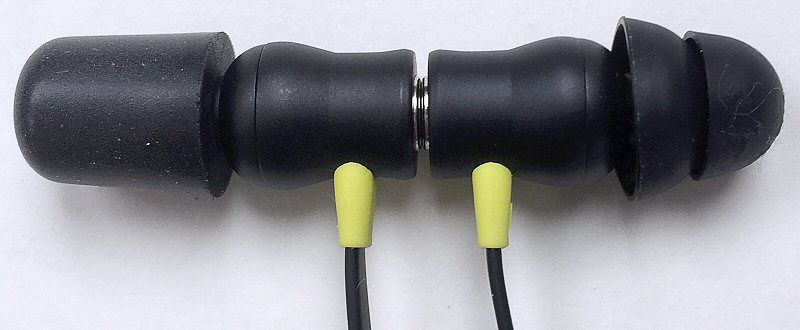 In the above pic, I've threaded one of the Large size TRILOGY foam tips onto the left earbud and pushed one of the Large size double-flange ear tips onto the right earbud.  The double-flange eartips are made from a soft silicone-like material and do not have threaded cores like the TRILOGY foam tips, so they do not thread onto the earbud posts; instead, they are easily pressed onto the posts.

Per the ISOtune site, the best way to use the TRILOGY foam tips is to start by compressing for a few seconds—I found this easiest to do while rotating them between my fingers.  Next, place the compressed foam ear tips into your ear canals, and hold them in place for several seconds, allowing the foam to expand to fit your ear canals.  I tried both styles of earbud tips, the TRILOGY foam type, and the double-flange silicone type.  In full disclosure, in the past, I have had major issues with earbuds of all different types staying in my ears, certainly while exercising with them in, but often even while just working at my desk.  I have tried a few earbuds that have utilized various types of foam tips similar to the TRILOGY, and I have also tried quite a few more that have had silicone tips, but never with the double-flange style of ISOtunes Xtra, so I was very interested to try them.  I wore both styles of tips during multiple activities: sitting at my desk working in an office setting, working out in the gym, exercising outdoors, and mowing the lawn. While the TRILOGY foam type did block ambient sound better, they did not seem to stay in my ears as well.  Conversely, the double-flange silicone type did stay in my ears a bit better but did not block ambient sound quite as well as the foam tips.  I suspect that, had this review sample product included a pair of the XL-sized TRILOGY foam ear tips, as stated on ISOtunes site, these might have been large enough to fit more securely in my (apparently) large ear canals.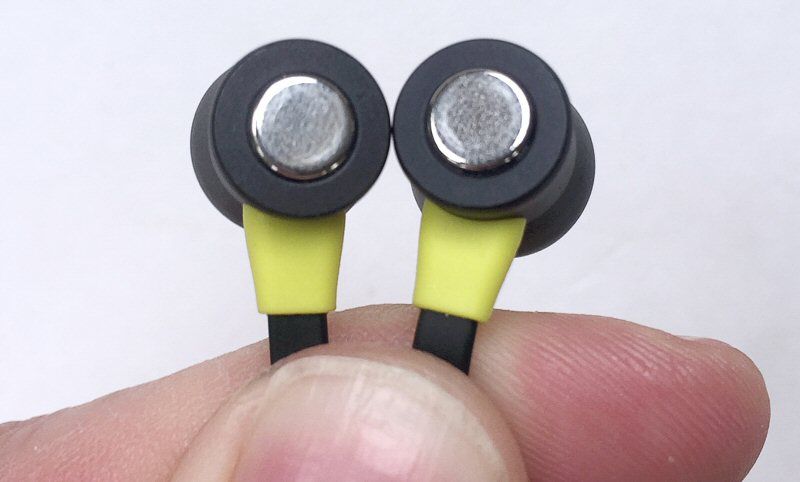 ISOtunes Xtra includes small magnets on the ends of each of the earbuds.  These magnets are actually more functional than just being a useful way to keep the earbuds around your next when you don't have them in your ears.  when removing the earbuds from your ears and attaching them together with the magnets, music is automatically paused.  This is great for if someone stops by for a quick chat—you don't have fully shut the earbuds down, and the music doesn't keep playing.  Handy!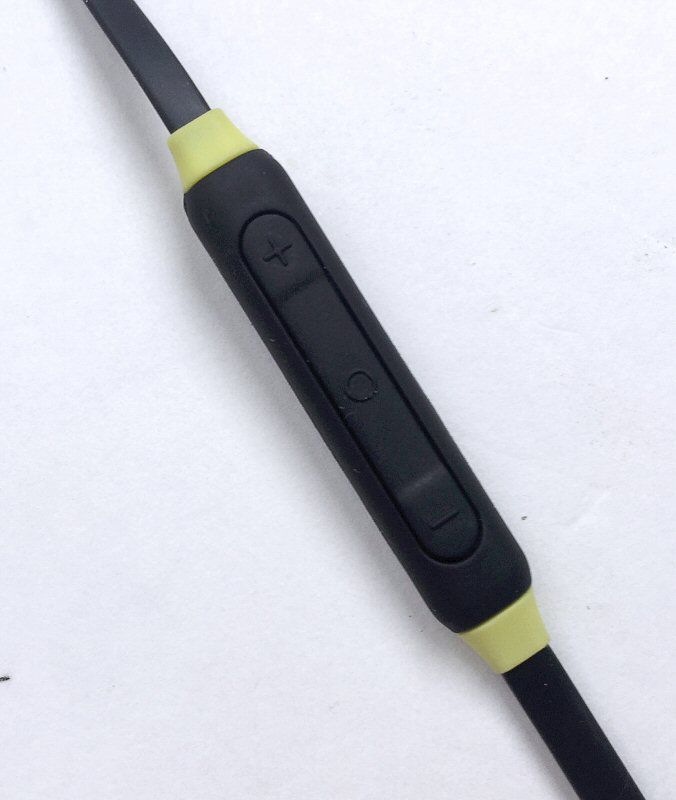 ISOtunes Xtra features an inline controller.  This controller has three buttons, +, O, and -.  Like many Bluetooth earbuds, these buttons are multi-functional depending upon the mode in which the IOStunes Xtra is operating.  The "O" button in the center is the Multi-Function Button, or MFB according to the manual.  Holding it down turns ISOtunes Xtra off or on and also answers or ends a phone call.  The + and – button will either advance music track forward or backward if tapped or increased or decreased the volume if held down briefly.

On the reverse side of the in-line controller is the ISOtune Xtra's microphone for phone calls or using voice assistants like Siri.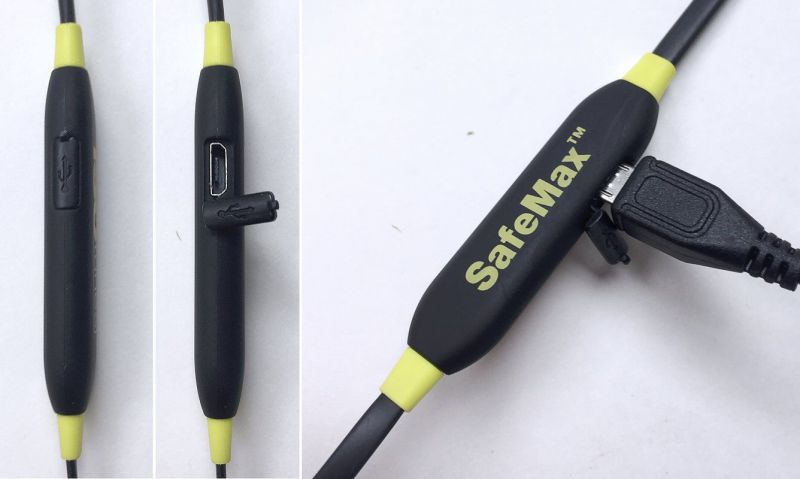 Located in one of the larger inline "pods" is the charging port, which is a micro USB port that is covered with a small silicone flap that helps with ISOtunes Xtra's IP45 dust, sweat, and water resistance rating.  Beware that this small flap is attached by a very small, thin piece of silicone, which could easily be torn off and lost, compromising the device's water resistance.  While ISOtunes claims 8 hours of talk time and 180 hours of standby time, I was curious to see if they would actually last for this duration of time, and I have to say that the battery life of the ISOtune Xtra's rechargeable lithium-ion battery life was impressive.  The first time I used it on a full charge, it lasted for almost my entire workday, which was around 8 hours.  I suspect that those two in-line "Battery Boxes" probably assisted with this very generous battery life.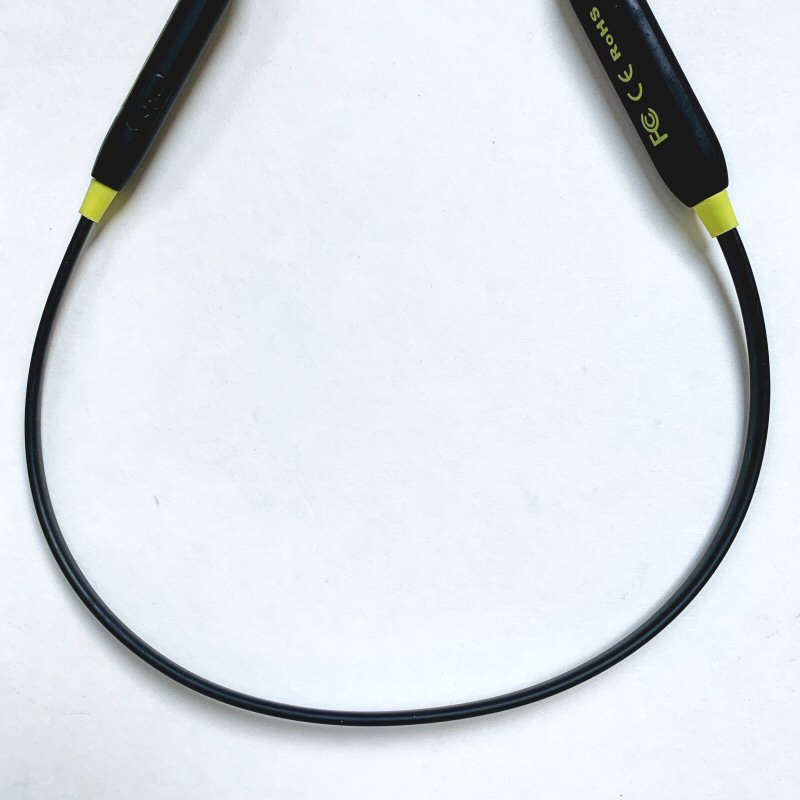 One of ISOtunes Xtra's features is its "memory wire neck band".  I'm not quite sure what this feature is intended to do.  "Memory wire" implies that the user could bend it into a position that is comfortable and it would retain that position, but that's not how it works.  It is basically a rigid segment of cable that is almost completely inflexible.  Because of its flat cross-section, it did allow the ISOtune Xtra to sit nicely on the back of my neck while wearing it, but it also made ISOtunes Xtra very difficult to coil/fold down into a small space.  More on that below.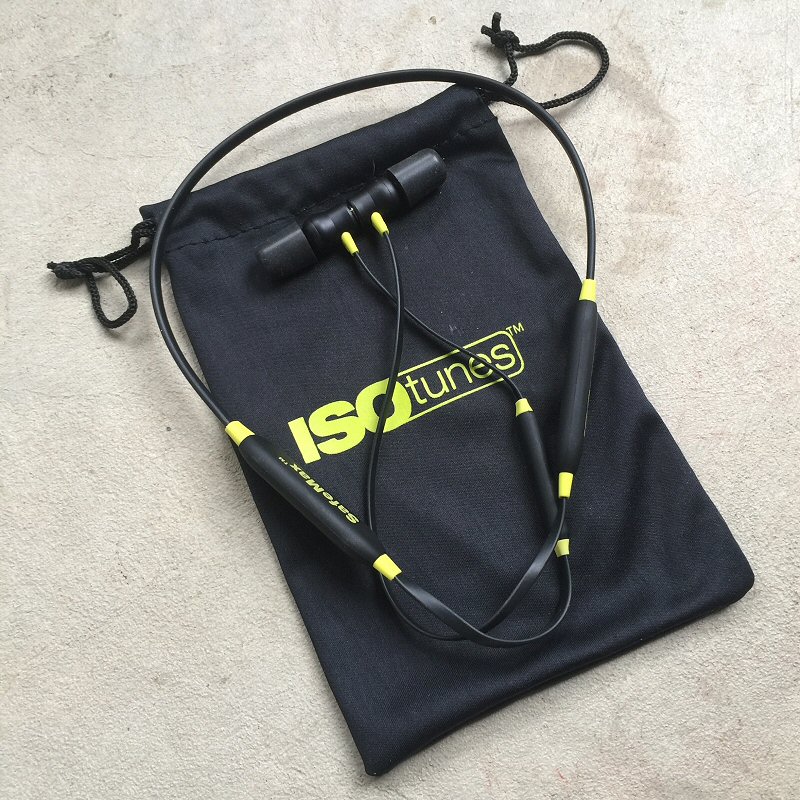 ISOtunes Xtra includes a microfiber drawstring storage pouch, which is very handy and I always appreciate it when a company includes something like this.  However, one thing I would point out here is that, as mentioned above, ISOtunes Xtra does not fold down into a particularly small space, which is mainly prevented by its memory wire neckband—which not only takes up a fair amount of space but because it is semi-rigid, it prevents ISOtunes Xtra from being coiled or folded down effectively.  This is really not a show stopper issue considering ISOtunes Xtra's impressive noise reduction capabilities and that in comparison to most full-on noise-canceling earphones it is still quite svelt, it is certainly not as small as pair of Apple Airpods, for example.  If you are planning to slide ISOtunes Xtra into its pouch and then into your pocket, you may be unpleasantly surprised with how much space they take up, unless you are wearing cargo pants or put them into a larger jacket pocket; of course, if you are tossing them into a backpack or purse, you are golden.
Setup
Pairing of ISOtunes Xtra, at least the first time, was quite easy and I paired it with both my iPhone 6 Plus and later with my new iPhone XR without any issues.  The first time powering on the ISOtune Xtra, it was automatically in pairing mode.  I simply went to the Bluetooth settings on my iPhone, found ISOtunes Xtra in the list, selected it, and it was paired.  Further, I don't recall that ISOtunes Xtra ever lost pairing connection with either of my phones, which I've found to be a somewhat rare occurrence with Bluetooth devices.  Further, ISOtune Xtra supports pairing with more than one device at a time, and I was also able to pair it with my work-issued Lenovo X270 laptop running Windows 10, though this required a few more steps than pairing it with my iPhones.
Performance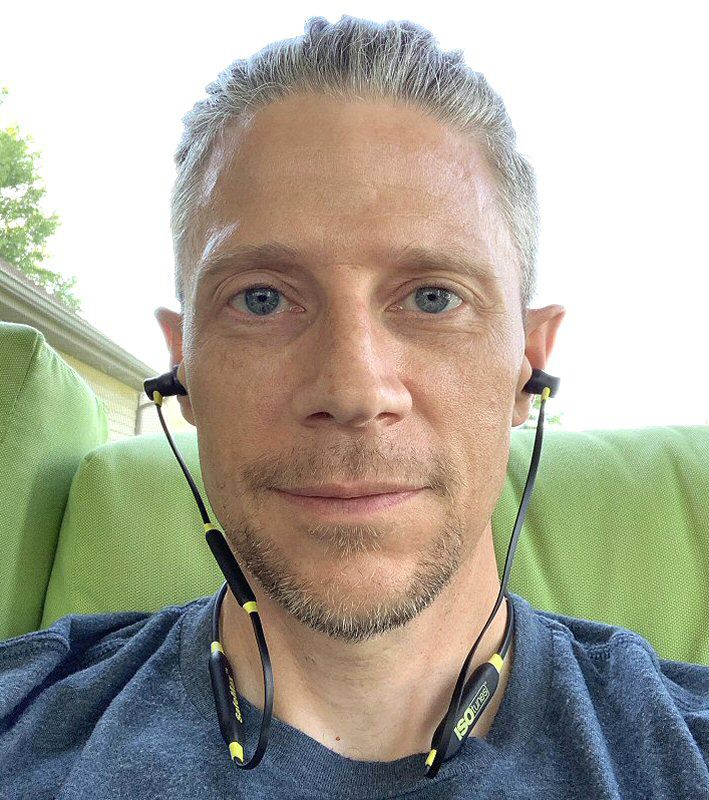 How did ISOtunes Xtra sound?  Quite good, actually.  First, keep in mind that although ISOtunes Xtra does not have noise canceling capability, it does boast an ANSI-certified 27 dB Noise Reduction Rating (NRR).  That may sound impressive (pun intended), but to what does that translate in practice?  Some pretty serious ambient noise blocking, that's what.  While the silicone double-flange ear tips do fairly well at creating a "gasket" effect in your ears which helps block ambient noise, but where ISOtunes Xtra really shines in this feature is when using the "heat activated' ISOtunes TRILOGY noise-blocking foam ear tips.  When using these, I can still hear ambient sounds, but they are greatly reduced.  They work like this: when using ISOtunes Xtra with the TRILOGY foam ear tips while sitting in my cubicle at work, I can still hear my colleagues having conversations around me, but they are very muffled.  When I wore them to the gym, I can still hear folks around me working out, but again, the sounds are very muffled and I barely notice them.  When I wore them while mowing the lawn and using the trimmer, I could still hear the equipment running, but their volume was significantly reduced.  After having suffered a freak episode of acute hearing loss several years ago (from which I fully recovered), I have been very careful to protect my hearing while engaging in activities that involve prolonged excessive noise.  ISOtune Xtra left me feeling very safe about my hearing while wearing them while engaging in activities involving loud ambient noise.  In fact, they work so well in this capacity that I would advise against using them while out walking, running or biking along roads because your ability to hear oncoming vehicles will be almost nil.
Ambient noise-blocking aside, ISOtunes Xtra produce solid sound.  I found the sound to be just a bit on the bass-heavy side, but for music I tend to enjoy this, so it was not an issue for me.  I'd say the sound was generally better than average.  With respect to phone calls, ISOtunes Xtra did well generally, but I had to ensure that the microphone near my face or the person on the other end could not hear me.  At one point I was stretching after a workout with my head down and the mic got out of position, and my friend on the other end suddenly couldn't hear me until I sat back upright.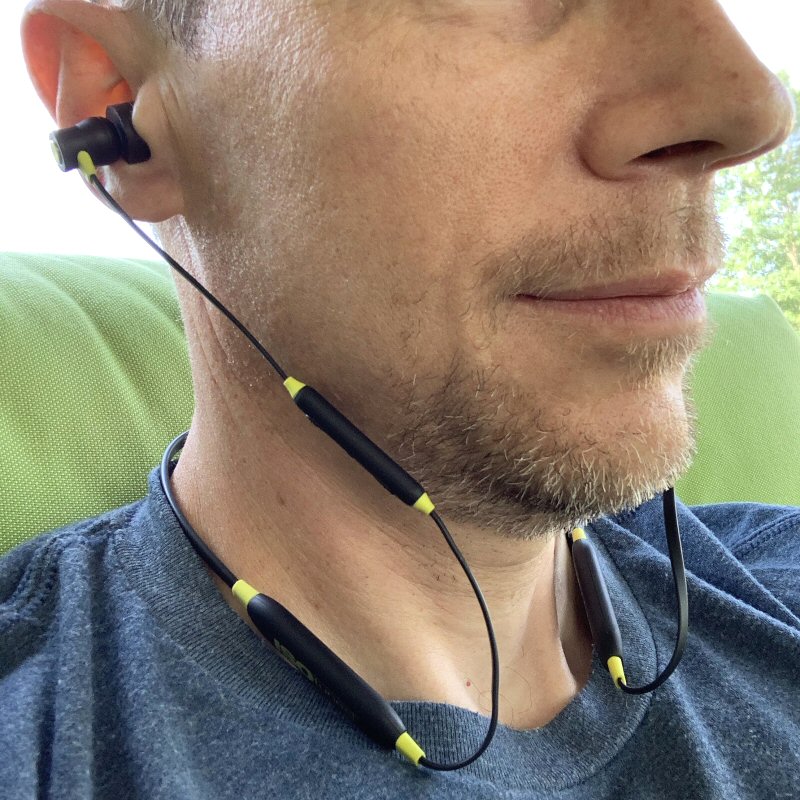 ISOtunes Xtra claims an IP45 dust, sweat, and water resistance rating, and in practice I found its moisture resistance to be impressive.  As allude to above, I regularly engage in relatively intense exercise, and this coupled with my seemingly superhuman sweating ability has overpowered several of the Bluetooth earbuds that I've reviewed.  Not so with ISOtunes Xtra.  It kept on functioning despite my best attempts to short-circuit it (pun intended).  As mentioned above, for exercise, the double-flange silicone ear tips did work better for my ears in terms of actually staying in my ears than the TRILOGY foam ear tips.  Still, neither style of ear tips (even the largest size of each) didn't stay in my ears all that well once I really got moving—-I don't blame ISOtunes Xtra for this, because I apparently was blessed with cavernous ear canals and no pair of earbuds, Bluetooth or otherwise, have (yet) stayed in my ears during exercise to my satisfaction.
One last thing that must be explained here.  I had a substantial problem with the review sample of ISOtunes Xtra that I was provided.  I had been using it for a few weeks and it had been functioning fine when suddenly it shut off spontaneously and I couldn't turn it back on.  I didn't think the battery was low, but once I plugged it back in to charge it, the ISOtunes Xtra did eventually come back to life.  Fast-forward a few more weeks and it happened again, but this time plugging it in to charge it did not bring it back—it just would not turn back on or even charge.  ISOtunes provided me with a replacement and I sent the defective one back to them so their engineers could analyze it.  However, the situation is with the replacement unit was actually even worse.  With the second one, I removed it from the package and charged it fully, then proceeded to use it until the charge ran out, at which time I plugged it in to charge it, but I would not charge and it would not turn back on, just like the first one.  It was just dead.  Very frustrating to have two review units in a row fail like this and it's something I've never had happen previously.
What I like
Ambient noise reduction is more effective than any other wireless earbuds I've tried, period.
LONG battery life (8+ hours on a full charge)
Lots of eartips options in both type and sizes to match the wearer's fit and preference
What I'd change
Both review products that I was sent died after a few uses and would not turn back on.  Epic fail.
A bit bulky
Doesn't fold/coil down into a very small space
Final thoughts
ISOtunes Xtra functions well as a pair of Bluetooth earbuds, but that is just the basics of what it can do.  It has an impressive 8+ hour battery life, very strong ambient noise-reduction capabilities, and effective moisture-resistance.  ISOtunes is a bit bulky and doesn't coil/fold down into a very small space, but I could overlook these faults in favor of its impressive functionality and performance except for one thing—the two (original and replacement) ISOtunes Xtra devices that I was sent to review both dies and could be neither charged nor turned back on.  Big fail.
Price: $79.99
Where to buy: Purchase directly from ISOtunes or Amazon
Source: The sample of this product was provided by ISOtunes.
Filed in categories: Reviews
Tagged: Bluetooth earbuds, Health and fitness
ISOtunes Xtra Bluetooth Hearing Protection Earbuds review originally appeared on The Gadgeteer on July 2, 2019 at 10:00 am.
Note: If you are subscribed to this feed through FeedBurner, please switch to our native feed URL http://the-gadgeteer.com/feed/ in order to ensure continuous delivery.
Original source: https://the-gadgeteer.com/2019/07/02/isotunes-xtra-bluetooth-hearing-protection-earbuds-review/