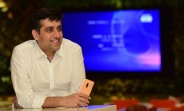 After the launch of the Realme 5 and Realme 5 Pro last week, we sat down with Realme India CEO Madhav Sheth to learn more about the company's plans regarding the Snapdragon 855-powered smartphone, Realme OS, and Realme XT. You can check out the full interview below for all the details.
Realme India CEO Madhav Sheth
What's your opinion about the quick update cycle? Realme 3 Pro was launched four months back and now we have Realme 5 and 5 Pro.
If you take Realme 3 and 3 Pro, I'd say Realme 3 is still priced at INR8,999 ($128/€115) which is INR1,000 ($15/€13) cheaper than Realme 5…
Original source: https://www.gsmarena.com/interview_realme_india_ceo_madhav_sheth_realme_xt_realme_os-news-38839.php