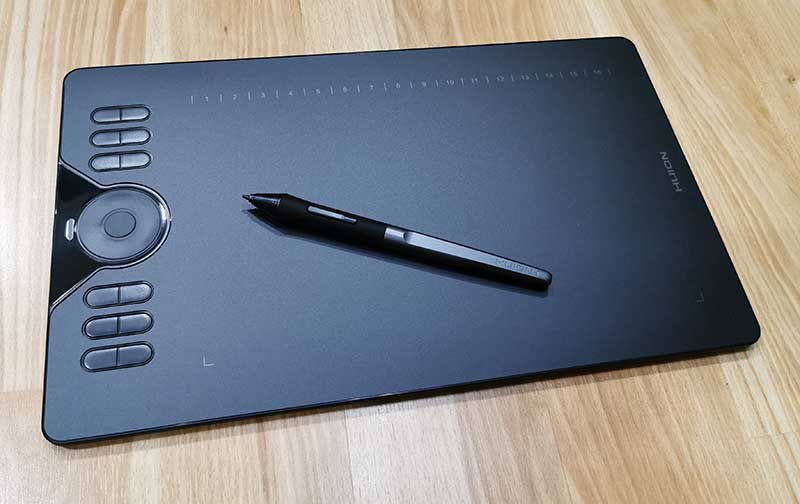 REVIEW – Creating art on your laptop using a mouse, or on your phone/tablet using a finger is doable, but a specially designed digitizer tablet and pen can take your drawings from doodles to Dali (he's an artist, google him).
What is it?
The Huion HS610 is a graphics drawing tablet that you can use with your Windows computer, Mac, and even an Android device.
Hardware specs
Active Area: PC mode: 254 x 158.8mm (10 x 6.25in); Phone mode: 158.8 x 99.2mm
Resolution: 5080 LPI
Report Rate: 266PPS
Pen Pressure: 8192 Levels
OS Support: Windows 7 or later, macOS 10.12 or later Android 6.0 or later
Compatible with Photoshop and other art programs
What's in the box?

Huion HS610 Graphics Tablet
Battery-free Pen
Micro USB Cable
Pen Holder
Pen Nibs x 8
OTG Adapter (Micro USB)
OTG Adapter (USB-C)
Quick Start Guide
Design and features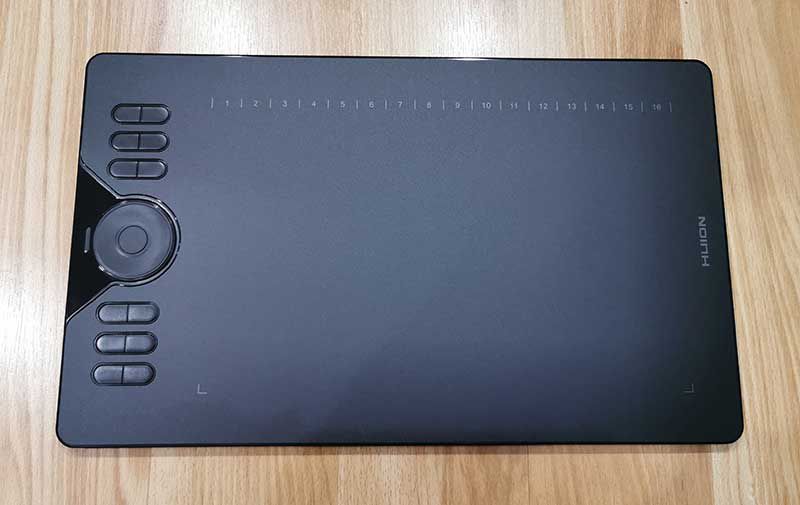 The HS610 is a 13.75 x 8.25 inch sized graphics tablet that is thin and light enough that it doesn't take up too much space or bulk in your gear bag.
It has a black plastic shell with a large drawing surface that has a slightly textured surface to give the feel of pen on paper.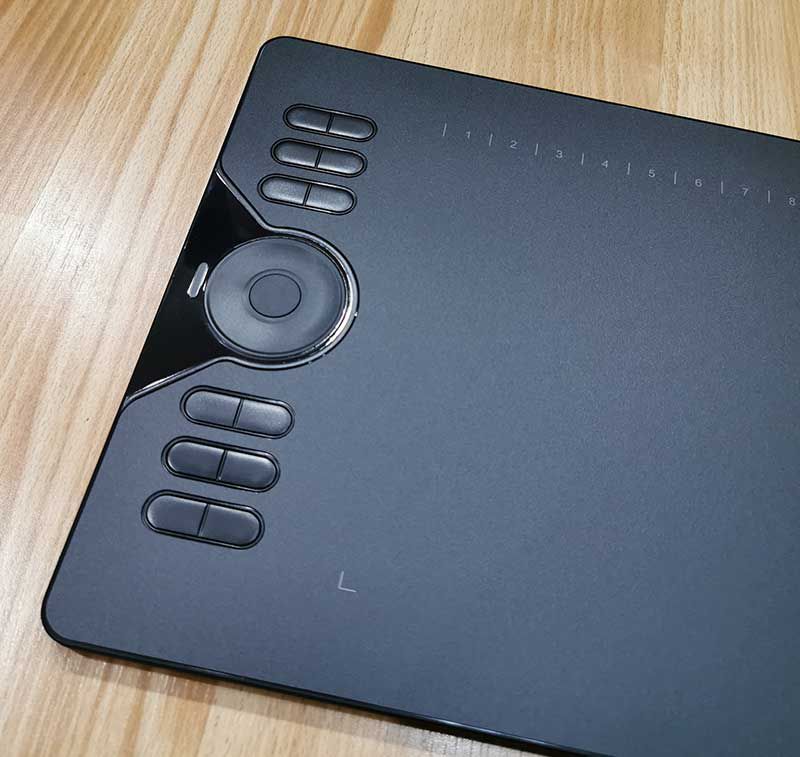 Along the left side of the tablet is a touch ring that helps you easily zoom in or out of your canvas, and adjust your brush and scroll the page. The ring doesn't rotate, it's just touch sensitive.
There are also 12 user-defined physical express keys and along the top edge of the drawing area are 16 soft-express keys.
Note that the touch ring and express buttons CAN'T be used with Android which is a bummer.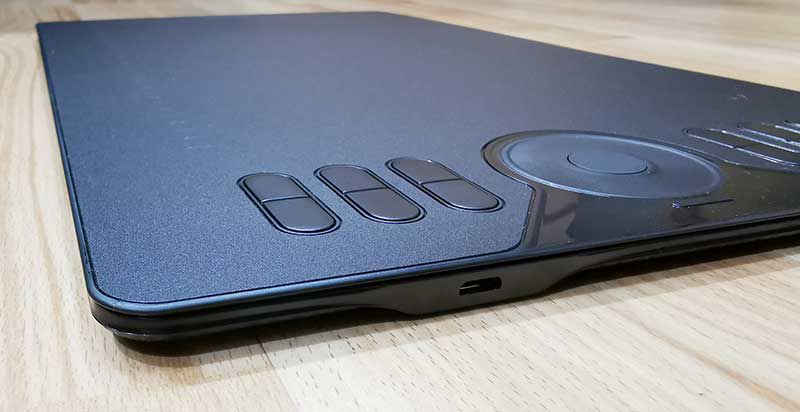 Also on the left side of the tablet is a micro USB port which is used to both charge the tablet and connect the tablet to your computer or Android device.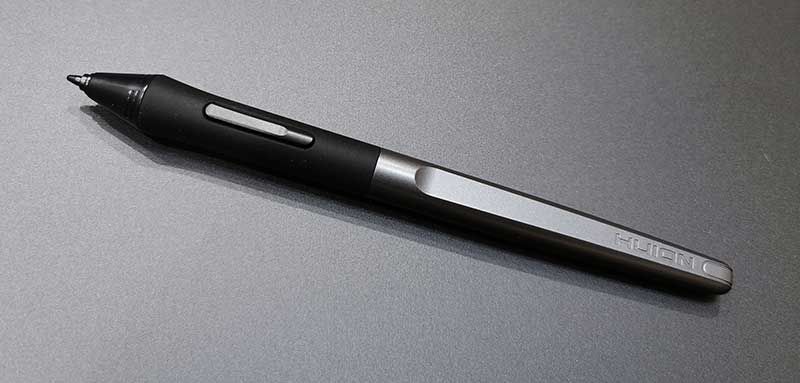 The pen features 8192 levels of pen pressure sensitivity and ±60° tilt support along with a battery-free design so you won't have to worry about it running out of juice or having to charge it on a regular basis.
The pen has replaceable nibs (extras come with the tablet) and a function button on the barrel that will let you change from brush to eraser.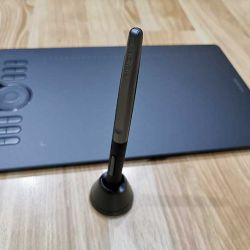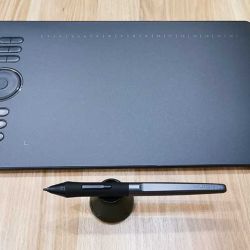 The drawing tablet and pen come with a handy "ink well" to hold the pen when it's not being used. The holder also holds the extra nibs.
Let's draw something!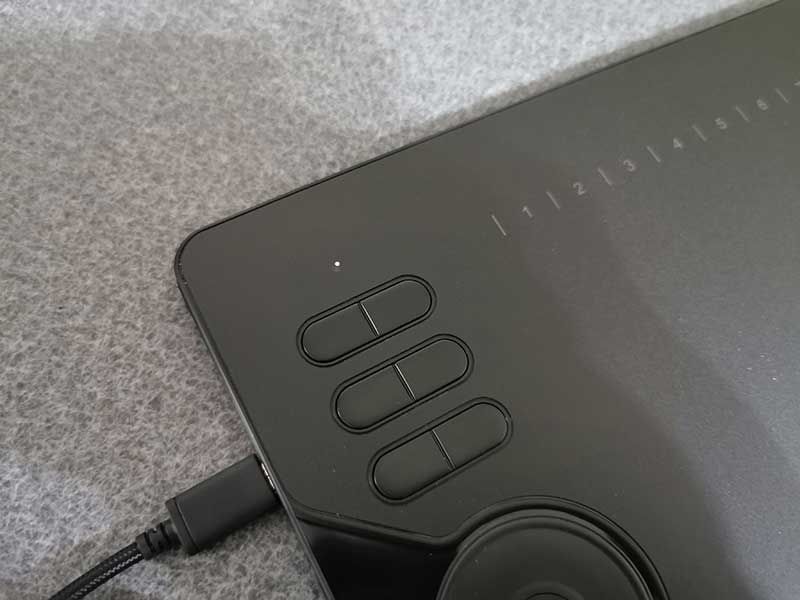 To get started using the Huion HS610, you have to first charge the drawing tablet using the included micro USB cable. Doing so will cause a tiny status LED to turn on. This LED is so small that it's hard to see.
Once the tablet is charged, the next step is to install the driver on your Windows or Mac OS device. If you plan to use it with your Android device, you just need to make sure that it's running Android OS 6.0 or newer and you use the OTG adapter for micro USB or USB-C.
I tested the drawing tablet with my 12inch MacBook and my Huawei P30 Pro Android smartphone.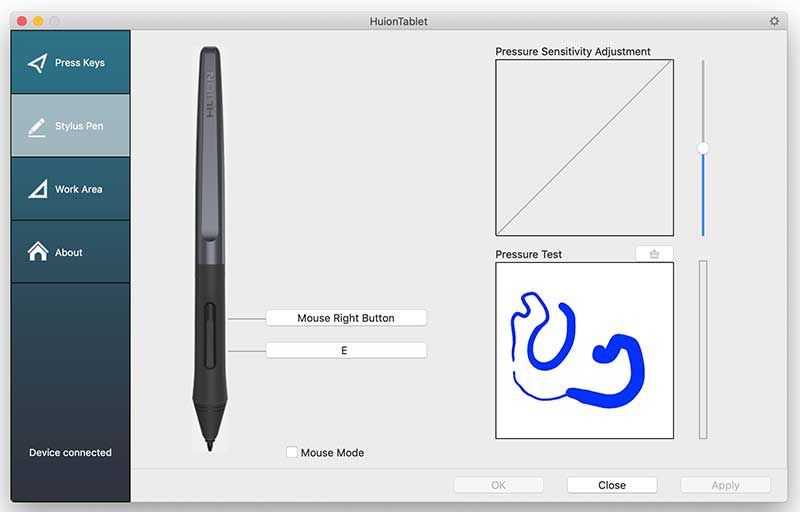 With my MacBook, I had to install the driver software which gives you the ability to test and customize various features like the pressure sensitivity and function buttons.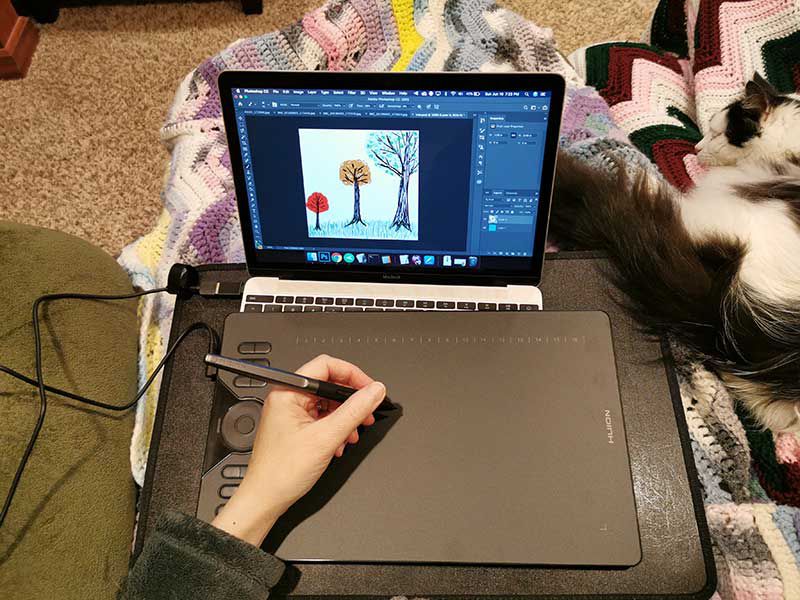 I then used the drawing tablet with Photoshop on my Macbook. I really like that you don't have to worry about your fingers or the palm of your hand getting in the way of your drawings because the HS610 only detects the pen and not your hand/fingers like an iPad might.
If you've never used a drawing tablet before, it does take some time to get used to looking at your computer screen while you're drawing on the tablet instead of the "paper" under the pen tip. That said, it doesn't take that long to get used to it.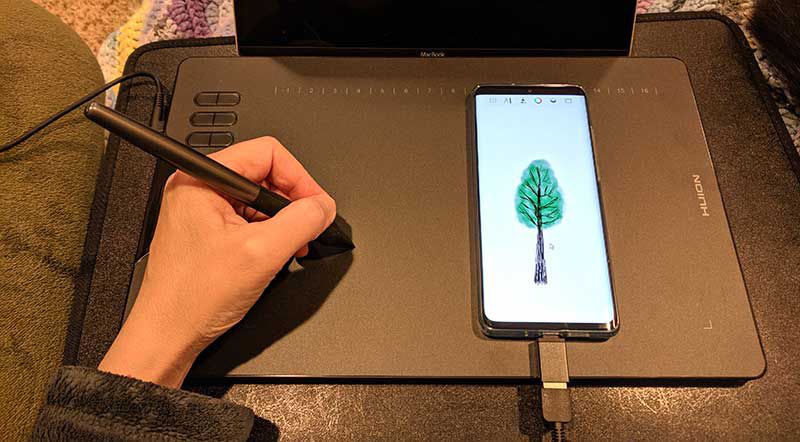 Testing with Android is a little different. First of all, you don't have to install a special driver. You just plug the HS610 into your phone or tablet with the included cable and OTG adapter. It works like connecting a mouse to your Android device, it shows a cursor on the screen that you can move around.
Of course, you'll need a drawing app. I tested with Autodesk Sketchbook. Just be aware that you'll only be able to draw on the left third of the drawing tablet which felt cramped to me. I also noticed that the pressure sensitivity does not work on Android. At least it didn't in the Autodesk Sketchbook app.
What I like
Pen doesn't need batteries
Can be used with Windows, Mac, and Android
Android does not require a special driver
Lots of function keys
What needs to be improved
Not compatible with iOS devices
Tablet has to be physically connected to the computer or phone
Touch ring and buttons don't work with Android
Can only use the left third of the drawing tablet in Android mode
Final thoughts
The Huion HS610 is an affordable graphics drawing tablet that you can use with your computer, laptop, and even your Android device. It's a shame that iOS users are left out of the fun, but that's about the only thing to complain about with this drawing tablet. The HS610 is a fun way for artists to go digital in an inexpensive and easy way.

Source: The sample for this review was provided by Huion.
Filed in categories: Reviews
Original source: https://the-gadgeteer.com/2019/06/17/huion-hs610-graphics-drawing-tablet-review/