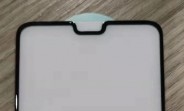 A Weibo post just surfaced, showing the front panel and a screen protector for the upcoming Huawei Mate 30. Leaks so far have mostly focused on the Pro version, which will retain its large notch, but now we get to learn a bit about the more affordable flagship.
Front panel and screen protector
According to the post and the two images, the notch on the top of the display is considerably smaller than the one on the Mate 30 Pro, yet a lot bigger than on the regular Mate 20 from last year.
This means that all the components required for the advanced facial recognition feature…
Original source: https://www.gsmarena.com/huawei_mate_30_front_panel_hints_at_a_bigger_notch-news-39119.php