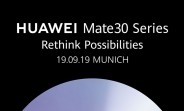 Tomorrow, Huawei will take the stage in Munich where the Chinese phone maker will announce its latest flagship device, the Mate 30. There will be livestreams available on Huawei's website, Twitter, and Facebook live with the handle @Huaweimobile.
The livestream will begin at 2PM CET/ 8AM ET/ 5AM PT.
Huawei has come under scrutiny as the United States issued a ban on the company, citing a security risk and barring American companies from conducting business with Huawei. This includes Google – so the smartphone won't be launching with Google Apps or Services.
Despite the…
Original source: https://www.gsmarena.com/where_to_livestream_tomorrows_huawei_mate_30_event-news-39243.php