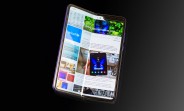 Soon after the announcement of the return of Galaxy Fold in September, we are getting a detailed breakdown of the structural changes introduced to the flexible phone.
First and foremost, the protective layer of the flexible screen panel has been extended to cover the whole screen panel and tuck in the bezels. That way nobody will take it for a screen protector and peel it off.
Secondly, the top and the bottom of the hinge are strengthened with some protection caps and additional metal layers have been added under the display to make the whole structure more rigid.
The gap…
Original source: https://www.gsmarena.com/here_are_all_the_samsung_galaxy_fold_design_changes-news-38331.php