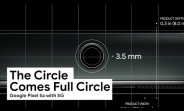 Google has released its latest commercial for the Pixal 5a 5G and the topic for this video is the headphone jack.
But this is no ordinary commercial as it features voiceover from a very famous person. Or at least someone who sounds like a very famous person.
The video is obviously a parody of the old Apple commercials featuring the erstwhile Chief Design Officer for Apple, Sir Jonathan Paul Ive. Or as most of us know him by, Jony Ive.
I'm sure the irony of the situation is not lost on Google wherein its own flagship smartphones no longer feature the headphone jack, and this…
Original source: https://www.gsmarena.com/google_parodies_jony_ive_in_its_latest_pixel_5a_5g_video-news-50705.php