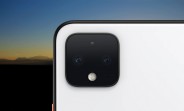 Just wfter the official market release of the Pixel 4 duo, Google is updating its default camera app to version 7.2. The major highlight here is that it brings back support for H.265 video recording.
As some of you may know, the H.265/HEVC codec is more efficient than the standard H.264/AVC so it might come in handy if you've ordered the 64GB version of the Pixel 4 or 4 XL.
Other than that, the app also adds a share button for Slack in the Social Share sub-menu. The new app version should roll-out soon enough to your Pixel handset.
Via
Original source: https://www.gsmarena.com/google_camera_72_supports_h265_video_recording_once_more-news-39801.php