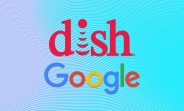 As part of their attempts to convince the DoJ to allow the T-Mobile and Sprint merger, the carriers are in talks with satellite TV provider Dish Network to offload some assets, including wireless spectrum and the Boost Mobile brand. This could lead to the formation of a new wireless carrier in the US.
The New York Post reports that Google is looking to partner up with Dish to create a new carrier. A Google spokesperson denied those claims.
However, sources claim that Dish is the only viable buyer for the T-Mobile and Sprint assets (valued at $6 billion) and this deal needs to happen….
Original source: https://www.gsmarena.com/google_and_dish_may_form_a_new_carrier_in_the_us-news-37998.php