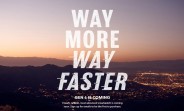 Fossil announced its Gen 5 smartwatch back in 2019, and the company will unveil the Gen 6 series next week – on August 30.
Fossil has set up a promo page on its website to tease the Gen 6 smartwatch, and while the company doesn't explicitly mention the August 30 date on the page, an email sent by Fossil with a countdown timer suggests the Gen 6 smartwatch will be unveiled sometime early on Monday.
Additionally, the company posted a video teaser on its Facebook account, giving us a glimpse of the Gen 6.
Fossil hasn't divulged anything else about the Gen 6 series yet, but…
Original source: https://www.gsmarena.com/fossil_gen_6_launch_date-news-50711.php