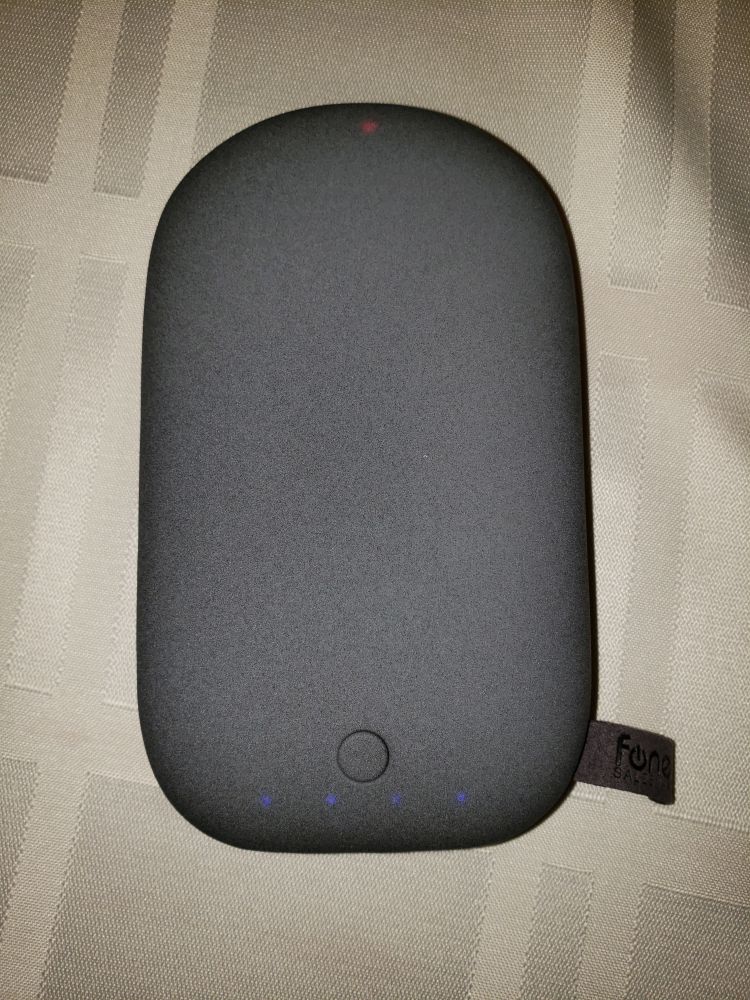 REVIEW – There are a lot of portable and easy to carry external batteries you can use to charge your phone or other devices like a laptop or tablet.  However, there are not that many that advertise themselves as wireless.  I love the idea of not having to carry an extra cable around to keep my phone charged up if I don't have access to an outlet.  Let's see how the new QiStone 2 Wireless Charging Power Bank works out.
What is it?
The QiStone 2 is a portable charging power bank that will let you charge Qi-enabled devices wirelessly.  It also has ports that will let you charge devices via a USB cable or a USB Type C cable.
What's in the box?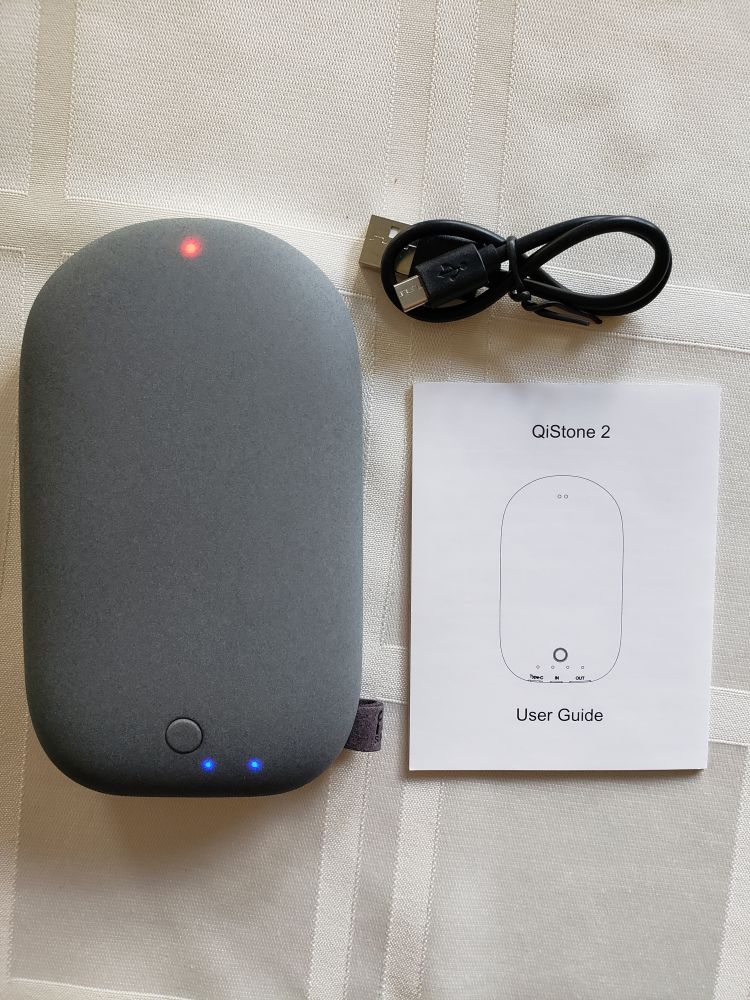 1 x Wireless Charging Power Bank
1 x Micro USB Cable
1 x User's Manual
Hardware specs
8000mAh Polymer Li-ion battery
USB Input: DC 5V/2A
Wireless Charging Output: DC4V/1A
USB Output: DC5V/2.1A Max
Dimensions: 105 x 72 x 20mm
Net Weight: 135g
Setup
Setup for this device was pretty simple.  It actually came showing two of the four power level LED indicators on.   To see the amount of battery left, you simply press the single button on the bottom of the device and look for the blue LEDs to light up.  There are a total of four, showing power levels from 25% up to 100%.  To play it safe, I did plug in the micro USB cable into the device and plugged the USB end of the cable into an available USB outlet that I have in my kitchen overnight.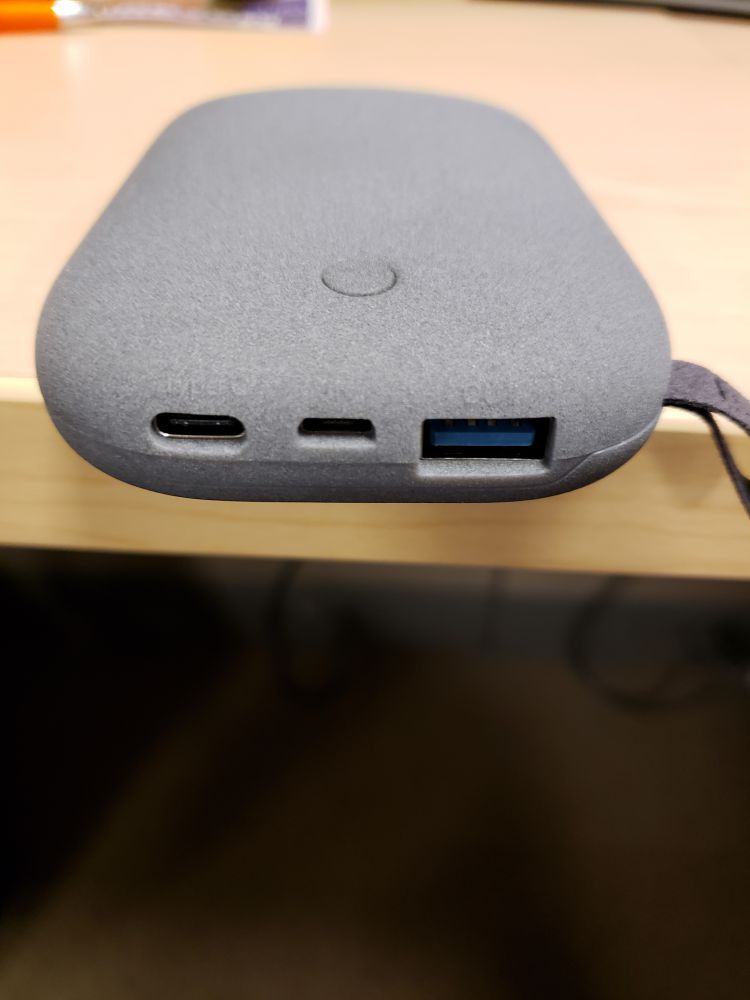 The above picture shows you the ports available on the device.  The type C port on the left can work as input or output.  If you use it as output to your phone it will rapid charge.  The same goes for the USB 3.0 port on the far right.   You can charge up the power bank by using the type C and the micro USB port in the middle.  The included cable works with the port in the middle.
Performance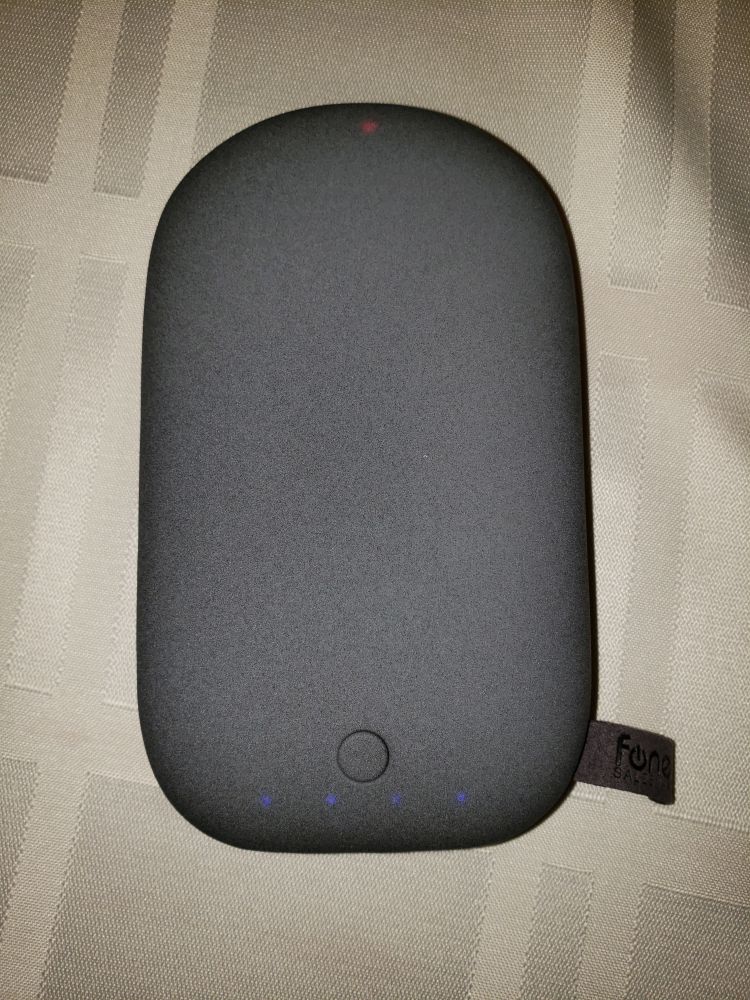 After leaving the device plugged in overnight, I now have all four LED lights lit up at the bottom of the device.  The LED at the top of the device is red to indicate that it is not currently charging any device.  In order to charge a device, you must first press the button on the bottom of the QiStone 2.  Just placing your phone on the power bank will not activate charging.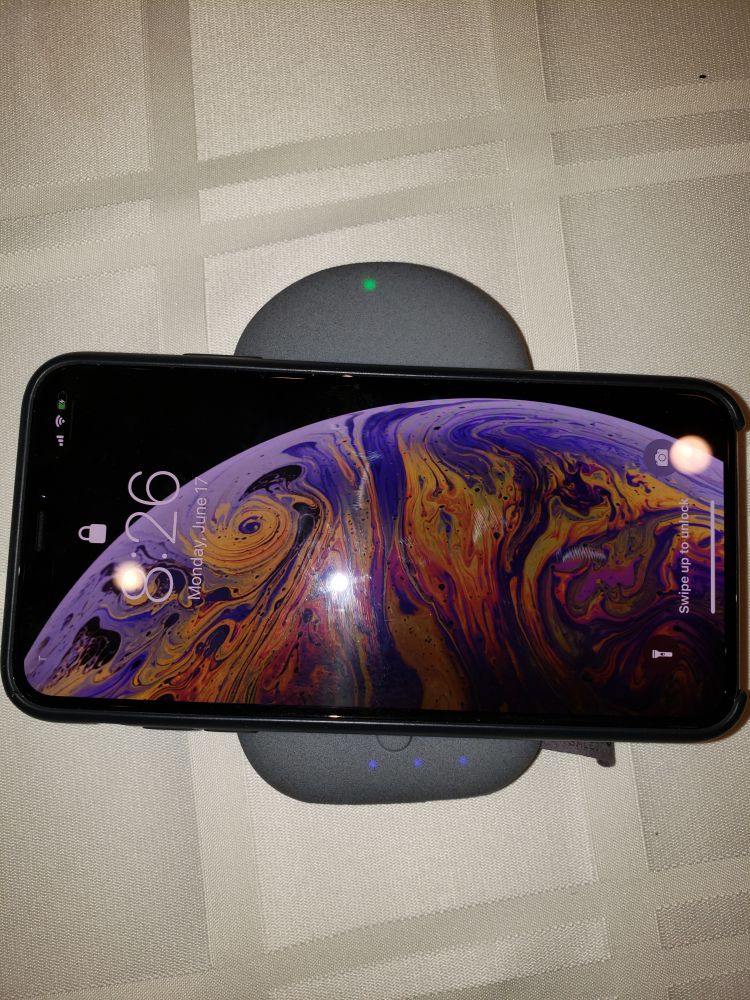 I placed my husband's iPhone X Plus on the charger sideways so you could see the top LED turn green to indicate that it is charging.  It is just a standard charge when you wirelessly charge either Android or Apple devices.  You will not get rapid charge times when charging wirelessly.   When I used the USB C port on my Galaxy S9 or the USB 3 port on my S9 or the iPhone, I did get rapid charging indicators.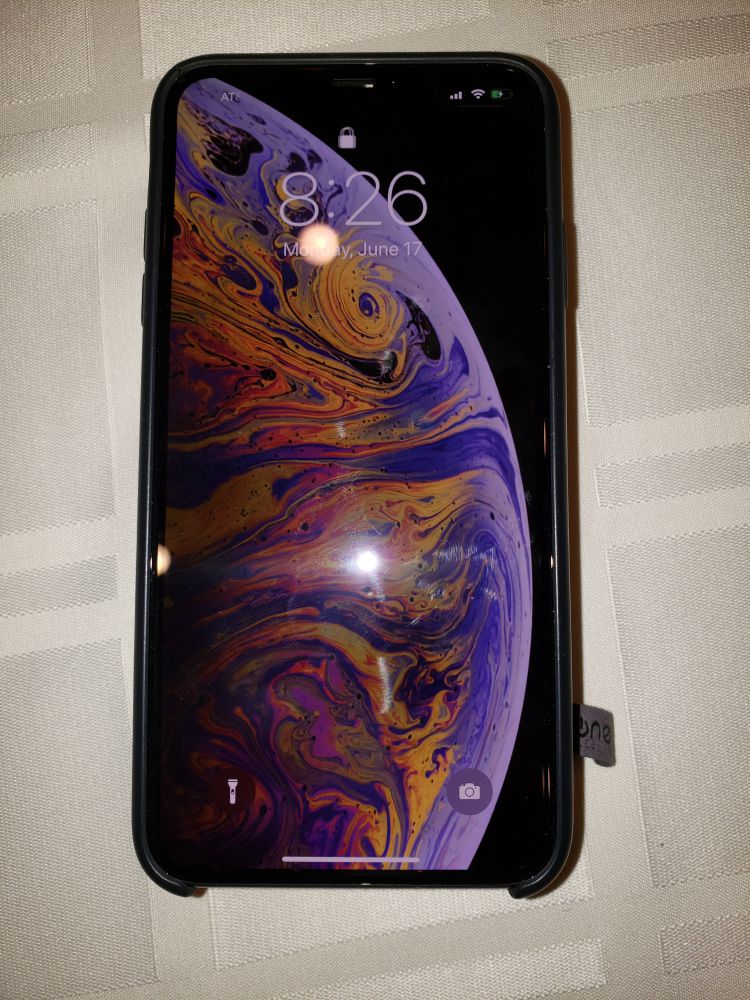 This last picture shows the iPhone charging vertically.  You do have to be careful about placement on the power bank.  Make sure you see that your phone is actively charging.  In the case of the iPhone above, you have to look closely at the battery indicator on the phone itself because it covers the entire power bank.  I do want to mention that you can charge multiple devices at once.  I had my S9 charging via the USB 3.0 port and a Note 9 wirelessly charging at the same time.
What I like
I love that I do not need to bring along an extra cable to keep my device charged.  I simply place my phone on it, wait for the green LED and know that it is charging.  I also like that it does support rapid wired charging if I wish.  That comes in handy if I need to charge it while it is in a bag or where the bank and device could not sit on top of each other.  The large 8000mAh battery is also a huge plus for the device in my mind.  My S9 is a 3000mAh battery and could be charged up almost 3 times from zero percent with this charger.  It allows me to share it with others if need be.   I also love that I can wirelessly charge one device and charge another via the USB port.
What I'd change
It was a bit disconcerting to have the charger simply stop charging my device before it was completely charged a couple of times.   I am not exactly sure why it did that and I have not been able to repeat the situation since then.   It may have been that my phone moved ever so slightly and lost the proper Qi connection on the device.  The other thing that would be very helpful is if this device supported quick wireless charging.  Placing your depleted phone on this device means waiting easily over an hour to get a full charge again if you are anywhere below 75% charge.
Final thoughts
There are a ton of power banks out there to choose from.  If you are looking for one that does wireless charging, then I would not hesitate to recommend this device.  Please note that the link below on Amazon is the proper link to order the device.  The pictures on Amazon, however, do not match what my device has.  I believe they are still showing pictures of the original QiStone in the QiStone 2 product listing.
Price: $79.99
Where to buy: Amazon
Source: The sample of this product was provided by Fonesalesman.
Filed in categories: Reviews
Tagged: Batteries and Chargers, Qi
Fonesalesman QiStone 2 wireless charging power bank review originally appeared on The Gadgeteer on July 3, 2019 at 11:07 am.
Note: If you are subscribed to this feed through FeedBurner, please switch to our native feed URL http://the-gadgeteer.com/feed/ in order to ensure continuous delivery.
Original source: https://the-gadgeteer.com/2019/07/03/fonesalesman-qistone-2-wireless-charging-power-bank-review/