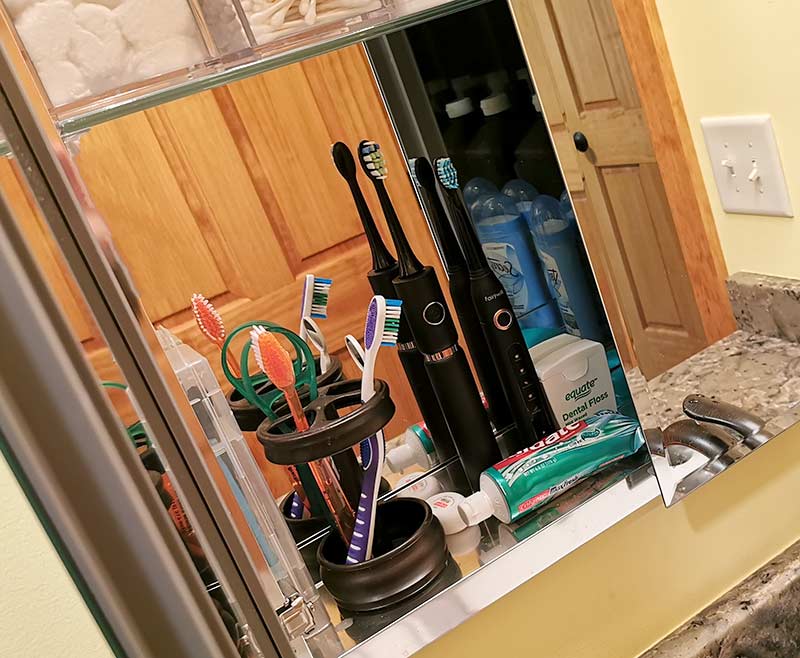 REVIEW – A couple of months ago at my 6-month dental cleaning appointment, my dentist recommended that I start using an electric toothbrush. They wanted me to buy one of the expensive Sonicare toothbrushes that they were selling there in their office. I declined and later bought a Fairywill toothbrush on Amazon for less than $20. I didn't review that toothbrush but was recently surprised when someone from Fairywill contacted me to ask if I would like to review their new P11 electric toothbrush. I said yes, and here we go!
What is it?
The Fairywill P11 is a USB battery rechargeable electric toothbrush with replaceable brushes.
What's in the box?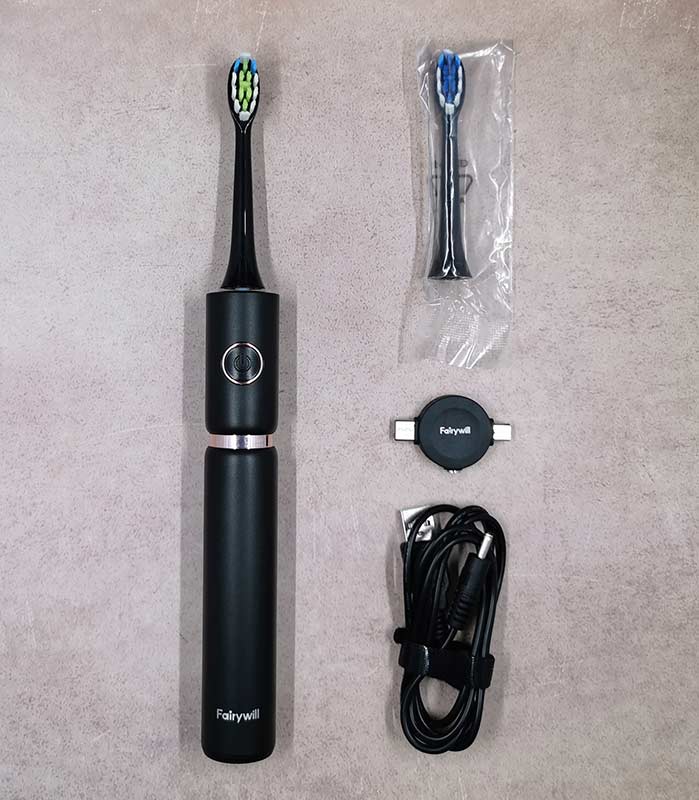 Fairywill P11 electric toothbrush
Extra brush head
USB charging cable
Travel adapter
Design and features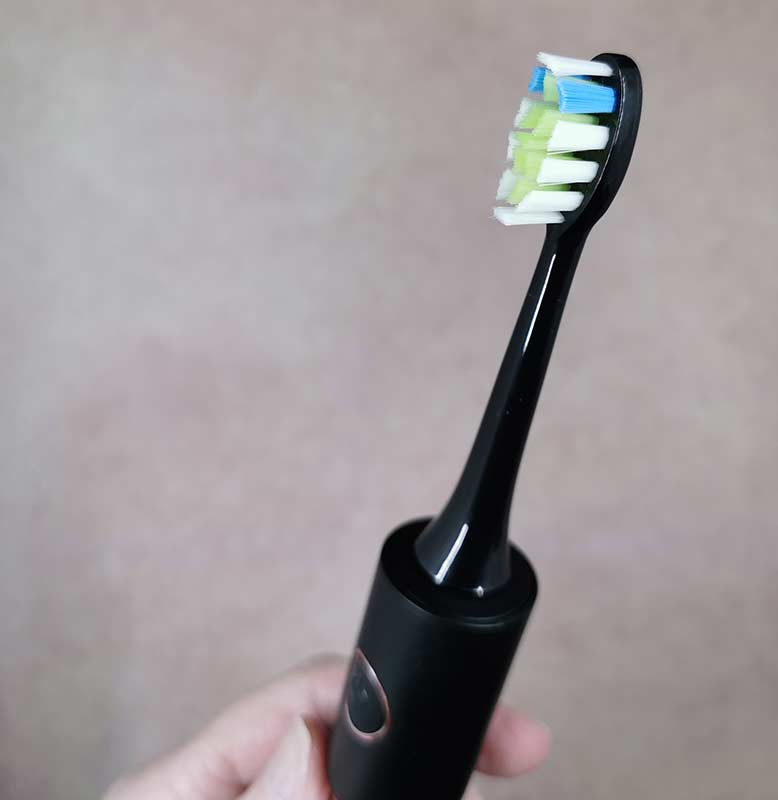 The P11 electric toothbrush is quite a bit larger compared to my other Fairywill electric toothbrush which is shown in the first image of this review.
The P11 has a black plastic housing with gold-tone accents. The handle is comfortable to hold for an adult but I think it might be too large and bulky for a child to use.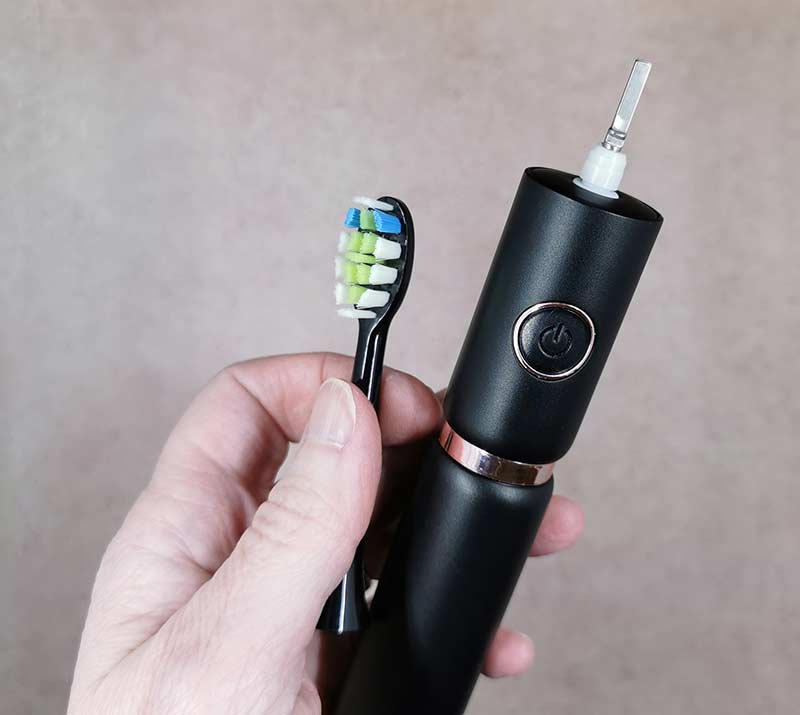 The toothbrush head easily pulls off from the top of the handle when it's time to replace it and it is just as easy to reseat when installing a new one. At the time of this writing, I don't have info on the price for the replacement brushes, but I'll update the review when I have that info to share.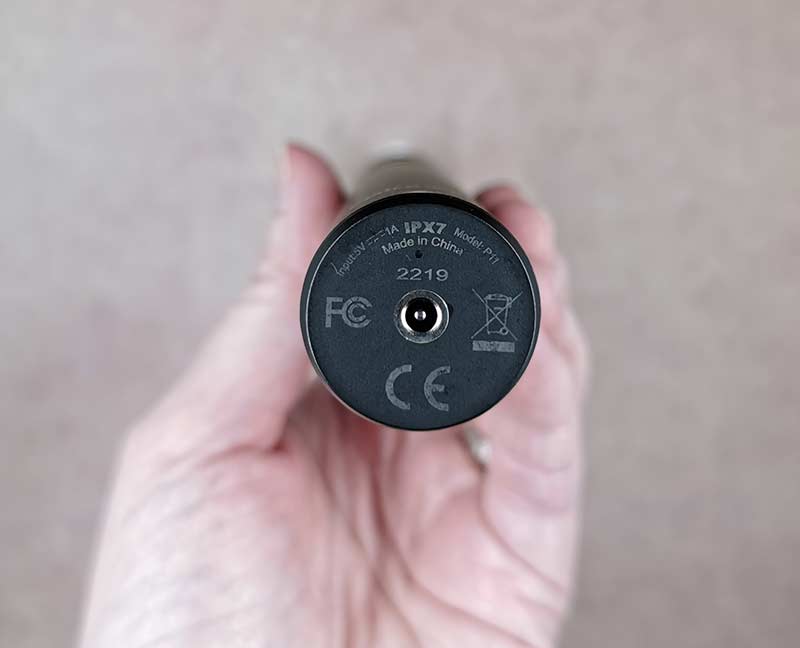 The brush has one button on the handle, a charging status LED around the handle, and a battery charger port on the bottom of the handle's base.
The port is proprietary, so you will need to use the included USB cable that ships with the toothbrush.
As a little extra gift, a USB adapter is also included so that you can use the same USB cable to charge USB-C and micro USB devices.
A 2hr or so charge of this electric toothbrush should allow for up to 30 days of use so you won't need to bring the cable and an AC charging adapter (not included) with you while you travel.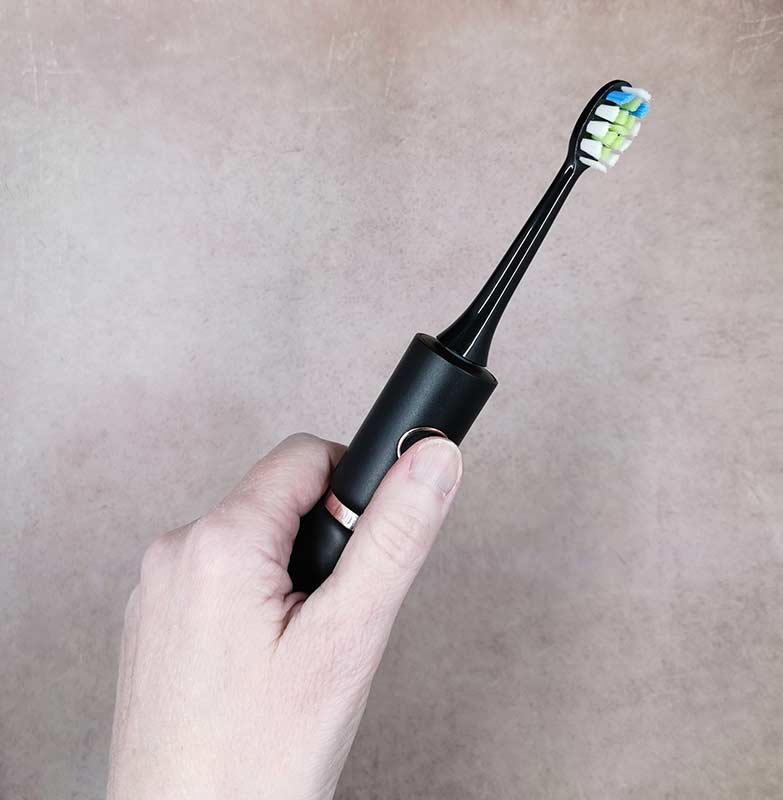 Operating the Fairywill P11 electric toothbrush is pretty straight forward. After it's charged, you can put some toothpaste on the brush and press the button on the handle to cycle through the 3 brushing modes which include: Clean, Soft, and Massage. No matter which mode you select, the brush will do its thing for 2 minutes with 4 30 second intervals. After each 30 second interval, the brush will pause to let you know it's time to go to the next part of your mouth.
I like to use the P11 electric toothbrush in Clean mode and find that it does indeed help to keep my teeth free of plaque, tartar, and other gunk that might build up if I would fail to brush my teeth two times a day. The 62,000 brush movements per cycle make my teeth feel smooth and I think they even look brighter.
The waterproof rating of IPX7 means that I can rinse off the toothpaste from the head and handle without worrying that it will damage the components.
See it in action
The video above shows the battery status LEDs on the handle while the brush is charging and shows the 3 brushing modes.
What I like
Long battery life
Large but comfortable handle
Powerful brush
What I'd change
Final thoughts
I really like using the Fairywill P11 electric toothbrush. I think it does a better job than a traditional non-electric toothbrush but I won't know for sure until my next dental cleaning appointment is at the end of August. My hope is that there will be less picking and scraping at that appointment compared to previous appointments. I'll be sure and do an update then to let you know how my appointment turned out.
Price: $49.99
Where to buy: Pre-order now from Fairywill with delivery due on July 15th.
Source: The sample for this review was provided by Fairywill.
Filed in categories: Reviews
Tagged: Health and fitness
Fairywill P11 electric toothbrush review originally appeared on The Gadgeteer on July 1, 2019 at 12:00 pm.
Note: If you are subscribed to this feed through FeedBurner, please switch to our native feed URL http://the-gadgeteer.com/feed/ in order to ensure continuous delivery.
Original source: https://the-gadgeteer.com/2019/07/01/fairywill-p11-electric-toothbrush-review/