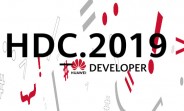 Huawei will kick off its annual Developer Conference on August 9 by unveiling the latest iteration of its Android skin – EMUI 10. The two-day forum is expected to gather an estimated 5,000 devs from around the world in Dongguan and is meant to showcase the latest advancements in the software world of the Chinese tech giant.
HDC '19 Keynote Speech schedule
Wang Chenglu, President of Huawei Consumer Business Software will lead the EMUI keynote which will take place at the Dongfeng Nissan Cultural and Sports Centre.
While little is known about EMUI 10 it will be based on Android Q….
Original source: https://www.gsmarena.com/emui_10_will_be_announced_on_august_8_at_huawei_developers_conference_2019-news-38085.php