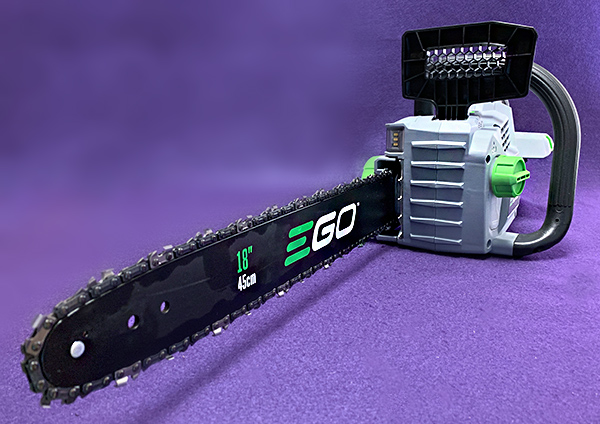 REVIEW – It began with a blower. Three years ago, I reviewed the EGO 530 CFM Blower. It wasn't something I looked forward to because hey—it's a blower. As it turns out, I could not have been more wrong. That blower began a love affair with all things EGO. Since then, I've used and reviewed their string trimmer and lawnmower—all battery powered! And now, I'm reviewing the new EGO POWER + 18 in. battery-powered chain saw. Spoiler: It's amazing!

What is it?
The EGO POWER + 18 in. chain saw is the latest in EGO's line of battery-powered chain saws beginning with their 14 in. and 16 in. models. It comes with a few new features not previously available. 
Specs
Auto tensioning system: tightens the chain with the twist of a dial
18" Oregon bar and chain
11,000 RPM motor
Brushless motor
Bright LED Lights
5 Year Tool Warranty
3 Year Battery Warranty

In the box
EGO POWER + 18 in. chain saw
5.0AH battery
Charger

Design and features
It's no secret to my family that there are chores I look forward to doing, such as chainsawing. Whenever we have one of many storms go through our property in Central Florida, there's aways fallen tree branches that need cutting and stacking. That's when I do what my wife calls chain saw therapy. I've always found it relaxing to slice and dice a tree—and since we have about a hundred on our property, there's always plenty to do. We recently had a scare that hurricane Dorian would hit us hard after devastating the Bahamas. EGO was gracious to send the chain saw for cleanup. While we had little to no tree damage from the storm, our yard still had previous damage from other storms. We are still cleaning up from Hurricane Irma two summers ago.
I was expecting the 16 in. chain saw to be delivered, but EGO sent an 18 in. model instead—which I had no idea even existed. What a pleasant surprise!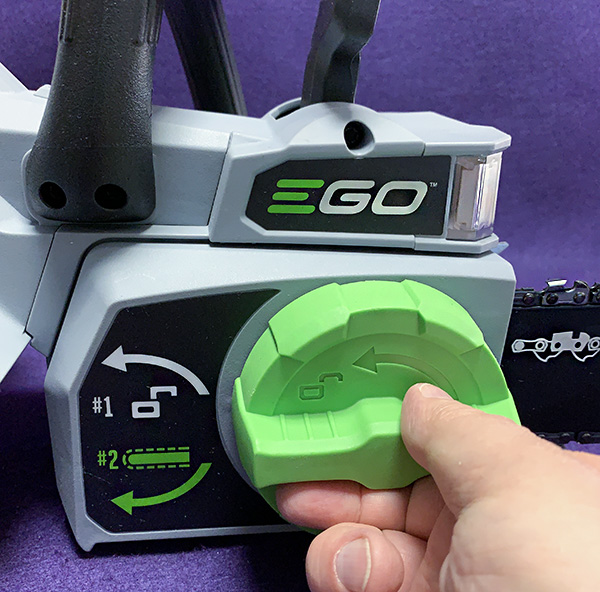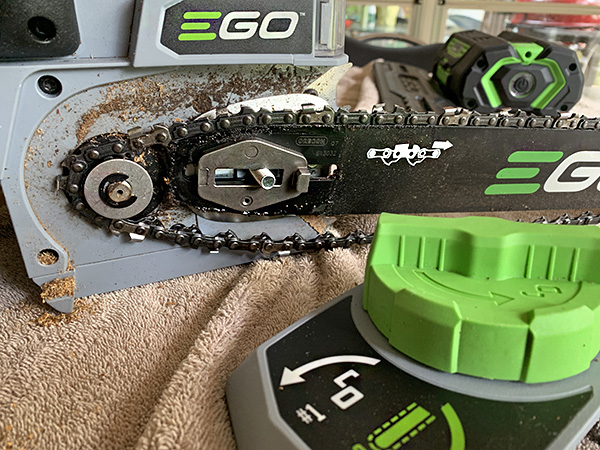 Upon opening the box, I noticed some features not available on either the 14 or 16 in. model. One new feature is an industry first: a tensioning system that will correctly tighten the bar chain with just a twist of an over-sized knob. After struggling with tightening the chain of my trustworthy Stihl gas chain saw, the simplicity—and genius—of EGO's design became immediately apparent. Un-tightening the same knob removes a cover for easily changing the blade. One look under the removed cover reveals embedded metal parts that add strength for holding the chain in place. It's a reassuring design choice from EGO. The chain bar is also strengthened by an attached thick metal bracket added for reinforcement—something my gas Stihl doesn't even have.
The outer shell of the EGO POWER + 18 in. chain saw is mostly plastic to keep weight down. However, the plastic is a tough quality that can take some rough use. It's a well-built saw. Like all of their tools, the color scheme is a tasteful gray with lime green accents for easy visibility.
The EGO POWER + 18 in. chain saw's motor is brushless, meaning it produces less internal friction and will last longer than older electric motors. Its speed is almost double the 16 in. model—11,000 RPM vs. 6,800 RPM. That's a huge difference in power delivered. Cutting pine (softer wood) and oak (harder wood) in my yard was effortless. Granted, the chain was new and sharp, but it still cut better than my Stihl equipped with a new blade. For those who think a battery-powered chainsaw is not much more than a toy, let me reassure you—it's most definitely a chainsaw that's as powerful as any gas model made for home use. In addition to the power the EGO motor provides, the long 18-inch bar and chain allow for cutting larger trees and branches in one cut.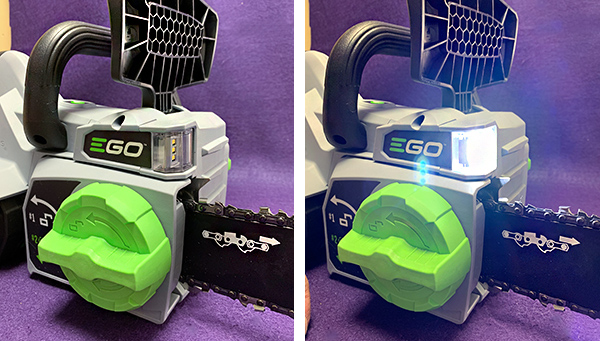 Another interesting feature of this chain saw is a button-operated LED light. It lets you see what you're cutting when the sun is setting and you want to get a few more cuts in before dark or if you need to dissect a tree in the dark after a storm. The light has two brightness settings which is unnecessary since both settings are extremely bright.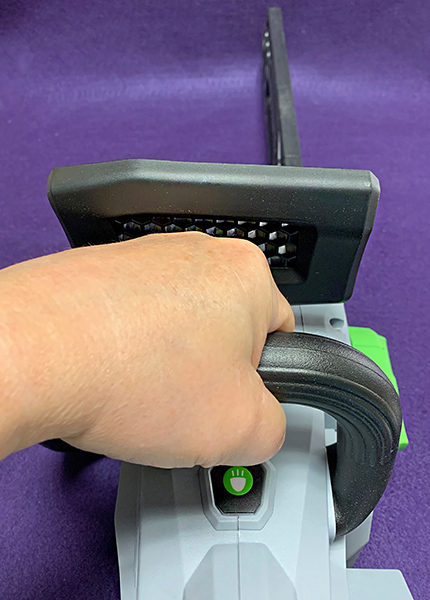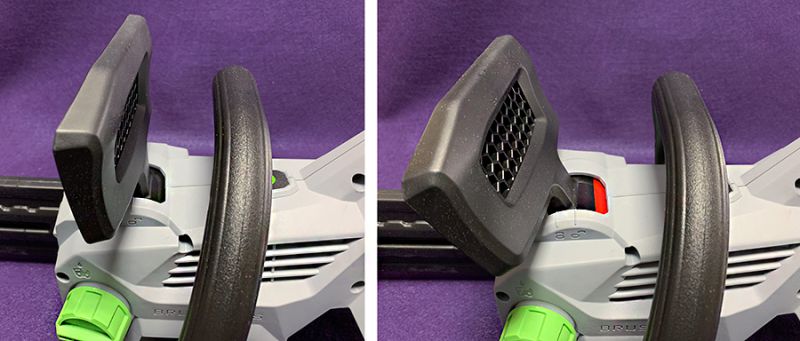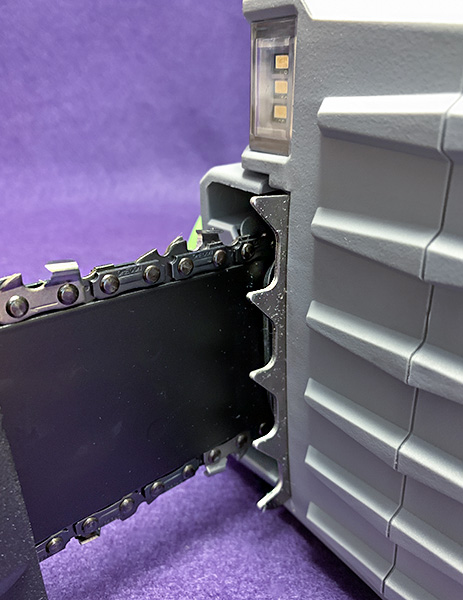 The EGO POWER + 18 in. chain saw has the usual safety features such as a chain kickback brake/handguard. All current chain saws have this feature that will immediately stop the chain from spinning when the handguard is pushed forward. One nice design touch is that if the brake is active, a red bar shows at the base of the guard. Because the chain is locked when set, this can also be useful while sharpening the blade—something I don't do. I just replace the chain. There is also a row of built-in sharp, metal bumper spikes that help the saw grab onto the tree as it's cutting.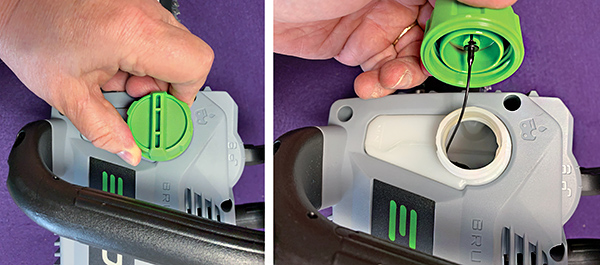 The bar and chain are both lubricated by bar oil available anywhere. Oil is easily added by unscrewing the cap to the oil container on the side and filling. It's extremely important to keep the bar oiled. Otherwise, the chain saw will quickly overheat from friction.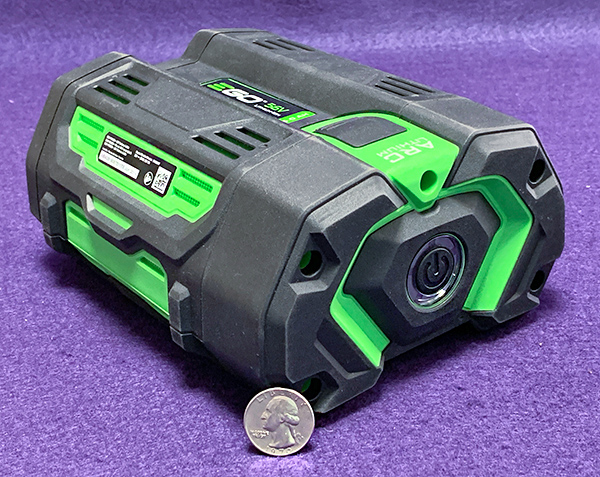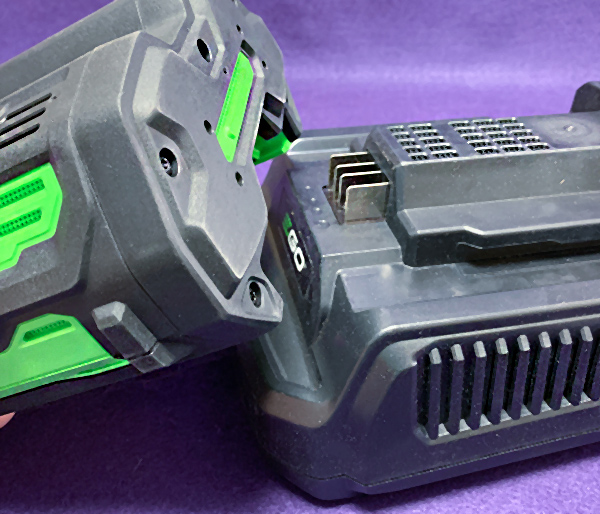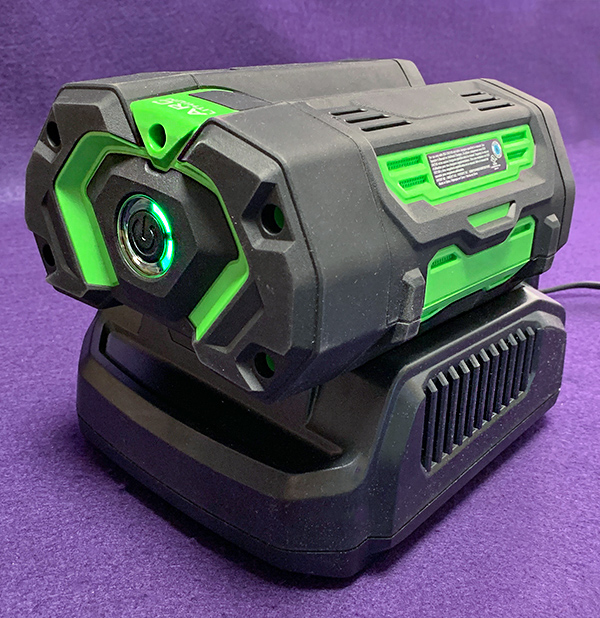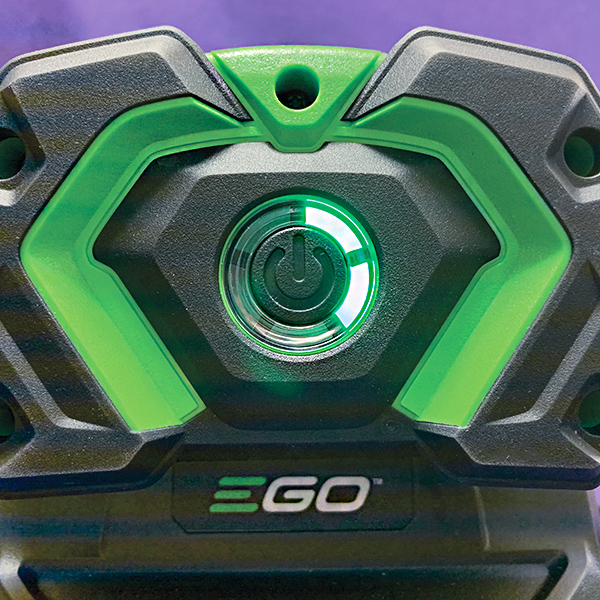 EGO includes the longer-lasting 5.0AH (amp hours) battery with this chain saw. It just snaps into place with a satisfying click. Most of their other hand-held products come with a smaller 2.5AH battery. While the 5.0 battery is noticeably larger and heavier, the weight distribution of both the battery and chain saw is well balanced. Using the saw is not physically taxing when used properly. This battery is also a newer design from EGO. Instead of a light that is either green or red indicating battery life, the newer batteries have a "fuel gauge" that tells how much battery life is left. This is a great improvement.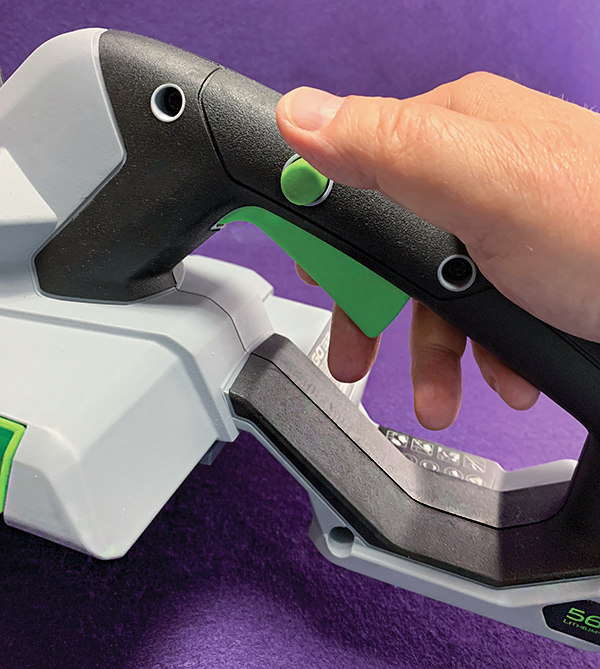 Powering up the chain saw is done simply by pressing a button and then the trigger. The saw quickly spins up to speed. Once the trigger is released, everything stops. There's no powering down—the chain stops instantly. Chain speed is variable—it can be slowed down or speeded up depending on how hard the trigger is pressed.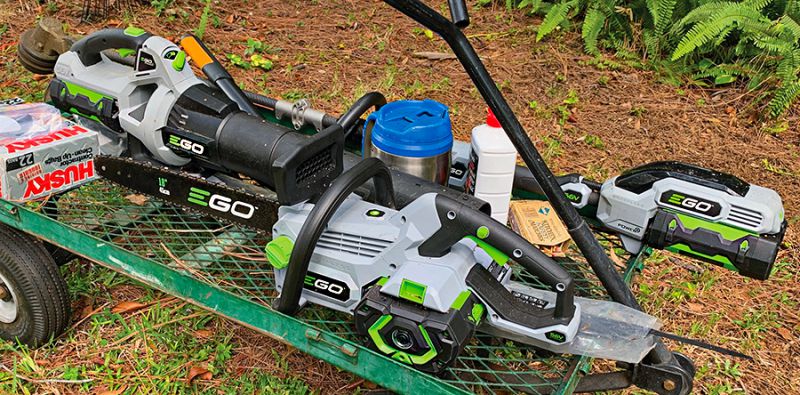 Note that any EGO battery can be used with any EGO tool—new or old. They are all interchangeable, no matter how big or small. So, once you have a few EGO products, battery life can become a non-issue because any battery can be used while the spent ones are charging.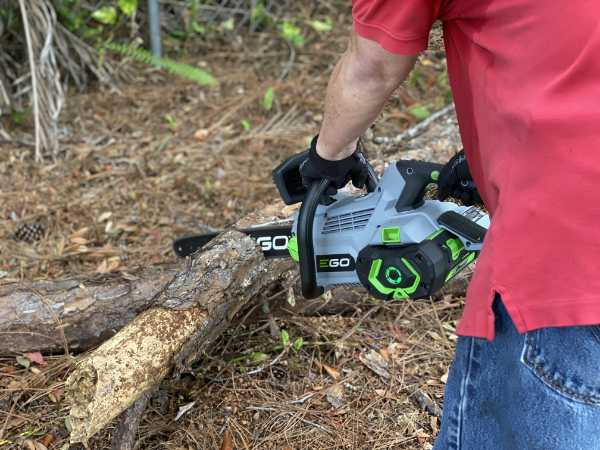 As amazing as the EGO POWER + 18 in. chain saw is, you know what I like the most? Silence. I know, chain saws are anything but silent and this Ego chain saw is noisy when using. But once that trigger is released, there's . . . nothing. Silence. When a gas chain saw is set down between cuts, the motor is still running. And in the case of my Stihl gas model, it would sometimes literally walk across the yard. The EGO chain saw feels much safer because it is completely off between cuts. Plus, there are no gas fumes or oil/gas mixtures to worry about. Snap-on the battery, fill with bar oil, and you are good to go!


What I like
No gas fumes
No 2-stroke engine oil and gas mixtures
The power of a gas chain caw
No pulling a starter cord—just press the trigger
Totally silent between cuts
Balanced weight distribution
Uses any EGO battery
What I'd change
Additional batteries are expensive

Final thoughts
I have yet to be disappointed with EGO's products. Working on our 2-acre yard can be tiring and almost unbearable in the heat of summer. But being able to just grab a tool to quickly cut a branch or blow off the driveway without having to use the gas can or extension cord makes it all so much easier—and better for the environment!
Price: $349 US with 5.0AH battery; $239 US without battery
Where to buy: EGO
Source: The sample for this product was provided by EGO.
Filed in categories: Reviews
Tagged: Tools
EGO POWER + 18 in. battery powered chain saw review originally appeared on The Gadgeteer on October 27, 2019 at 9:45 am.
Note: If you are subscribed to this feed through FeedBurner, please switch to our native feed URL http://the-gadgeteer.com/feed/ in order to ensure continuous delivery.
Original source: https://the-gadgeteer.com/2019/10/27/ego-power-18-in-battery-powered-chain-saw-review/