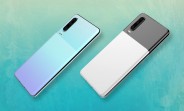 The European patent office received applications for two new color options for the Huawei P30. One is almost a gradient, the other is a dual tone paint job, reminiscent of the "panda" version of the Pixel 2 XL.
Huawei P30 in a dual tone paint job
The gradient version is a variation of the P30's Breathing Crystal, though it if you look closely, you'll see that it uses the dual tone design too – the top third of the back is a separate panel. The effect is much more subtle, however.
Huawei P30's new gradient color (with a dual tone twist)
The applications…
Original source: https://www.gsmarena.com/dual_tone_designs_for_the_huawei_p30_show_up_in_patent_applications-news-38893.php