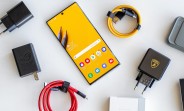 Samsung's new Galaxy Note10+ is exciting for more than a few reasons as our in-depth review shows, one of which being its 45W fast charging capabilities. Yet it ships with a 25W charger in the box so if you want to unlock its full potential you'll have to buy another one.
If you are just here for the short version it goes like this:
Due to a combination of high current requirements and the use of optional PPS technology the Galaxy Note10+ likely won't reach its advertised 45W charge rate with anything other than the official Samsung 45W charger.
Now there might be…
Original source: https://www.gsmarena.com/dont_just_buy_any_45w_pd_charger_for_the_samsung_galaxy_note10-news-38837.php