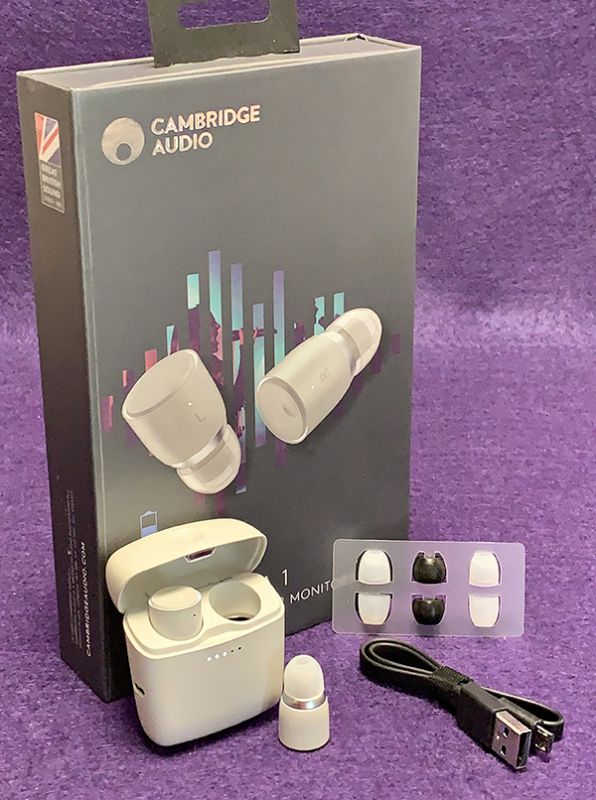 REVIEW – There are two things to consider when looking at the new Cambridge Audio Melomania 1 true wireless in-ear monitors. The first is that everyone who makes wireless earbuds is gunning for Apple by trying to come up with the next  "AirPod killer." The other, less obvious thing is calling these wireless earbuds "monitors" because it means something. It's not a word I would throw around lightly. To my ears, monitors denote something better than your average speaker. They are more accurate, which often makes them less ear friendly—I'll explain later in this review. 
Cambridge Audio is a British company that makes some great audio gear at all price levels. The Melomania 1 fits perfectly within the mid-range price of wireless earbuds—between Apple's overpriced (but excellent) AirPods and those cheap knock-offs flooding the market.

What is it?
The Melomania 1 true wireless in-ear monitors are just that: truly wireless. This simply means no wires. It also simply means that they are easy to lose. The Melomania 1 earbuds use Bluetooth 5.0 with Qualcomm aptX for improved audio quality. They magnetically snap into a charging case with a magnetic lid closure. Two colors are offered: Black and stone—what we Yanks call off-white or eggshell. 
Specs
Bluetooth 5.0
Dual-core 32-bit processor
aptX, AAC, SBC codecs
5.8mm graphene-enhanced diaphragm driver
20Hz – 20kHz frequency response
9 Hours battery life (each earbud)
36 Hours battery life (includes case with 4 additional earbud charges)
90 min. charging time
Microphone with Noise Cancellation
Siri (iOS) / Google Assistant (Android) voice assistance
IPX5 water resistance
Weight: 16 oz (each earbud); 1.3 oz (case)
Color: Matte black; matte stone

In the box
Earbuds

 

Silicone tips: Small, medium, large
Memory foam tips: medium
Charging case
Micro-USB charging cable (12 in.)
User manual
Fitting instructions
Stickers

Design and features
The Melomania 1 true wireless in-ear monitors are one of the best looking earbuds around. Their elegantly simple use of plastic with aluminum accented bands coupled with some sophisticated interior electronics results is an earbud that ranks with the best available, especially when it comes to audio quality—with one important caveat. More on that later. 
The Melomania 1 earbuds use what is called graphene speaker diaphragms. Graphene is lightweight and strong, plus it recovers from sound vibrations quicker. This means that the earbuds sound more responsive and lively—less sluggish or muddy.
Pairing the Melomania 1 earbuds is easy. My iPhone recognized the buds immediately. The Bluetooth settings list the left and right earbuds separately. All you have to do is pair either one and both will pair—except when it doesn't. A few times, one earbud would pair and the other wouldn't. The only way I could fix this issue, was to remove the earbuds and re-insert them in my ear. I don't know why they aren't listed as one pair in Bluetooth settings. They can be paired to 7 separate devices, so if you move from a smartphone to a tablet to a laptop, the earbuds will remember and reconnect to that device.
There is a major weakness regarding phone calls. When talking with someone, I can hear them fine, but to them, I sound like I'm in a tunnel or far away. I don't understand how Apple is so good at this, yet most other wireless earbuds—Melomania 1 included—don't handle phone calls as well.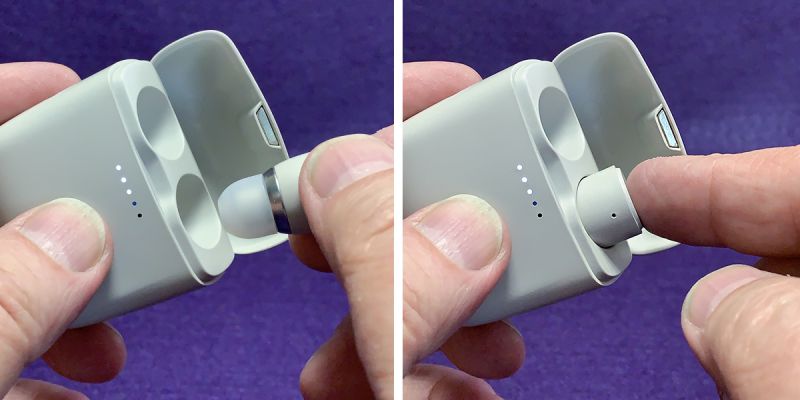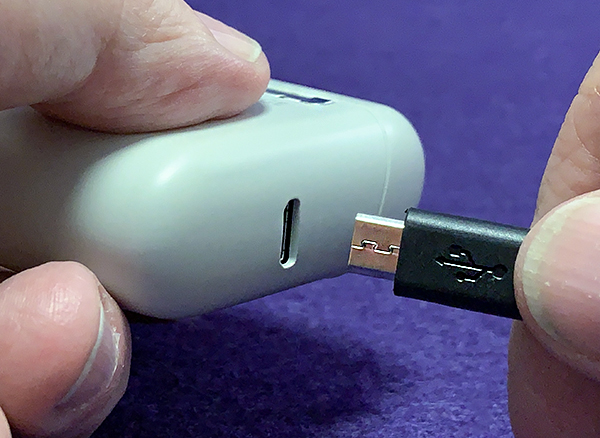 The charging case is as well designed as Apple's AirPod case. That's more rare than it should be. The earbuds magnetically snap into place. They will not fall out yet can be easily removed for use—a nice touch. I'm disappointed that the case relies on older micro-USB for charging instead of the newer and faster USB-C. It's time to retire micro-USB. LED lights on the front of the case indicate its (incredibly long) battery life. A silicone case cover with an attached carabiner is offered as an option. It's quite inexpensive which makes me wonder if it should have been included in the box. The silicone cover is offered in six color choices.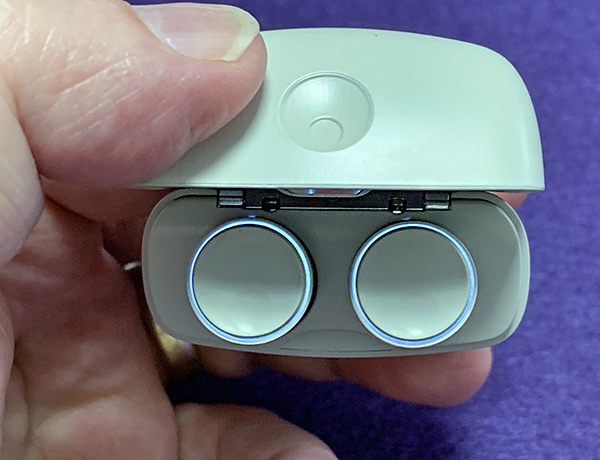 When the earbuds are in the case and charging, there is a lighted ring around the each earbud that tells you how they're charging. A pulsing white light means charging; no light means fully charged. Blue and white flashing lights mean Bluetooth discovery and rapid blue flashing means that the earbuds need to be reset. It's all quite futuristic and cool looking.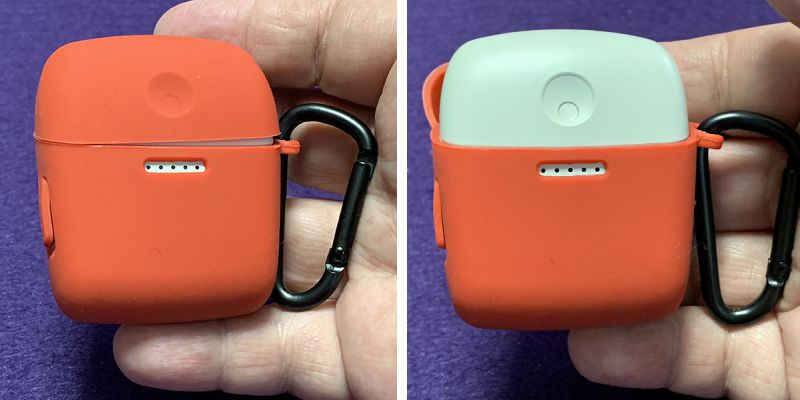 The Melomania 1 earbuds are equipped with active noise canceling (ANC) that is always on. Cambridge Audio has tempered their ANC in a way that doesn't totally isolate you from your surroundings, making it safer to use the earbuds on a busy street while reducing distracting noises. It's not the isolating kind of ANC that can mask airplane engine noise.
There are buttons on each Melomania 1 earbud. Pressing the outside of the earbuds while inserted in the ear requires a bit of a learning curve, but can become easier with daily use. A 2-second press adjusts volume up or down, a single press followed by two presses, brings up either Siri or Google Assistant. A single press pauses music (or answers an incoming phone call) and a double press either advances or repeats a track. Like I said—a learning curve.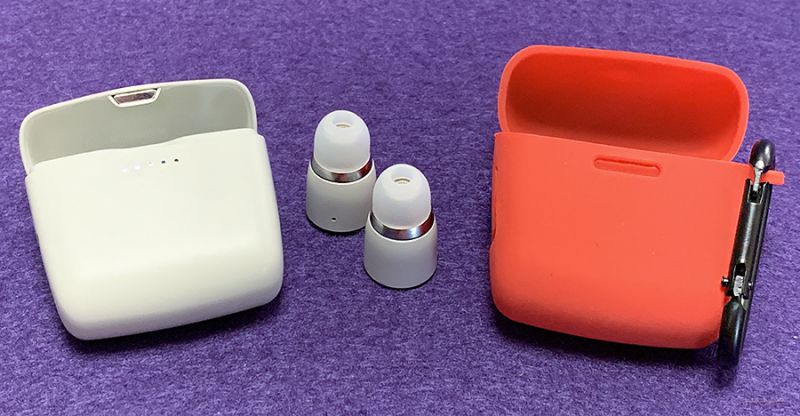 The Melomania 1 earbuds weigh practically nothing. They never feel like they're going to fall out because of the lack of weight. They're bullet-shaped—narrow at one end and wider at the other. This shape works for many people, but not as well for me. Maybe I have unusual ears, but the earbuds feel too small on the ear tip end and too wide on the outside part. I'm constantly fidgeting with them to get a proper fit. Others may have better luck.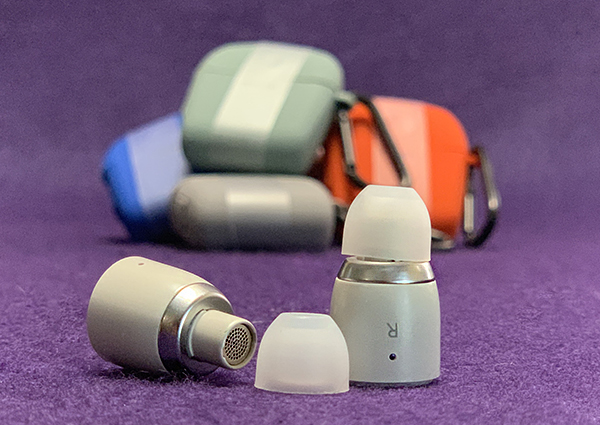 I blame most of the fit issues on the ear tips. Cambridge Audio needs to provide a greater selection of sizes. Even the large-sized silicone ear tips do not provide a proper seal in my ear. This means that bass lacks the power it should have. No seal equals no bass—it's that simple. Also, the anemic foam tips don't have enough expansion to fill my ear canal. The sound tube that the tips fit around is wide, which limits which after-market tips you can use. Since I review many earphones and earbuds, I scrounged around for extra ear tips until I finally found some tips from another earphone. They sorta fit when attached but will not fit into the charging case (no surprise).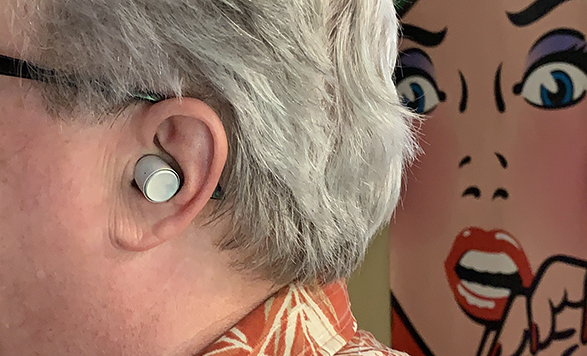 However, the sound improved dramatically! Now that I could hear what I had been missing with the Melomania 1 ear tips, it became clear why they are called monitors. It's all about the accuracy, folks. Whether I'm listening to 80s music with its exaggerated synth bass lines or 60s classic rock with its recessed bass, the Melomania 1 earbuds make it all sound good. Once there's a proper seal, bass is more pronounced, but not in a distracting way. Cambridge Audio has done a good job of balancing the high, middle and bass frequencies across all genres of music. On a song such as Anna Calvi's "Joan of Arc", you can hear individual strings being stroked and plucked. This would explain why Cambridge Audio chose graphene for the speaker material.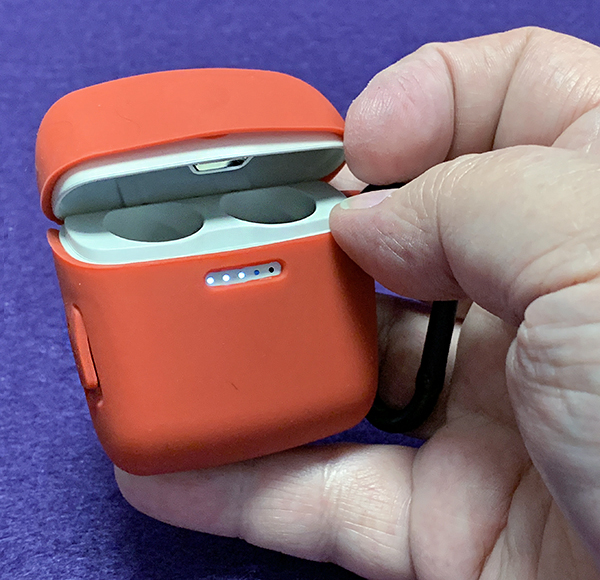 Do the Melomania 1 earbuds sound as good as a pair of wired headphones? Of course not. But they do sound better than most wireless earbuds I've come across—some costing much more. They also sound much better than the AirPods. They're just not as convenient as AirPods when inserting and removing countless times during a busy day. That always seems to be the big trade-off: Sound vs. convenience.
What I like
Excellent battery life
Audio quality is among the best among wireless earbuds
Excellent build quality
Easy to pair and use
Case is as well designed as Apple's
Optional silicone case cover
Reasonably priced
What I'd change
Bullet-shape doesn't fit that well in my ear
Supplied ear tips don't seal enough to get decent bass
Not great phone call quality

Final Thoughts
The Melomania 1 true wireless in-ear monitors are the first wireless earphones Cambridge Audio has made. It's amazing how well they did on this first try. The audio quality is among the best among wireless earphones and the build quality is as good as it gets. If the fit and call quality issues can be worked out, these earbuds should be at or near the top of any list.
Price: $129.95 US
Where to buy: Amazon
Source: The sample for this product was provided by Cambridge Audio.
Filed in categories: Reviews
Tagged: TWS earbuds
Cambridge Audio Melomania 1 true wireless in-ear monitors review originally appeared on The Gadgeteer on July 28, 2019 at 10:30 am.
Note: If you are subscribed to this feed through FeedBurner, please switch to our native feed URL http://the-gadgeteer.com/feed/ in order to ensure continuous delivery.
Original source: https://the-gadgeteer.com/2019/07/28/cambridge-audio-melomania-1-true-wireless-in-ear-monitors-review/