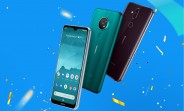 It has been 3 years since HMD took on the Nokia mantle. To celebrate the occasion, the Nokia online store in India is running a special promotion this week – select Nokia models come with a gift card worth up to INR 5,000.
You can find the participating models at Nokia.com. It's mostly the newer ".2" phones, but there are a few ".1" entries as well.
The gift card you get for each model is different, e.g. the Nokia 7.2 nets you an INR 5,000 card while the Nokia 8.1 only gets INR 2,000. The 6.1 Plus and 5.1 Plus also get the biggest gift card.
This deal is valid until 7:30pm on…
Original source: https://www.gsmarena.com/black_friday_select_nokia_models_come_with_a_gift_card_in_india-news-40277.php