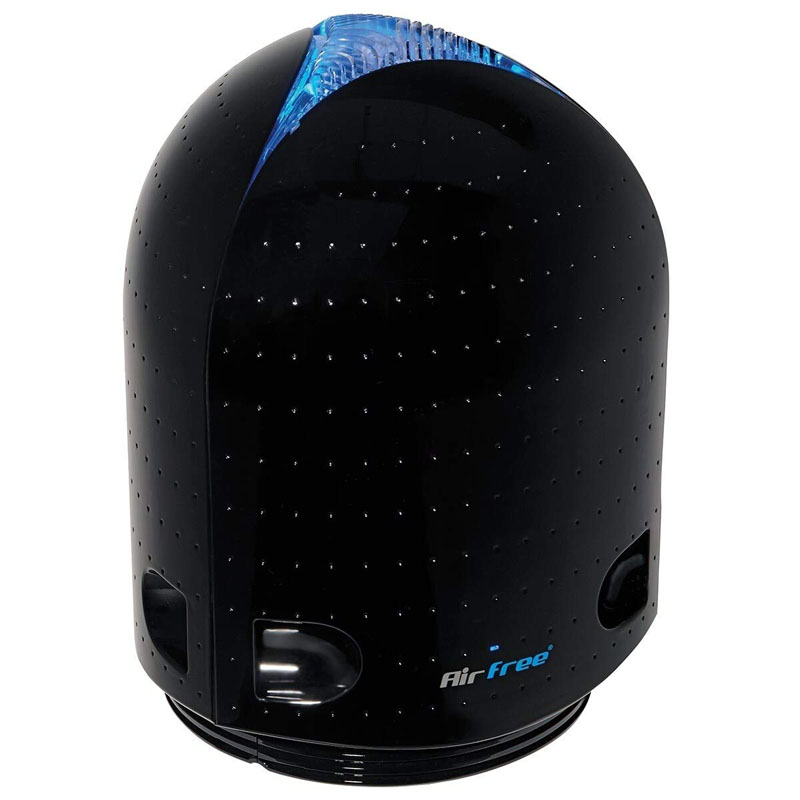 GIFT IDEA NEWS – Air – we all use it.  Sometimes, the air we use is less than perfect, filled with dust, odors, allergens, and other nasty things.  Airfree produces a line of residential air purifiers that aim to improve the air that we breathe.
Their top-of-the-line Iris 3000 is designed to handle areas of up to 650 square feet and claims to destroy mold, dust mites, bacteria, viruses, pollens, pet dander, organic odors, and other organic allergens.  It does this by silently drawing air up through the bottom, passing it through a maintenance-free heating system that zaps the pollutants with its patented thermodynamic TSS technology, and then cools and exhausts nice clean air out the top.  It has no filters to clean so all you have to do is plug it in and let it work. With a power consumption of only 44 watts, it won't make a big impact on your electric bill.
The Iris 3000 also has a spiffy multi-color nightlight on top, so it not only improves the air but also helps set the mood in the room.
The price is normally $329.99 but they have already started their Black Friday has already started. You can get 40% off the Airfree Iris 3000 which brings the price down to $199.00. The sale ends on Monday, December 1, 2019 at 11:59 PM EST. Where to buy: Amazon and Home Depot
Filed in categories: News
Tagged: Air Filtration, gift ideas 2019
Black Friday deals are already available for the Airfree IRIS 3000 air purifier originally appeared on The Gadgeteer on November 23, 2019 at 10:00 am.
Note: If you are subscribed to this feed through FeedBurner, please switch to our native feed URL http://the-gadgeteer.com/feed/ in order to ensure continuous delivery.
Original source: https://the-gadgeteer.com/2019/11/23/airfree-iris-3000-air-purifier/