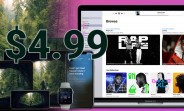 In its bid to become a services company (and not just a hardware one), Apple is aggressively pushing its latest TV+ streaming subscription, due to launch this Friday.
First it announced that it would bundle a free year of TV+ to any iPhone, iPad, Mac, Apple TV or iPod Touch, and now it will bundle TV+ for free with Apple Music' student subscription (worth $4.99 a month).
Normally Apple Music is $9.99 a month per device ($14.99 for a family subscription) and TV+ will be $4.99 a month as a family plan, so having both at $4.99 is quite the steal.
The news was broken on Hailee…
Original source: https://www.gsmarena.com/apple_will_add_tv_to_the_499_month_apple_music_student_subscription-news-39884.php